A new policy change from the United States Citizenship and Immigration Services (USCIS) announced Monday will allow Filipino World War II veterans to unite with family members delayed in the Philippines for decades by an immigration backlog.
The policy change is called "parole," and will allow veterans' family members in the Philippines to bypass the logjam to join their elderly parents in the U.S. The program begins June 8, and USCIS estimates that the family members of approximately 2,000 to 6,000 veterans would be eligible.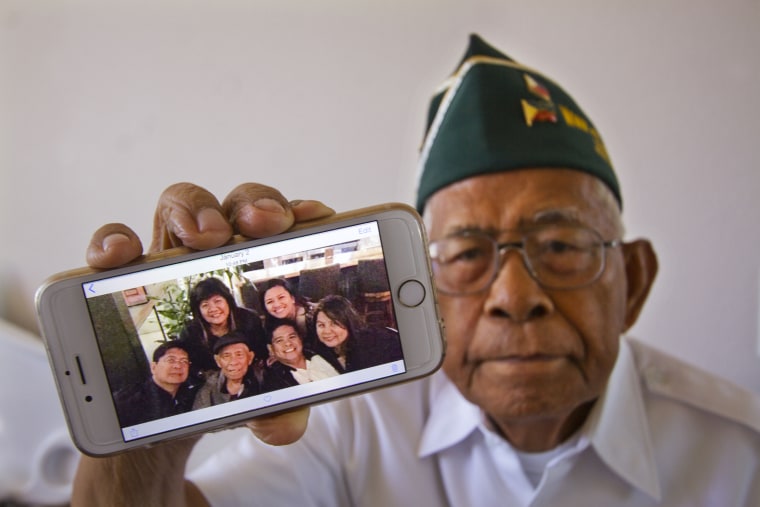 The announcement was great news for 85-year-old Rudy Panaglima of the D.C. Metro area.
For more than 22 years, he has waited for the processing of his two sons' immigration papers. Both of them are in their 50s and married. The prospect of having his sons join him in the U.S. brought a sense of relief to Panaglima.
"We are old already and we need some assistance from a caregiver," Panaglima told NBC News.
His wife of 58 years, Pura Panaglima, said they would apply. "Oh yes, because we are alone here, we need a helper, someone to take care of us," she told NBC News. "If it's possible for them to come I'm so very happy for that."
Rudy Panaglima said he was just 13 when he joined approximately 260,000 Filipinos who answered the call of President Franklin D. Roosevelt to join the fight in WWII in the Philippines. From his role as a Philippine guerrilla, he ultimately became a member of the U.S. Army in the Philippines. But when the war ended, the Rescission Act took back the promise of benefits and started the long fight for the veterans for equity pay and benefits.
RELATED: Forgotten: The Battle Thousands of WWII Veterans Are Still Fighting
Panaglima was one of 18,000 surviving vets to win a lump sum payment in 2009. But the ability to reunite with their children still in the Philippines has been elusive.
In the end, it was a community effort that has won them that right.
"We are encouraged that the Filipino World War II Veterans Parole Program is finally being implemented so that our country can more fully honor the bravery and sacrifices of these aging veterans," Christopher Kang, the national director of the National Council of Asian Pacific Americans, said in a statement. "NCAPA has advocated for this program, and we hope that the veterans are reunited with their families as quickly as possible to ensure they receive the care they need."
RELATED: New Policy Paves Way for WWII Filipino Veterans to Reunite with Family
Eric Lachica of the American Coalition of Filipino Veterans called the policy change "a happy ending for our Filipino heroes."
"It has been almost a year since Obama issued his presidential memorandum in July," Lachica told NBC News. "We deeply thank our Asian American champions in the U.S. Congress and advocates in the community for their kind-hearted persistence to help our elderly heroes and their patient children."
Follow NBC Asian America on Facebook, Twitter, Instagram, and Tumblr.