Advocates welcomed the creation of a subcommittee on hate crimes in the Department of Justice (DOJ) last week following a series of recent attacks on South Asian Americans, but are also calling on the federal government to make sure that the group has the power to actually be effective.
"DOJ was right to establish a hate crime subcommittee, but it remains to be seen whether this initiative will be fully resourced and fully protective of all Americans, including immigrants, religious minorities, and LGBT communities," Rajdeep Singh Jolly, interim managing program director of The Sikh Coalition, told NBC News. "Anything less would be tokenism."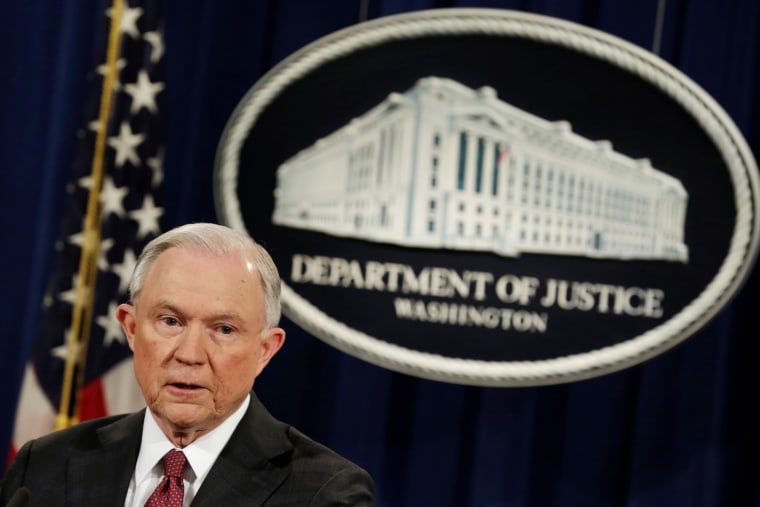 Attorney General Jeff Sessions announced the creation of the subcommittee last week as part of the DOJ's Task Force on Crime Reduction and Public Safety. The subcommittee "will develop a plan to appropriately address hate crimes," according to a DOJ memo dated April 5.
In the memo, which was sent to U.S. attorney's offices and DOJ department heads, Sessions wrote, "We must also protect the civil rights of all Americans, and we will not tolerate threats or acts of violence targeting any person or community in this country on the basis of their religious beliefs or background."
RELATED: FBI Investigating Shooting of Seattle-Area Sikh Man in Possible Hate Crime
He also announced a National Summit on Crime Reduction and Public Safety to be held within 120 days in partnership with law enforcement agencies, victims' advocacy groups, and community advocacy organizations.
Three days before the announcement, 13 U.S. senators led by Sen. Maria Cantwell (D-WA) called on the Trump Administration to create a task force in response to increasing hate violence and threats against racial and religious minorities.
"Across the United States, we have seen hate violence and threats against religious and racial minorities become more and more commonplace," Sen. Cantwell said in a statement. "These crimes and threats of violence fly in the face of our core values of tolerance, respect, and freedom of religion,"
RELATED: U.S. Hate Crimes Up 20 Percent in 2016, Fueled by Election Campaign: Report
In 2016, hate crimes rose 20 percent fueled by the election, according to research by the Center for the Study of Hate & Extremism at California State University, San Bernardino.
"Hate impacts us all," Seattle-area Sikh community leader Jasmit Singh told NBC News. "We must do more to combat it in local communities across the United States and that starts with our federal officials making prevention of hate violence a top priority."
Follow NBC Asian America on Facebook, Twitter, Instagram and Tumblr.