Former New York Police Department (NYPD) officer Peter Liang, who was convicted in February of second-degree manslaughter in the 2014 death of Akai Gurley, might be considering bringing on new attorneys to help with his appeal.
The Chinese Action Network, a group that has raised money for Liang's legal expenses, said on Facebook Monday that it was postponing a march across the Brooklyn Bridge this Friday after consulting with Paul Shechtman, who it said was Liang's new legal adviser. The march, which would have come three weeks after rallies for Liang that attracted thousands in more than 30 U.S. cities, was scheduled to begin in Manhattan and end at the Kings County District Attorney's Office, which prosecuted Liang, in downtown Brooklyn.
RELATED: Debate Over Police Accountability, After Peter Liang Conviction, Spans Generations
Shechtman, a partner of Zuckerman Spaeder, served as New York State's director of criminal justice between 1995 and 1997 and has frequently argued before federal and state appellate courts, according to his law firm's website. Shechtman did not return an email and phone message Monday from NBC News seeking comment about his role.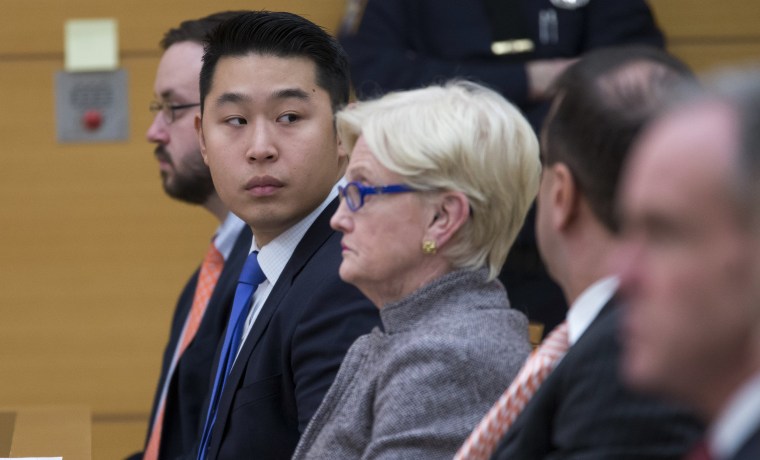 Gabriel "Jack" Chin, a professor at the University of California Davis School of Law, has also been mentioned as possibly joining Liang's legal team. Chin told NBC News in an email Monday, "Yes, I expect to be involved in the case." He added in a separate email that "Paul (Shechtman) is also on the case."
RELATED: Thousands Rally After Conviction of Ex-Cop Peter Liang in Death of Akai Gurley
Chin is a scholar of immigration law, criminal procedure, race and law and has worked with students to repeal anti-Asian alien land laws that were still on the books in Kansas, New Mexico, and Wyoming, according to his website.
Robert E. Brown, who with Rae Downes Koshetz has represented Liang since November, told NBC News they will file a motion Wednesday to set aside Liang's guilty verdict on second-degree manslaughter and official misconduct, which a Brooklyn jury handed down on Feb. 11. He added that they also plan to submit tens of thousands of letters asking Justice Danny Chun of State Supreme Court in Brooklyn either to sentence Liang to probation or to dismiss the charges altogether.
Liang, 28, is scheduled to be sentenced on April 14 and can receive up to 15 years in prison.
RELATED: NYPD Officer Peter Liang Guilty of Second-Degree Manslaughter in Akai Gurley Killing
Liang, who graduated from the Police Academy in January 2014, and his partner, former Officer Shaun Landau, were beginning a vertical patrol from the eighth floor of an unlit stairwell at the Louis H. Pink Houses in Brooklyn on Nov. 20, 2014, when Liang's gun, which was drawn, went off. The bullet ricocheted off a cement wall, fatally striking Gurley who had entered with his friend Melissa Butler from the floor below.
Prosecutors portrayed Liang's actions that night as reckless, saying he fired without reason, then argued with his partner over calling for help as Gurley lay dying and Butler administered CPR. Liang's attorneys have said he was in a "state of shock" when his gun accidentally went off, that he was unaware his bullet had struck anyone, and that he tried to make several radio transmissions that were incomplete or didn't go through.
Follow NBC Asian America on Facebook, Twitter, Instagram, and Tumblr.