Two United States senators have introduced legislation to end a controversial visa program popular with Chinese investors that gives out green cards in exchange for investments in American businesses that create jobs.
Sens. Dianne Feinstein (D-CA) and Chuck Grassley (R-IA) made their pitch to Congress last week to terminate the EB-5 program, which allows foreign investors to pump between $500,000 and $1 million into projects that spur at least 10 jobs.
"The EB-5 program is inherently flawed," Feinstein said in a joint statement with Grassley on Friday. "It says that U.S. citizenship is for sale. It is wrong to have a special pathway to citizenship for the wealthy while millions wait in line for visas."
Roughly 10,000 EB-5 visas are awarded each year, with more than 85 percent going to Chinese investors in 2014, according to a study by Savills Studley, a real estate services firm. The program, begun in 1990 to stimulate the economy, has turned into a convenient way for wealthy Chinese citizens to become permanent U.S. residents and later bring over their family members.
Investors often put their funds into government-authorized EB-5 regional centers, which act as businesses that pool foreign investment money for development projects. This method accounts for roughly 95 percent of EB-5 investments.
But Feinstein and Grassley say there is no reliable or verifiable way to measure how many jobs are created. They also maintain that many of the wealthiest parts of the country have been incorrectly labeled as "high unemployment," allowing investors to get green cards for $500,000 instead of $1 million, according to the statement.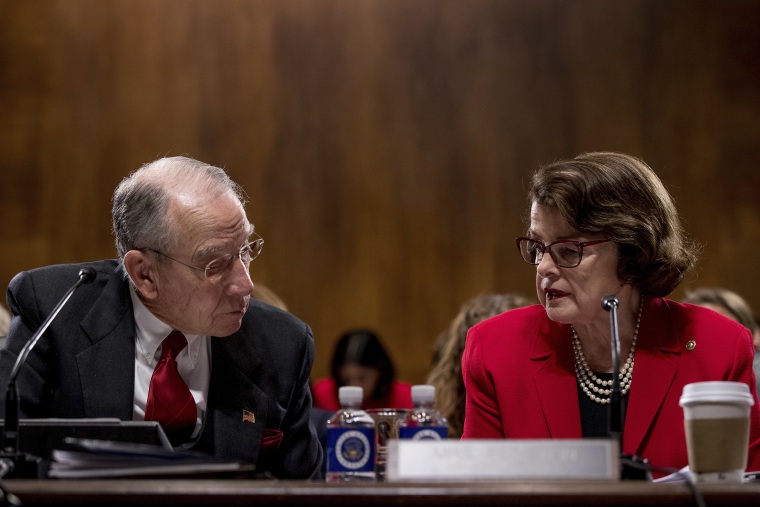 Their bill calls for redistributing the annual 10,000 EB-5 visas among other immigrant visa programs, the statement said.
Grassley, who has previously introduced legislation with Sen. Patrick Leahy (D-VT) to overhaul the program, said Friday it's time to wind it down.
"Unfortunately, despite its many flaws, EB-5 proponents are apparently content with the status quo, and that's unacceptable," he said in a statement. "I was hoping that it would not come to this point, but absent serious efforts to bring about reforms, we need to take the necessary steps to wind down the program and completely mitigate fraud, abuse and threats to our security."
But Daniel Lundy, partner at Klasko Immigration Law Partners, told NBC News that while the EB-5 program can be improved, he believes Feinstein and Grassley's bill has little likelihood of making it out of Congress.
"There are people out there who are going to put something out, knowing it has no chance of passing, just to express an opinion," he said. "Unfortunately, the rest of the world doesn't necessarily understand our political process. So it's potentially damaging to the industry and irresponsible of people to do stuff like that. It undermines the credibility of the program."
RELATED: Slowing Down the 'Investor Visa' Green Card Fast Track
The bill comes as President Donald Trump and Congress have begun taking up looming immigration questions facing the country. During his two weeks in office, Trump has issued executive orders on building a wall between Mexico and the U.S., and temporarily halting visas for refugees and citizens of seven Muslim-majority nations.
Federal lawmakers have introduced bills to reform another controversial visa program known as the H-1B, which allows foreign specialized workers to temporarily come to the U.S. for employment. That program has been blamed for taking away jobs from Americans and giving them to workers from other countries for lower wages.
Congress had extended the EB-5 program after it was set to expire, but never passed any bills to overhaul it. While the program has helped finance major projects like the Hudson Yards in New York and the Hunters Point Shipyard in San Francisco, it has also generated a number of scandals.
Most recently, a 43-year-old former monk turned real-estate developer in Seattle, Washington, pleaded guilty on Jan. 4 to defrauding investors, lenders, and the EB-5 program of nearly $240 million. Lobsang Dargey, a Tibetan immigrant, faces up to 10 years in prison when he is sentenced on April 6.
Since 2008, $16.9 billion in direct foreign investment has gone into the U.S. economy through the EB-5 program, according to Invest In The USA, a non-profit industry trade association. EB-5 proponents say the program creates thousands of American jobs at no taxpayer expense.
Last month, the Department of Homeland Security proposed a rule change to increase the EB-5 minimum investment in high unemployment or rural areas to $1.35 million. For low-to-average unemployment zones, the recommendation was $1.8 million.
The EB-5 program is set to expire again on April 28.
Follow NBC Asian America on Facebook, Twitter, Instagram and Tumblr.