It was just past 6 o'clock on a July morning, and Lin Hsiang Chen and three other women were in a Queens kitchen quietly preparing breakfast, lunch, dinner, beverages and dessert for 20 new mothers. Chen, the head chef, was seated at a plastic table, hunched over a wooden cutting board, slicing freshly peeled ginger.
The deliverymen would be leaving around 8, and there were still soups to finish on the stove, vegetables to stir fry and pack. Unfazed by time, Chen continued slicing the ginger slowly with a sharp paring knife, insisting that all the thin strips were symmetrical and the same size.
For Chen, her customers are not just mouths to feed.
"These mothers are sitting the month," said Chen, 65, who is also a mother and grandmother.
Known as zuo yuezi in Mandarin, sitting the month is an age-old Chinese ritual believed to help new mothers restore balance to their bodies after giving birth. It is done through a regimen of rest and specially prepared dishes, many of them soups and porridges whose recipes require knowledge of Chinese herbs and their medicinal purposes.
But sitting the month can also be a stressful time. For some, it may involve confinement to the home for some 30-odd days, with mothers prohibited from showering, doing anything physical, and subsisting on a diet that is restrictive and, to some, unpalatable.
While modern mothers and their families, many of them far from family support systems, decide which customs to follow while sitting the month, businesses like Chen Mommy Kitchen -- named after Chen, who was born in China and grew up in Taiwan -- are increasingly picking up the slack with the cooking. And they are attracting not just new immigrants from China willing to pay up to $2,700 a month for freshly prepared meals delivered daily, but also western and second-generation Chinese-American women, who want a postnatal diet rooted in Chinese medicine that they can design themselves.
"I felt like I [could] regain my strength [after] one-and-a-half months. I could feel it because it was different."
One such mother is C. Christina Lam, a 37-year-old assistant professor of English at Borough of Manhattan Community College. Born in Queens and the daughter of Ecuadorian immigrants, Lam and her husband, a Chinese American, just had their first child in March. With Chinese in-laws, Lam was willing to sit the month, minus some of the traditions like not showering or eating innards like liver, which is supposed to replenish lost blood and supply iron.
She stuck mostly to soups, a key dietary component of sitting the month, but it took some time to adjust to the taste, she said.
"My mom is Ecuadorian, so everything goes into the soup -- meat, bones, yuca, whatever you can think of," said Lam, who decided to order from Chen Mommy Kitchen since her father-in-law, the family chef, was away in China for Lunar New Year. "The Chinese soup is basically broth, so it was something I had to get used to and appreciate."
Compared to Lam, Ivan Soong is a veteran at sitting the month. A mother of three in her 40s who was born in Hong Kong, Soong has done it three times already, though not "systematically," she said, when she had her first two children, now 8 and 6. Her mother-in-law helped out with the eight-year-old, and she didn't let Soong wash her hair for a week, fearing it might introduce "cold" to her daughter-in-law's recovering body.
Soong thought she would go mad.
"I wash my hair everyday," Soong said, laughing. "Can you imagine?"
With the six-year-old, Soong tried a different tack by hiring a nanny, who cooked and cleaned while she recuperated. The nanny also prepared herbal teas that Soong bought.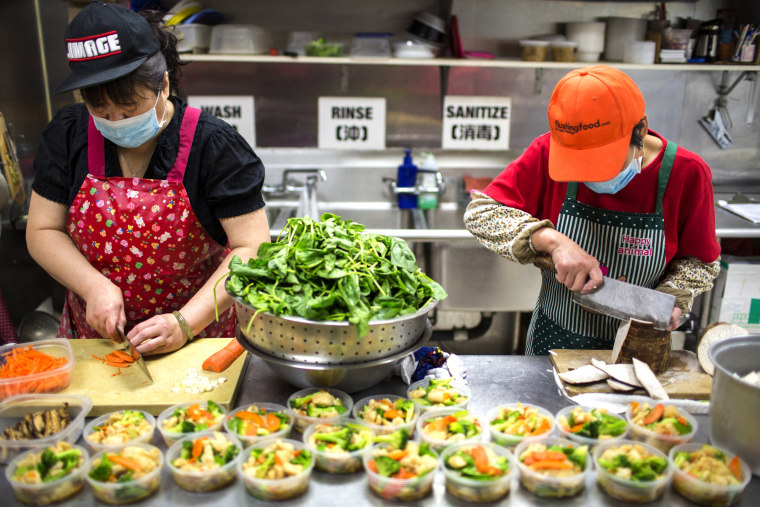 But neither experience, she said, compared to when she had her third child, who was born in December. That's when Soong decided to sit the month on her own terms, ordering meal sets from Chen Mommy Kitchen that she customized.
"I felt like I [could] regain my strength [after] one-and-a-half months," said Soong, who opted not to eat steamed fish. "I could feel it because it was different."
Whether the diet and rituals of sitting the month actually help new mothers recover faster is up for debate. It indeed remains a hot topic on Chinese-language blogs, with some criticizing as unscientific the traditional restrictions of not eating salt or not being allowed out of bed. Others argue that precautions taken by some Chinese mothers, like not showering or brushing their teeth, are outdated and are from a time when overall sanitary conditions were poor.
"The way I experienced this tradition is that that was my husband's family's way of taking care of us and loving us."
When it comes to the food, though, Jane Chow is a believer. After all, it was her own mother-in-law, Chen, who cooked when she sat the month twice. A former flight attendant for more than 10 years, Chow, 36, quit to take care of her two sons and, with her husband James Chen, started Chen Mommy Kitchen four years ago.
"I was lucky to have my mother-in-law with me," said Chow, who emigrated from Taiwan when she was 11. "She's the one who took care of me, and even for myself, I felt the difference before and after."
Chow said her goal is to replicate that experience for other mothers. On average, Chen Mommy Kitchen prepares 20 meal sets a day, which include breakfast, lunch, dinner, two desserts and a beverage. Two drivers deliver the orders daily to customers in New York City and the tri-state area, and frozen vacuum-packed meals are shipped by FedEx to as far away as Chicago and parts of Florida.
The menu for each of the four weeks focuses on a different restorative stage. The first, for instance, is designed to help mothers boost their metabolism and adjust their bodies' physiological functions, primarily through a pig liver soup cooked with sesame oil and fresh ginger. In Chinese medicine, ginger is supposed to dispel cold from the body.
But for mothers not keen on eating pig liver soup, substitutions can be made.
"Liver supplies iron," said Chow, adding that eating innards is commonplace among many Chinese. "But we can use purple rice or red beans, which does this as well."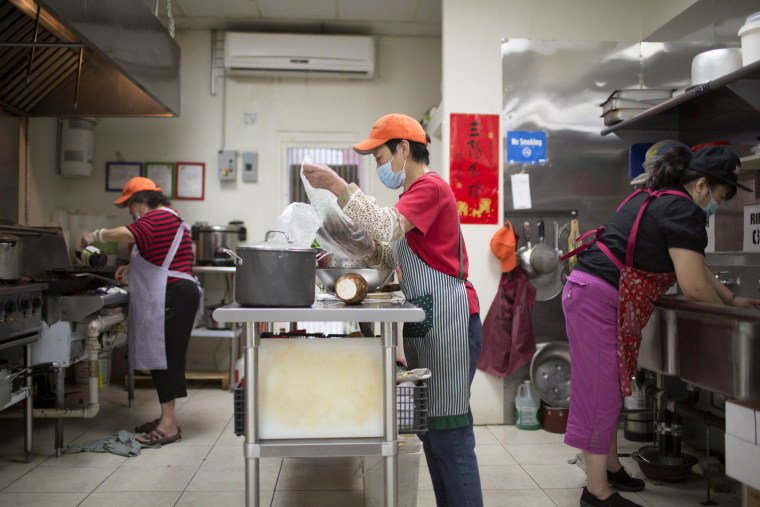 There are no hard figures on how many New York City businesses prepare food for mothers sitting the month. But unlike kitchens that operate out of private houses and apartments, Chen Mommy Kitchen is licensed by the city Department of Health and receives surprise inspections, the same as restaurants. Its last one got an A, the highest rating.
Throughout the United States, there are also facilities called yuezi centers that provide lodging for three months, attracting wealthy pregnant women from China who are willing to pay upwards of $50,000 for their stay. One perk is that giving birth on American soil automatically earns newborns U.S. citizenship. In New York City, there are some 40 yuezi centers that claim to be licensed, according to the World Journal, a Chinese-language newspaper.
After federal authorities raided 20 yuezi centers in California this March for allegedly avoiding paying taxes on hundreds of thousands of dollars they received to process visa applications, Chow said that all the negative press actually helped drum up business for Chen Mommy Kitchen.
"A lot of moms, after what happened, would prefer to just order food and stay at home," Chow said. "With a center, you never know what's going to happen."
To be sure, most women who sit the month are still overwhelmingly ethnic Chinese. Since 2011, Chen Mommy Kitchen has served more than 1,000 customers, with 70 percent from mainland China, 20 percent from Taiwan, and the rest a mix of non-Asians and women from countries like Korea and Japan, Chow said.
But with one-in-six Asian men marrying outside his ethnicity -- and as more westerners become interested in eastern medicine -- businesses like Chen Mommy Kitchen could see a shift in the demographics of their customer base.
Lam is part of that shift. For her, sitting the month did come with its small share of cross-cultural conflicts, she said. Her in-laws, for instance, believed that her newborn Evan had to be covered up at all times to keep him warm. But when her Ecuadorian-American mom visited, she insisted on opening up the windows to let in fresh air and sunlight.
In the end, Lam knew that her in-laws' concerns were born of good intentions.
"The way I experienced this tradition," she said, "is that that was my husband's family's way of taking care of us and loving us."