After five episodes of his web series "American Seoul," filmmaker Zeke Anders is taking his experience as a Korean adoptee one step further.
Growing up, Anders said he felt nobody else could ever understand how he felt as an adoptee, until he realized through creating "American Seoul" that he was wrong. The series, Anders said, opened his eyes to the culture and community of people across the country — and even across the world.
Through his next project, The KAD Diaries, Anders hopes to create a platform for other adoptees to share their experiences, whether it be the same experience or a variation of adoptee experiences.
"The premise of The KAD Diaries is it deals predominantly with the adoptees' cultural self-identity, which is a very common issue amongst transracial adoptees," Anders told NBC News. "Not just Korean, but all trans-racial adoptees, and where do we fit?"
The KAD Diaries, or The Korean Adoptee Diaries, is a photo and video series that profiles Korean adoptees who have come across one common issue: "Where do I belong?" The art project, Anders explains, delves into the issue of self-identity and assimilation into the American culture from an adoptee's point of view.
Each participant in The KAD Diaries is photographed in front of a Korean flag and an American flag, hanging side-by-side. Anders lets each adoptee choose which flag they want to stand in front of, based on how they identify.
"Many of the Korean adoptees will stand in front of the American flag, because they feel like they're just more American," Anders said. "Others have stood in between because they either feel, whether it be the 'tug-of-war,' or they feel very balanced between the two cultures. And of course some of them stand in front of the Korean flag."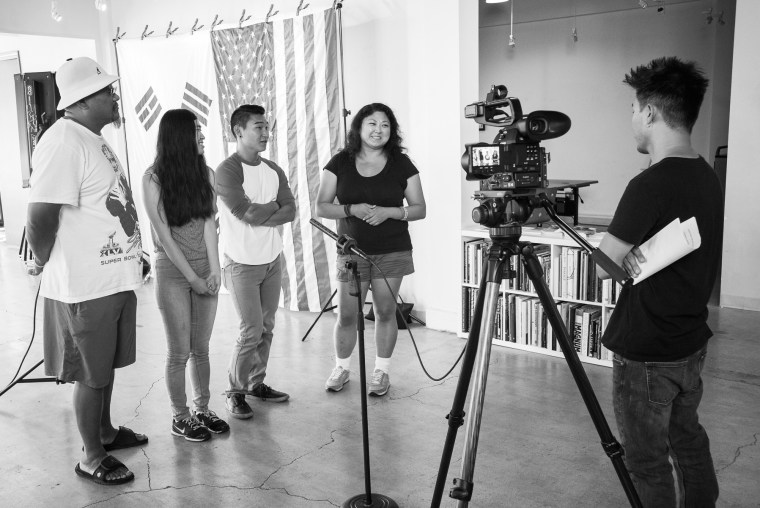 For the project, Anders has reached out to Korean adoptee communities, from Los Angeles to Washington, DC. The inspiration behind The KAD Diaries, Anders adds, is that he wanted to reach out to other Korean adoptees to discuss and share their challenges growing up. Anders said he himself felt ostracized as a Korean adoptee growing up in a predominantly white community.
"My self-identity, my self development going into junior high and high school in those years, I was very, very self-conscious of how I looked [and] even how I spoke. I don't have an accent, but I was just very self-conscious all the time — all the way around, just on my image and how I presented myself."
RELATED: New Series Sets Out to Challenge Stigma of Adoptee Experience
He wanted to stress to other Korean adoptees, as well as trans-racial adoptees, that they are not alone in this situation, and he, himself, can relate. Anders also says it is important to have a support system, whether it be through social media, friends, or family.
"We live in a time where social media is so strong. If you're feeling alone, you're not alone," Anders said. "Reach out, there are communities everywhere. Make sure you have a support system, make sure you have friends that you can talk to and bounce ideas off of. Lean on them, when you need to lean on them."
Follow NBC Asian America on Facebook, Twitter, Instagram, and Tumblr.