The Department of Homeland Security will create a new program to help reunite Filipino veterans of World War II with family members in the Philippines stymied by 20-year immigration logjams, according to a White House report on immigration reform.
In what is seen as a way to "strengthen the humanitarian" aspects of our nation's immigration system, the new program hopes to honor the wishes of elderly Filipino veterans who are now US citizens and need the aid of their adult children.
In 1941, more than 260,000 answered the call of President Franklin D. Roosevelt to fight in World War II. They were promised citizenship and benefits. But that promise was rescinded in 1946. Since that time, the veterans have battled to restore their rightful benefits bit by bit. But family reunification efforts have been elusive for the 6,000 remaining vets who could be eligible.
"It's a breakthrough," Arturo Caleda, 91, a disabled vet who resides in Hawaii, told NBC News. "I think the president realized that because we are too old now, that we need the help of our children…so that somebody can take care of us while we're residing in the United States."
Celada has three children who could be able to join him once the program is underway.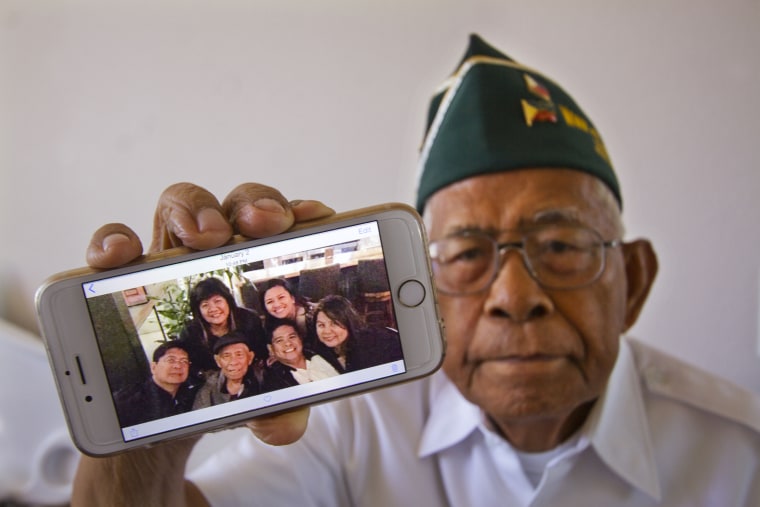 Eric Lachica of the American Coalition of Filipino Veterans, based in the Washington, DC area was skeptical but optimistic.
"It would be a happy ending for our Filipino heroes in USA to have their loved ones care for them and at their bedside when they fade away," Lachica said. "Loneliness should not be their only option."
But Lachica was concerned that the language in the report to allow "certain family" members to "provide support and care" indicates that there may be conditions to participate. He also wants to see the final guidance for the program drawn up by the United States Citizenship and Immigration Service and the State Department.
Related: WWII Filipino Veterans Fight Visa Backlog to Reunite With Families
The current wait for children of these veterans to navigate the immigration process is more than 20 years.
As opposed to a White House executive action, this reform is being invoked through the use of an immigration tool called "parole," an option long being pushed by organizations fighting for family reunification, like Asian Americans Advancing Justice.
Like NBC Asian America on Facebook and follow us on Twitter.