Cris Mercado thought he had accomplished the American Dream, even in the face of multiple setbacks. He gained acceptance to his dream college, New York University (NYU), and won a top grant worth $80,000 that would go towards his Ph.D. program. But Mercado could not attend NYU and had to give up the grant because he is an undocumented immigrant.
"A lot of immigrants like myself, we do have really tough stories and stories of struggle, but I kind of see them as stories of strength," he told NBC News. "That quality is transferable to many different careers."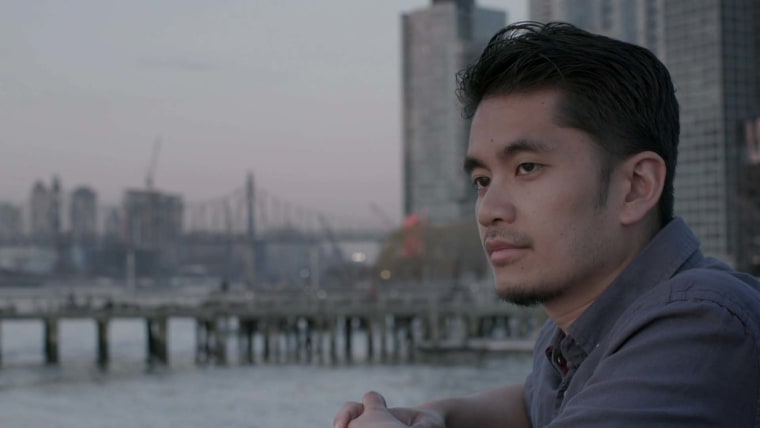 Mercado is the subject of a new short documentary produced by FWD.us, an organization with the mission "to mobilize the tech community to support policies that keep the American Dream achievable in the 21st century."
"American Dream," which tells Mercado's story, was directed by Paola Mendoza, who has worked with FWD.us on similar short documentaries about immigration rights and the people it affects.
Mercado, who was born in the Philippines but grew up in New York, now works to help students and young people build careers, specializing in college and career-ready services.
Most recently, he created an app, KeyJargon. The app, which is in the running for the First Lady's Reach Higher App Challenge, was inspired partly by Mercado's own unorthodox career trajectory.
"I sort of had to piecemeal a career path, and the quickest way I've been able to communicate with people across industries is really learning how to talk the talk," he said. "I was trying to come up with what is the quickest, easiest tool that young people can use to sort of strengthen their communication skills so they can secure jobs."
"Who we should call our own may not always be people who look like us."
Mendoza, who directed "American Dream," told NBC News that Mercado has been able to do "so much with so little."
"Here's this person who really loves our country and what it stands for," she said. "Not because he's going to live off the system — which is a myth that gets perpetuated and is so untrue — but because he wants to contribute."
"He's been able to contribute so much to this country already," she added. "We can only imagine what he'd be able to contribute with everything available to him."
RELATED: 'You Deported Me': Video Campaign Highlights Undocumented Asians
This isn't Mendoza's first film about immigration. She also directed "Free the Birds," which premiered at the Tribeca Film Festival and told the story of Sophie Cruz, the six-year-old girl who asked the Pope to pray for immigrants when he visited the United States.
"Immigration today is unfortunately a very divisive issue," she said. "You have a lot of hate on one side, and a lot of love and fear on the other side of the issue. My role as an artist in this is try to bridge that divide a little bit, try to create dialogue."
Both Mendoza and Mercado hope to change people's perspectives on immigration through the film.
"In the video, there are five people that represent different races, age demographics, and religions," said Mercado. "I want people to kind of reconsider who they call their own. Who we should call our own may not always be people who look like us."
Follow NBC Asian America on Facebook, Twitter, Instagram, and Tumblr.