A new digital exhibition that celebrates the military service of second-generation Japanese-American, or Nisei, soldiers during World War II launched Thursday. A joint project of the Smithsonian Asian Pacific American Center, the Smithsonian's National Museum of American History, and the National Veterans Network, "The Nisei Soldier: Congressional Gold Medal" digital exhibition is an online, object-based educational exhibition that features the life stories of twelve Nisei soldiers who served while their families were incarcerated in concentration camps.
"I'm thrilled and honored that my grandfather's legacy of resilience, loyalty, patriotism and leadership is included in this exhibit," Olympic gold medalist Kristi Yamaguchi told NBC News.
Yamaguchi's grandfather, George A. Doi, was the only Japanese American to serve in the unsegregated 100th Infantry Division, while his wife and child were incarcerated in Amache, Colorado, and Heart Mountain, Wyoming. (The 100th Infantry Division differs from the the 100th Infantry Battalion, which was comprised of mostly nisei soldiers.)
"Exhibits such as this are valuable reminders of our history and what our ancestors endured to give us the rights and freedoms we so enjoy and, sometimes take for granted, today," Yamaguchi said. "The way my grandfather lived his life has been an inspiration to me and with this exhibit, hopefully his story will inspire many more."
On October 5, 2010, President Barack Obama signed Public Law 111–254, with which Congress awarded its highest civilian honor to the Nisei soldiers of World War II, including veterans of the 100th Infantry Battalion, 442nd Regimental Combat Team, and Military Intelligence Service (MIS). The Nisei Congressional Gold Medal has been on display at the Smithsonian since February 2014.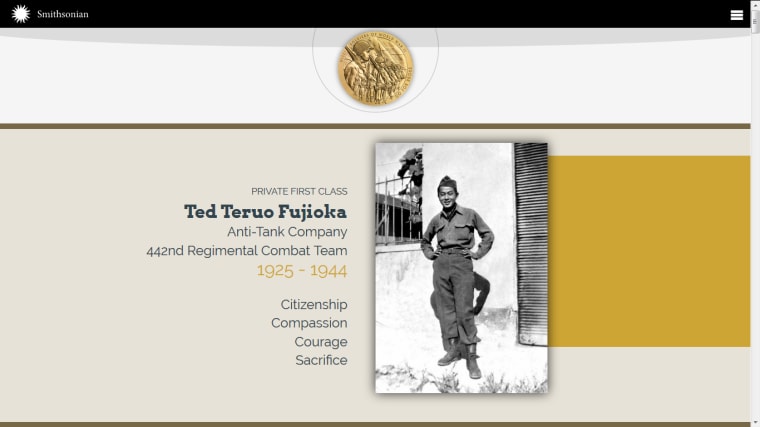 The exhibition includes letters Ted Teruo Fujioka wrote to his family incarcerated at Heart Mountain while he was in Europe with the 442nd Regimental Combat Team and the pen and pencil with which he wrote them.
"Ted Fujioka was my mother's second-youngest brother," Darrell Kunitomi told NBC News. "Time and time again he repeated it in his letters, that he would 'fight for his family's future this country, for the Issei, the Nisei and for the generation to come, the Sansei.'"
"That's my generation, the third, so he was indeed fighting for me," Kunitomi continued. "His sacrifice has touched me deeply. My life has taken turns, I've evolved over the years, have made my free choices as an American. Those men — boys really, Uncle Ted volunteered at 18 and was killed in action in France at 19 — stood up and fought like tigers. And they died by the dozens."
Follow NBC Asian America on Facebook, Twitter, Instagram, and Tumblr.