Postage stamps were unveiled in New York City on Wednesday to commemorate the 150th anniversary of the first transcontinental railroad, a monumental engineering project linking the nation's coasts that was completed with the help of thousands of Chinese laborers.
"The story of the Chinese railroad workers is a story that must be told, and today we are doing exactly that," Rep. Grace Meng, D-N.Y., said in a statement. "Honoring their blood, sweat and labor, and providing them with the recognition they deserve, is an outstanding way to mark this milestone anniversary of the railroad."
The unveiling, held at the Museum of Chinese in America near Manhattan's Chinatown, comes after thousands gathered on May 10 in Promontory, Utah, to celebrate the line's completion a century and a half ago.
The first transcontinental railroad shaved travel time across the continent from several months to about a week.
"Today and with this stamp, we are finally telling the whole story of the Chinese and Irish railroad workers whose labor and sacrifice created an economic boon for a young nation just recovering from the Civil War," Rep. Jerrold Nadler, D-N.Y., said in a statement.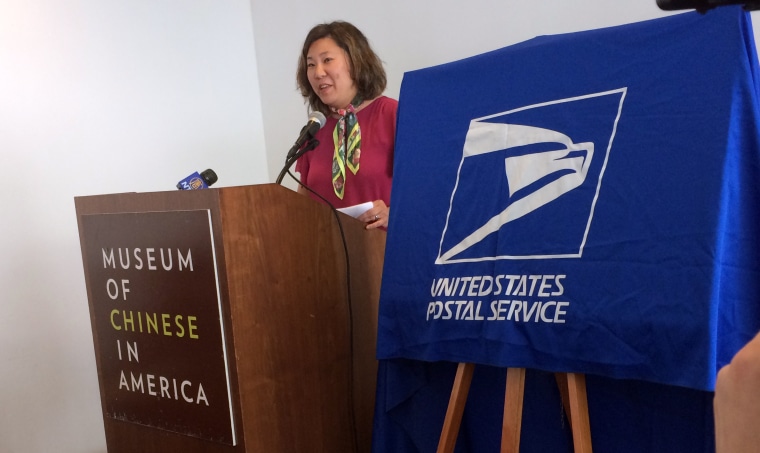 Each of the two locomotives that met at Promontory Summit in 1869 received its own forever stamp. A third depicts the iconic golden spike hammered in that day in May, signifying the joining of the Union Pacific and Central Pacific railroads.
Meng and other members of Congress wrote to the Citizens' Stamp Advisory Committee earlier this year, recommending that the United States Postal Service issue a commemorative stamp honoring the Chinese immigrant laborers who helped build the line.
While the Irish made up a large part of the railroad's workforce, particularly that of the Union Pacific, which pushed westward, the Chinese accounted for nearly 90 percent of Central Pacific laborers, who built east from California.
At its highest point, 10,000 to 15,000 Chinese were working on the Central Pacific, with perhaps as many as 20,000 in total over time.
The Chinese laborers took on some of the most dangerous, most exhausting assignments for less pay (and worse treatment) than their Euro-American counterparts. Hundreds, possibly more than a thousand, Chinese workers died during the line's construction.
Despite their sacrifices, the Chinese railroad workers and their contributions have largely been glossed over in history — a wrong that railroad worker descendants and advocates have endeavored to right.
Larry Lee, who attended the event, said in a statement that his great grand-uncle Lai Moun (also known as John W. Lee) helped build the railroad and "was one of the thousands of Chinese who were nameless and faceless to the outside world."
"Now, 150 years later, the Chinese railroad workers are finally being remembered as heroes who united and built America," Lee added.
Follow NBC Asian America on Facebook, Twitter, Instagram and Tumblr.