Asian-American women are less likely to receive timely follow-up treatment after an abnormal mammogram compared to white women, according to a new study. This delay could potentially put Asian-American women at a higher risk of delayed breast cancer diagnosis.
In the study, published in the journal Cancer this month, researchers at the University of California, San Francisco (UCSF) found that among Asian-American women, Vietnamese and Filipino women experienced the highest rates of follow-up delay.
"We were surprised to find delays in different Asian subgroups," Kim Nguyen, an author of the study and a scientist with the UCSF Institute for Health Policy Studies, told NBC News.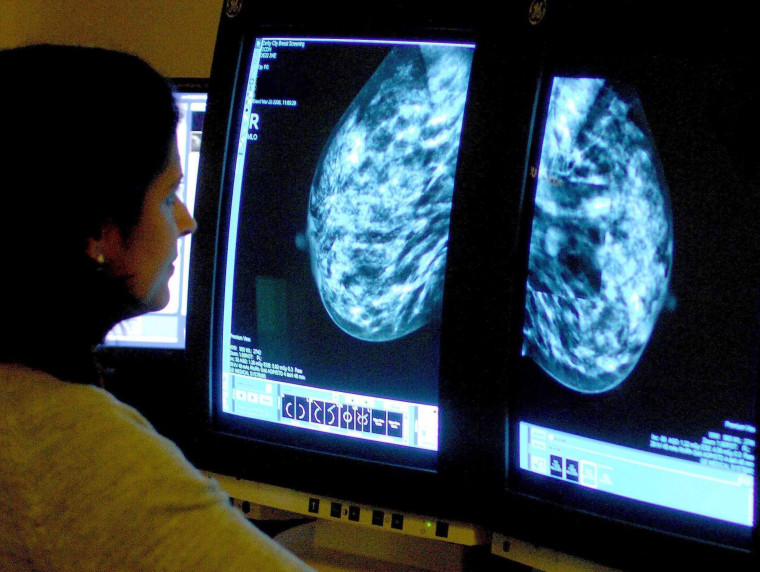 Many population-based breast cancer studies don't include Asians, and those that do usually combine them into a single group, Nguyen said.
"This is something that's really important because Asians are not a monolithic group. There are significant differences that we are finding between Asian ethnic groups and health, and that's why its very important to disaggregate the different ethnic groups when we're studying health," she added.
RELATED: Breast Cancer Rates Rise Among Asian-American Women as Others Stay Stable
For the study, researchers analyzed the records of 49,538 white and Asian women from the San Francisco Mammography Registry between 2000 to 2010. Six Asian ethnic groups — Chinese, Filipino, Japanese, Vietnamese, other Asian (including Thai, Cambodian and other Southeast Asians), and mixed Asian (individuals who self-reported as Asian and at least one other race) — were represented in the sample researchers examined.
Potential explanations for the lower rate of follow-up among Asian-American women include varying socioeconomic statuses, limited English proficiency, and regular access to a health care provider, according to the study. These factors may affect how an individual proceeds with a follow-up, researchers wrote.
"There are significant differences that we are finding between Asian ethnic groups and health, and that's why its very important to disaggregate the different ethnic groups when we're studying health."
A surprising finding in the study was the rate of Filipino-American women (18 percent) — who typically have higher rates of English proficiency and levels of education — who did not follow up after an abnormal mammogram after one year, Nguyen said. She added that while there is no clinical consensus about when women should return for follow-ups, previous research has found that women who delay by three months or more have lower survival rates than those who follow up sooner.
"It's important for us to collect and have different factors that you can be looking for because that's surprising to us. A potential explanation could be cultural beliefs around cancer. We're not sure. We're surprised about this, and it could be focus of future investigation," Nguyen said.
A limitation of the study is that researchers were unable to isolate relevant factors that affect health, such as immigration history and language, which affects a woman's ability to follow up, Nguyen said. This is because they were limited to the data from the registry, which did not include those variables.
"What we know about ethnicity is it is associated with common traits such as language, cultural beliefs, immigration patterns. For a specific example, we know that Japanese Americans have higher income and education than, say, Vietnamese or Laotian Americans. That's something that is perhaps the reason or a potential explanation of why we're seeing such disparities in abnormal follow ups, but that's something we need to explore and isolate further in future studies," Nguyen said.
However, one sociodemographic they were able to account for was education, and Nguyen said authors noticed differences in education among ethnic groups.
Although social and cultural barriers provide potential reasons for lower follow-up rates, an "uncoordinated and fragmented" healthcare system can further compound existing barriers, Nguyen said. An individual, for instance, can get a mammogram at a primary care doctor. But if the results come back abnormal, a woman will most likely be referred to another facility specializing in diagnostic mammograms that may be farther away, and may or may not offer language assistance a patient may need.
RELATED: 'Plum Blossoms' Aims to Empower Asian-American Women with Breast Cancer
"During that process, for an individual with language barriers, older age, or lack of community or family support in terms of transportation, would have more difficulty in getting to facilities," Nguyen said.
Another limitation of the study is that the sample population resided only in the San Francisco Bay Area, although the region possesses a significant diversity of Asian ethnic groups.
The UCSF study comes as rates of breast cancer have been increasing among Asian-American women. Similarly to disparities in abnormal mammogram follow-ups, breast cancer affects a variety of Asian subgroups differently. Japanese experience the highest rate, while Laotians have the lowest rate.
For clinics that serve a significant number of Asian patients, understanding the types of challenges they face and how it affects their behavior for follow-up testing is crucial in ensuring they receive proper care, Nguyen said.
"Even if their staff can speak the language [of patients], maybe hire a part-time interpreter. We know that that's something that helps Asian patients with language barriers," she said.
Follow NBC Asian America on Facebook, Twitter, Instagram and Tumblr.