Diversity has long been a media buzzword, the weight of its presence ebbing and flowing with the hot-button industry headlines of any given day. But for the founders and participants of the South Asian Film Lab (SAFL), diversity is hardly a trending topic; it's the driving fuel for an organization dedicated to nurturing stories and facilitating careers that stretch the definition of being a South Asian American in film and television.
With roots extending back ten years, SAFL is the brainchild of Vishesh Sharma, a New York-based writer/filmmaker painfully aware of the gaping holes in South Asians' media representation—and moreover, of the absence of the voices needed to fill them. "Where are the South Asian filmmakers?" he recalled his bafflement at the lack of a solid network within the community.
His thoughts later struck a chord with fellow filmmaker Girimohan Coneti. "I used to be part of the Latin American playwright Jose Rivera's writers' group," Coneti said, "and I wondered why there couldn't be a workshop for South Asian writers, too." Intermittent brainstorming would follow before the initiative was formally launched in June 2014, with writer/director and IFP alum Pulkit Datta coming aboard to round out the founding trio.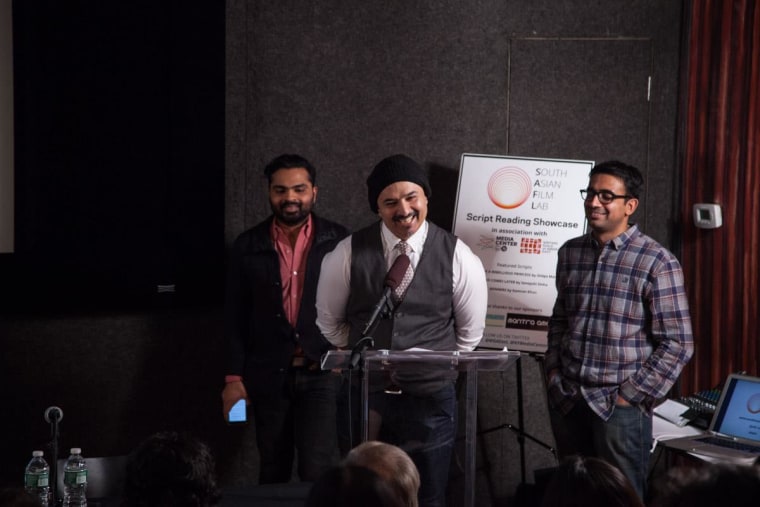 A decade may have passed since Sharma's initial idea, but the need for a collaborative environment of South Asian American storytellers appears more relevant than ever today, as their representation in mainstream writers' rooms remains one of the lowest even among minorities, as reported by the Writers' Guild of America's 2014 Hollywood Writers Report. The hope for change, according to Coneti, Sharma and Datta, lies within the community itself.
"To date, there hasn't been any way to elevate each other, to push each other to create a pool of better content," Sharma said. SAFL's mission is to provide a space that does exactly that. During biweekly sessions, ideas and talent converge as storytellers share and seek feedback on material that runs the gamut from television pilots and sketch comedy to web series and feature films. "We want to seek and encourage out-of-the-box topics that cut across genres and push the boundaries of tradition," Datta explained.
"When you watch something that's heartwarming, that you fall in love with, it doesn't matter that it's made by a bunch of brown people."
As it turns out, there is no dearth of content reflecting that range, as seen by the work on display during the lab's first public Script Reading Showcase earlier this month, featuring a table-read of excerpts from three scripts in development through SAFL. Shilpa Mankikar's television miniseries melds New York's Jazz Age with the British Rule in India for a Hindi telenovela-meets-Downton Abbey effect. Sonejuhi Sinha's feature film touches on abortion and sexuality in its exploration of an undocumented immigrant's struggle for survival. Kamran Khan infuses plenty of pop cultural references and edgy politically-charged satire into his comedy thriller.
The scripts reflect a new type of storytelling emerging from the demographic, in which a South Asian American perspective doesn't necessitate a fixation on ethnicity. "At their core, these are human stories that anyone can relate to," Khan pointed out. "When you watch something that's heartwarming, that you fall in love with, it doesn't matter that it's made by a bunch of brown people."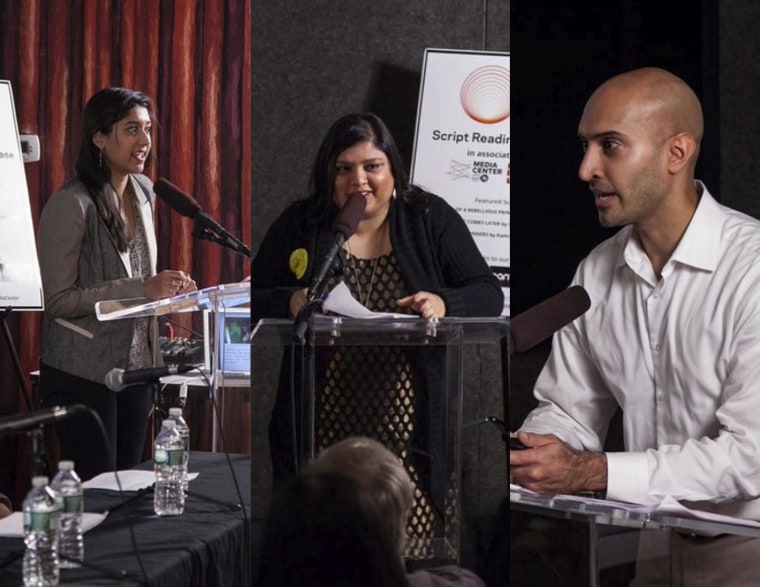 The space that SAFL built has proved invaluable for a group that, for a myriad of reasons, has shied away from realizing its full creative potential. "A lot of it has to do with this field not being considered as valid," Sharma surmised, hinting at the traditionally disapproving stance South Asian parents take on careers in the entertainment industry. Mankikar offered her own hypotheses: "Hollywood is infamously biased, so being a minority and a woman is especially tough," she said. "We just need to be fearless and go for it."
In the seven short months since SAFL's inception, the lab has witnessed an impressively rapid evolution, progressing from a workshop for writers to an experimental playground for directors, a rehearsal room for actors, a marketplace for producers, and a thriving networking space for everyone involved. The Showcase, with a full-house turnout comprising mixed nationalities and assorted industry positions, has been further validation for SAFL's belief in the future of South Asian American storytelling.
"A year ago I was just trucking along, not knowing whether there would even be a response to my script," Sinha confessed. "But this [event] has shown me that the audience exists. It's reassuring to know that there are people out there who will watch this."
"There's always the fear that nobody will want to see these stories until someone actually takes a chance on them"
Her words mirror SAFL's ultimate goal to not only incubate scripts, but bring them to fruition as well. "The hope is that by expanding the perceptions of what South Asians are capable of creating, we can help them get noticed on a larger platform and, eventually, get made," Datta said.
The objective is bolstered by the willingness of non-South Asian organizations such as the IFP and the Writers Guild of America—both of which served as official partners for the Showcase—to align with SAFL in a common commitment to diversity. "We love being a home to different groups for peers to share resources and connect," said Sabrina Dridje, Director of Community Engagement at IFP's Made in NY Media Center, where the Showcase was held. The support is already proving fruitful, as SAFL's early success has sparked demand to establish branches on the west coast; an exciting prospect for a community that was, until recently, merely imagined.
"It's truly a celebration of who we are and the opportunities we have," Coneti said of the unexpected reception of what he termed a "new wave" of South Asian Americans in film and television, a movement that appears to veer away from the weary fights against stereotypes, and replaces them with new voices that resound with refreshed sensibilities.
Now, it is just a matter of getting them heard, a challenge that SAFL accepts with optimism. "There's always the fear that nobody will want to see these stories until someone actually takes a chance on them," Khan said. "Once we're given that chance, we'll blow them away."