The New York City Board of Elections has agreed to settle a lawsuit that alleged it violated federal law by removing more than 117,000 voters, including Asian Americans and Latinos, from voter rolls because they hadn't cast ballots in past elections.
The consent decree, filed on Tuesday in Brooklyn federal court, requires that the board review every voter registration removed from its lists beginning July 1, 2013, identify those improperly purged, and reinstate their registrations. The board must also devise a plan to address its violations of election law.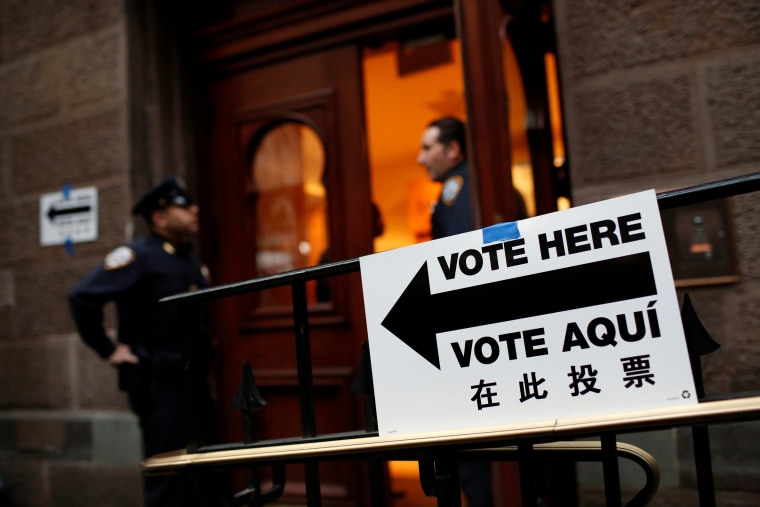 It will have 90 days to take these steps from the date the agreement becomes effective.
"The improper removal of voters from the rolls deprives voters of their voice in choosing elected representatives," acting U.S. Attorney Bridget M. Rohde of the Eastern District of New York said in a statement Tuesday. "The settlement in this case restores that voice and ensures that eligible voters will be heard in the future."
Common Cause New York, the group that filed the suit, signed off on the settlement, along with the New York State Attorney General's office and the Justice Department, which both joined the lawsuit. It still requires a judge's approval.
"Voting should be an easily accessible right instead of subject to unnecessary obstacles," Susan Lerner, executive director of Common Cause New York, said in a statement.
The purge, which came to light in news reports in April 2016 after New York's presidential primary, was an attempt to "clean up" voter rolls in Brooklyn, according to court filings. Beginning in late 2013 or early 2014, officials sought to remove active-status voters who hadn't voted since 2008 and whose registration records had no activity since that year, court documents said.
But New York state election law prohibits eliminating voters from registration rolls simply for not voting — unless they've been marked as "inactive" for two federal general elections, according to court papers.
The National Voter Registration Act of 1993, which the Justice Department accused the board of violating, also says boards of election "may not remove voters solely by reason of a voter's failure to vote."
An analysis published in June by radio station WNYC showed that a disproportionate number of cancelled voters were Hispanic. Also high on the list were voters surnamed Wong and Chan, the report found, which are common Chinese last names.
New York's 7th Congressional District bore the brunt of the purge, according to WNYC. Asian Americans make up around 19 percent of the district and Hispanics 39 percent, according to the U.S. Census.
In its wake, several top Brooklyn elections officials were suspended without pay, and board executive director Michael Ryan publicly apologized for the mistake last May.
The board in its settlement agreed, among other things, to establish policies and procedures to ensure voters are not purged from registration lists simply for failing to vote.
It must also submit to semi-annual audits by the New York State Attorney General's Office and provide voter registration data every month to Common Cause New York, the state attorney general, and the federal government, the agreement said.
"Voters across the City will benefit from the improved maintenance of the City's voter rolls the Board of Elections agreed to in this settlement," a city Law Department spokeswoman told NBC News in an email.
A voicemail and email left with the city Board of Elections were also not returned.
Follow NBC Asian America on Facebook, Twitter, Instagram, and Tumblr.