New York City Mayor Bill de Blasio declared Oct. 19, 2016, Waris Ahluwalia Day during a Diwali celebration at the Gracie Mansion in Manhattan.
Ahluwalia — an Sikh-American designer and actor — made headlines in February this year, when he was denied boarding on an Aeroméxico flight from Mexico City to New York City for New York Fashion Week. The airline eventually apologized.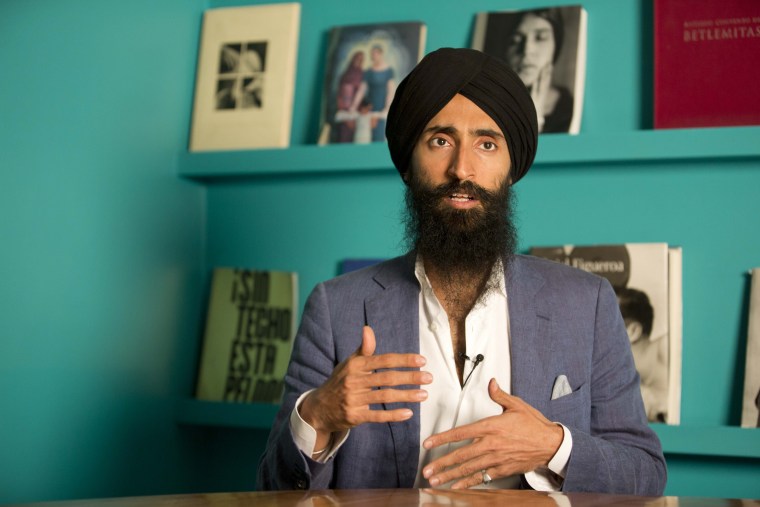 "I'm a New Yorker. Having been around the world many times, to many of the great cities of the world on numerous occasions, I can confidently say this is the greatest city of them all," Ahluwalia told NBC News. "It's given me so much already. I'm honored beyond words and will to continue to uphold the values of this magnificent metropolis."
RELATED: Sikh Designer, Actor Says He Wasn't Allowed to Board Flight Because of His Turban
The honor is unprecedented, according to The Sikh Coalition, a New York-based nonprofit, and comes at a time of increasingly polarizing political rhetoric and a number of alleged hate crimes across the United States against Sikhs. Diwali, a festival of lights celebrated by Hindus, Jains, Buddhists, and Sikhs, symbolizes the triumph of good over evil.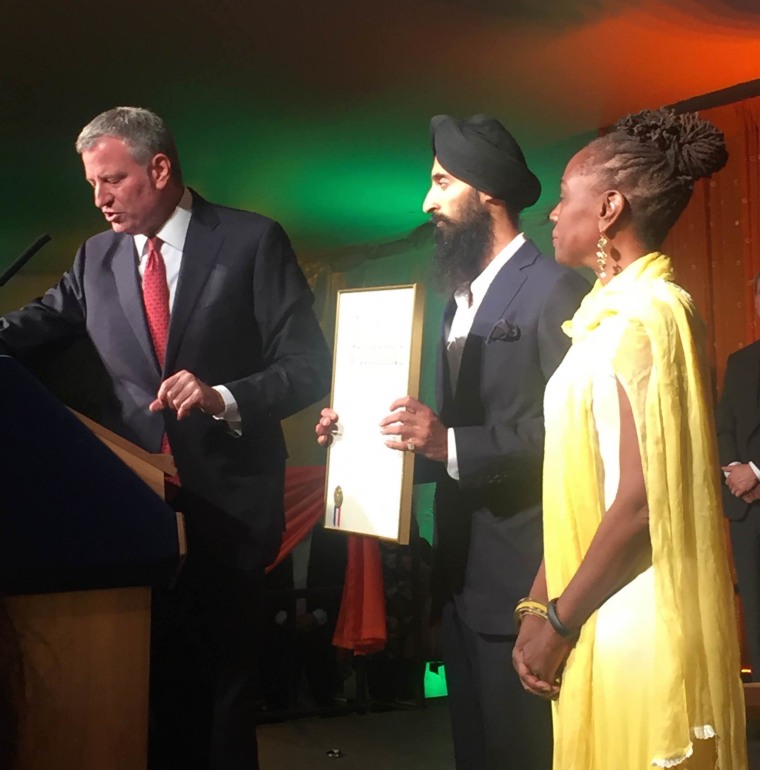 In an email to NBC News, Simran Jeet Singh, senior religion fellow at The Sikh Coalition, noted that the recognition for Ahulawalia was significant, too, at a time when divisive rhetoric has overshadowed politics. "Given our current political climate and the rampant hate violence that is plaguing our nation, this gesture from the city sends the message that all Americans deserve basic human dignity and that we value one another deeply, no matter how we might look or what we might believe," Singh said.
The recognition, Ahluwalia added, was also significant because of the Diwali celebration. "Diwali is more relevant today, this year, than ever," Ahluwalia said. "A festival that celebrates good over evil and knowledge over ignorance is a festival for all humanity. It knows no borders. It knows no race."
"As you start your day, with the first step, and all the following steps, as your feet hit the pavement, step forward with love," Ahluwalia added. "Put love in all that you do. Exist with love. It's our only weapon against fear. Know yourself as love and know the stranger you pass on the street as love — not as the other. There is no other. Just us. That's how I do it. With love and empathy. Each and every day."
Follow NBC Asian America on Facebook, Twitter, Instagram, and Tumblr.