The New York Gilbert & Sullivan Players have canceled its winter production of "The Mikado," a Gilbert and Sullivan opera set in feudal Japan. The show, which faced backlash from the Asian-American theater community and bloggers over accusations of "yellowface," was set to open in December at New York University's Skirball Center for the Performing Arts.
"NYGASP never intended to give offense and the company regrets the missed opportunity to responsively adapt this December," executive director David Wannen wrote on Facebook. The show will be replaced by six performances of "The Pirates of Penzance."
"Our patrons can be sure we will contact them as soon as we are able, and answer any questions they may have. We will now look to the future, focusing on how we can affect a production that is imaginative, smart, loyal to Gilbert and Sullivan's beautiful words, music, and story, and that eliminates elements of performance practice that are offensive," Wannen wrote.
"The Mikado" was set to be performed by primarily Caucasian actors; most of the characters, who are generally Japanese courtiers and their servants, were to be dressed in costumes and wearing make up evocative of Japanese culture.
Blogger Leah Nanako Winkler, who received a flyer promoting "The Mikado" earlier this month, had called the production "an embarrassment" in a recent blog post, and asked readers to join her in contacting the New York Gilbert & Sullivan Players to voice discontent.
"Are we going to settle and accept that having two Asian actors in this production of 'The Mikado,' isn't quite as egregious as none whatsoever and allow the yellowface set in the "fictional" land of Japan to be depicted in our expensive, wonderful city that we work hard to exist and be heard in every single day?" Winkler wrote.
Playwright Ming Peiffer added her voice to the #SayNoToMikado conversation in a blog post where she wrote, "Why must we once again go through the panoply of politically correct racial discourse to explain why [INSERT OUTDATED ASIAN MUSICAL HERE] is offensive. Is incorrect. Is *racist*."
And actress and blogger Erin Quill echoed accusations of racism on her blog: "People who do 'The Mikado' with exaggerated makeup, stereotyped gestures, and general disrespect to Japanese people are racist."
In a response posted on its website, the New York Gilbert & Sullivan Players said the opera was meant to be a satire of British society, and that the organization had taken steps to maintain authenticity "without caricaturing [Japanese culture] in any demeaning or stereotypical way."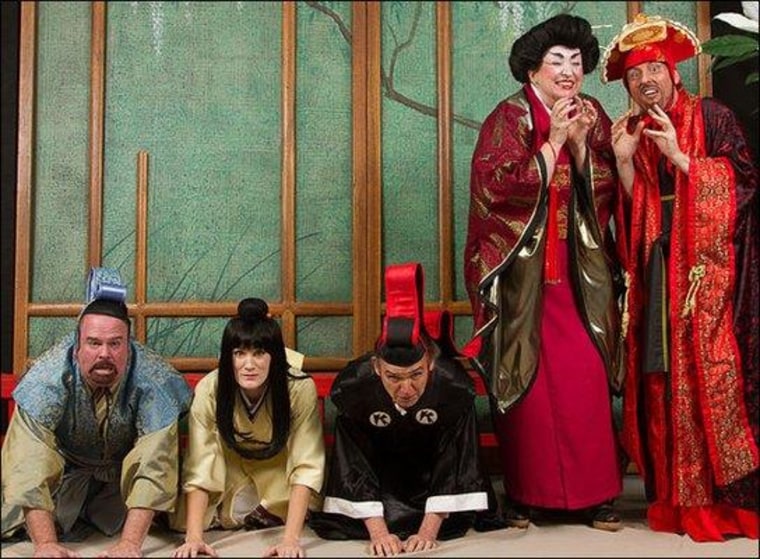 Last year, a production of "The Mikado" in Seattle stirred similar controversy ahead of its run.
"It's astounding we have to keep relitigating this," actor Greg Watanabe said last year. "The galling part is, the producer is aware there are racist elements and yet doesn't think it's relevant, isn't aware that people are offended and have a problem with it, or doesn't care, and then thinks casting no Asians in it is also totally fine."