New York City reached a settlement Thursday in two lawsuits accusing the New York City Police Department (NYPD) of surveilling Muslims because of their religion in the years following the Sept. 11 terrorist attacks.
The agreement, which still requires federal court approval, will bring a number of reforms to the NYPD, including banning investigations in which "race, religion or ethnicity is a substantial or motivating factor" and prohibiting investigations that are open-ended.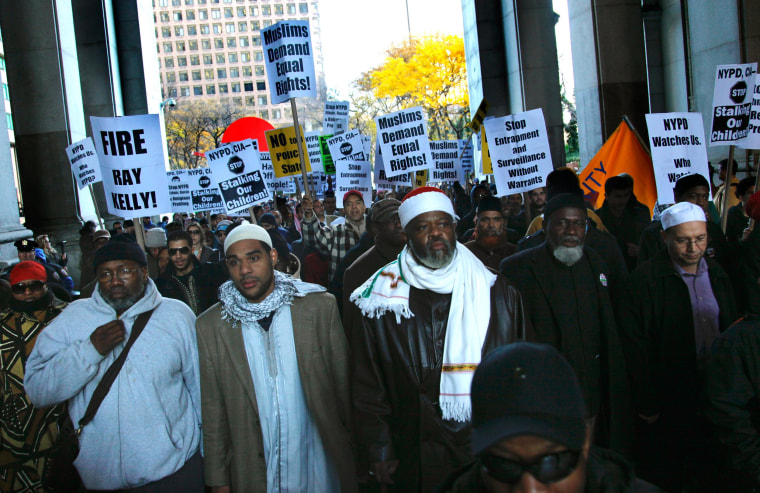 Without admitting any wrongdoing, the NYPD agreed to limit its use of undercover officers and informants for instances when information sought in an investigation "could not reasonably be obtained in a timely and effective manner by less intrusive means," according to the agreement. The city will also appoint a civilian representative, an attorney who will hold the position for at least five years, to make certain that the safeguards detailed in the settlement are followed.
The city will pay plaintiffs approximately $1.67 million to cover attorney fees, costs, and expenses, and it will remove from the NYPD's website a controversial 2007 report entitled "Radicalization in the West: The Homegrown Threat," a document written by two senior intelligence analysts that the NYPD said it has never used for opening or extending investigations.
The changes, in some instances, will codify NYPD practices already in place.
"For the first time, this watershed settlement puts much needed constraints on law enforcement's discriminatory and unjustified surveillance of Muslims," Hina Shamsi, national security project director for the American Civil Liberties Union and attorney for plaintiffs in one of the lawsuits, said in a statement. "At a time of rampant anti-Muslim hysteria and prejudice nationwide, this agreement with the country's largest police force sends a forceful message that bias-based policing is unlawful, harmful, and unnecessary."
Mayor Bill de Blasio said in a statement Thursday that his administration is committed to ensuring New Yorkers of all backgrounds "feel respected and protected."
"New York City's Muslim residents are strong partners in the fight against terrorism, and this settlement represents another important step toward building our relationship with the Muslim community," he said.
The agreement applies to two actions brought against the city. Raza v. City of New York, named after lead plaintiff Imam Hamid Hassan Raza, was filed in 2013 and accused the NYPD of violating the state and U.S. constitutions by "singling out and stigmatizing entire communities of New Yorkers based on their religion," according to the ACLU.
In Handschu v. Special Services Division, the NYPD was accused of violating a long-standing consent decree in investigating Muslims. The Handschu guidelines, named after one of the plaintiffs, date back to 1985 when rules were established on how intelligence can be collected during activities, including political ones, protected by the First Amendment.
In the wake of the Sept. 11 terrorist attacks, the city applied to remove restrictions and oversight from the Handschu guidelines, a request a judge granted. Updates will be made to the guidelines to reflect the terms of the agreement.
The settlement Thursday does not, however, extend to a pending lawsuit filed in federal court in New Jersey in 2012, which argues that Muslim religious identity was being used as a "permissible proxy for criminality" in a secret NYPD surveillance program, begun in 2002.
RELATED: Court Reopens Lawsuit Against NYPD for Post-9/11 Surveillance Program
U.S. District Judge William Martini threw out that lawsuit in February 2014, writing that "the more likely explanation for the surveillance was a desire to locate budding terrorist conspiracies" than a desire to discriminate, according to court documents. But last October, an appellate court reinstated the lawsuit and sent it back to Martini, concluding that the allegations raised tell "a story in which there is standing to complain and which present constitutional concerns that must be addressed and, if true, redressed."
In 2014, the NYPD disbanded the unit involved in the surveillance program, a decision that at the time drew praise from de Blasio.