A law firm representing Chinese- and Korean-American nail salon associations sent a letter Monday to the New York Department of State, saying it plans to sue over a state order requiring New York nail salon owners to purchase wage bonds, which could be used if employers fail to pay their workers.
The letter, dated Sunday, Sept. 13 and addressed to New York Secretary of State Cesar A. Perales, said that the current implementation of the wage-bond mandate, which Gov. Andrew Cuomo announced last month, discriminates against Asian immigrant business owners, particularly women, and that it will force salons out of business before they can prove they're committed to meeting the goals of the state's nail salon legislation, signed into law in July to combat worker abuse.
"We believe that over 30 percent of nail salons would be forced to close down merely because they are small businesses and immigrant owned," Michael Yim, an attorney representing the Chinese Nail Salon Association of East America and the Korean American Nail Salon Association of New York, wrote in the letter. "This would cause a loss of thousands of jobs and millions of dollars to New York's vibrant economy."
RELATED: New York Governor Cuomo Cracks Down on Nail Salons After Abuse Exposed
RELATED: Nail Salon Owners Complain of Tough Time Implementing Reforms
The two groups were planning to file their lawsuit in State Supreme Court in Albany on Sept. 15. Between 70 and 80 percent of New York City nail salons are owned by Korean Americans, according to the New York Times, which published a two-part series in May on worker abuse in the industry that led to passage of the nail salon law.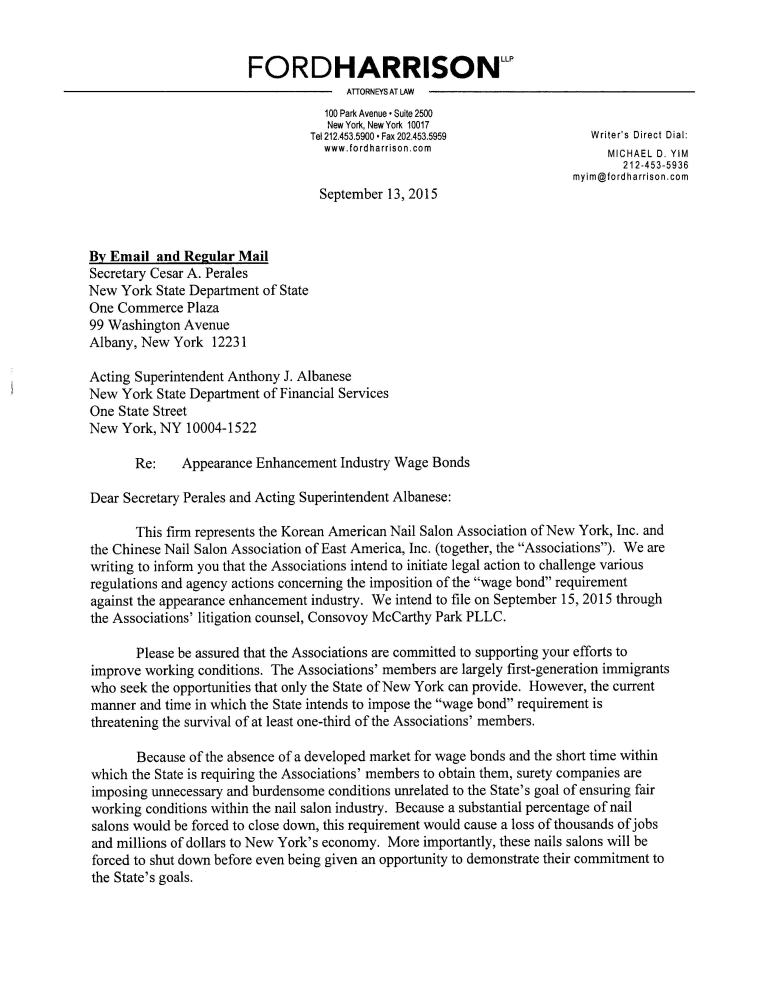 Cuomo spokesman Frank Sobrino told NBC News in a statement that the wage-bond requirement has received universal support from worker advocates.
"The overwhelming majority of nail salon owners who have made a good faith effort to secure a wage bond have been able to do so," Sobrino said. "New York State will continue to work closely with local leaders, salon owners and industry advocates throughout the state to come up with ways to not only protect exploited immigrant workers, but also the good operators and business owners who treat their staffs fairly and with dignity."
Wage bonds have become a source of contention within the Asian-American community since the mandate was announced on August 10. State Assemblyman Ron Kim, a Democrat whose Queens district includes many Chinese- and Korean-American owned nail salons, has said that wage bonds had not been readily available for purchase, and that some owners had complained of being denied bonds or had been quoted "extremely high" premium rates.
But the state agency that regulates wage bonds, the New York Department of Financial Services, has said that there was "no evidence that legitimate, licensed businesses are being denied these bonds."
The governor has said that nail salons with two or more full-time employees must secure wage bonds before Oct. 6 or risk being fined or shut down. Sobrino noted that the deadline was flexible for nail salons having difficulty securing wage bonds, provided they have contacted the state and that officials are working to resolve their case.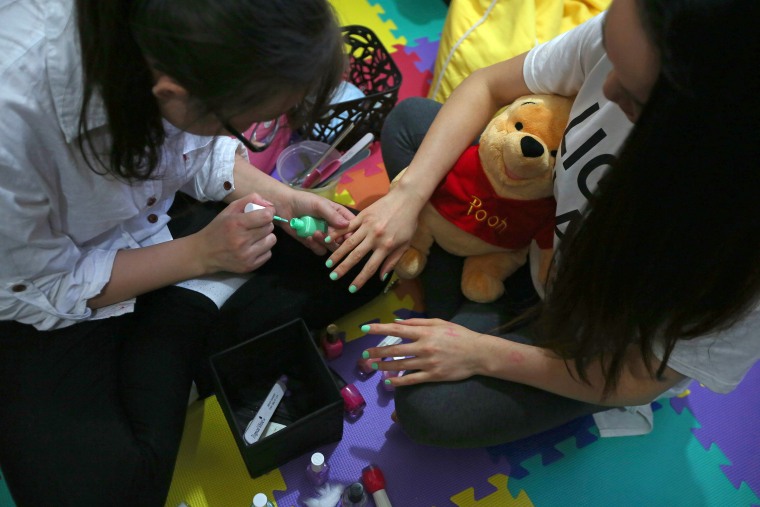 Last week, Kim told NBC News that another challenge new immigrant nail salon owners faced in buying wage bonds was that they often lack the credit scores necessary for clearing the pre-application process. Kim, who sponsored the nail salon legislation, added that some proprietors were transferring business ownership over to relatives who have the credit scores needed to qualify.
But credit scores are just one part of the equation. Amber Fehrenbacher, chief marketing officer of Brooklyn Ventures of Missouri, one of 23 bond agencies approved by DFS, told NBC News that one of the difficulties in "getting bonds out the door" has been that some applicants lack a financial credit history, even though they have high credit scores between 700 and 800.
"As an alternative workaround, our underwriters will then request financials, and then we kind of get held up right there," Fehrenbacher said, adding that applicants without a credit history are typically quoted higher premium rates than others.
Through the end of August, 98 percent of 694 wage bond applications that were processed were approved, Sobrino said. It was not immediately clear, however, how many nail salons were required to purchase wage bonds. For his part, Kim said he would like to explore alternatives to wage bonds that would still protect nail salon workers who are denied pay.
"We strongly believe as a community that this bond product is discriminatory by the way it's structured," said.