Two New York members of the U.S. House of Representatives whose districts stretch through Queens — where one in four residents is Asian — have written to the city Department of Education's schools chancellor to voice concern over a dearth of dual language programs in South Asian languages.
U.S. Rep. Grace Meng and Rep. Joseph Crowley sent the letter, dated Sept. 18, to schools Chancellor Carmen Farina, saying that among the city's 182 dual language programs which aim to offer instruction half in English and half in a second language, none were geared toward South Asian languages.
"The NYC Department of Education has a history of strong programs for English language learners," Meng and Crowley wrote in the letter. "We would like to see the number of language learning opportunities in South Asian languages, specifically dual language programs, expand to match the need of the [limited English proficient] population."
The letter acknowledged that Bengali was featured in three transitional bilingual education programs, which allows newer immigrant students to take some subjects in their native language and receive instruction in English as a second language.
In an email statement to NBC News Friday, the city Department of Education said it is committed to expanding its South Asian dual language and transitional bilingual education programs throughout the city.
"We recognize the need to hire more bilingual certified teachers and have actively increased our recruitment efforts of South Asian-speaking teachers through traditional certification programs at colleges and universities as well as through alternative routes," said spokeswoman Yuridia Pena. "We are working to ensure that that there are no barriers between students, their families and a great education regardless of their home language or zip code they live in."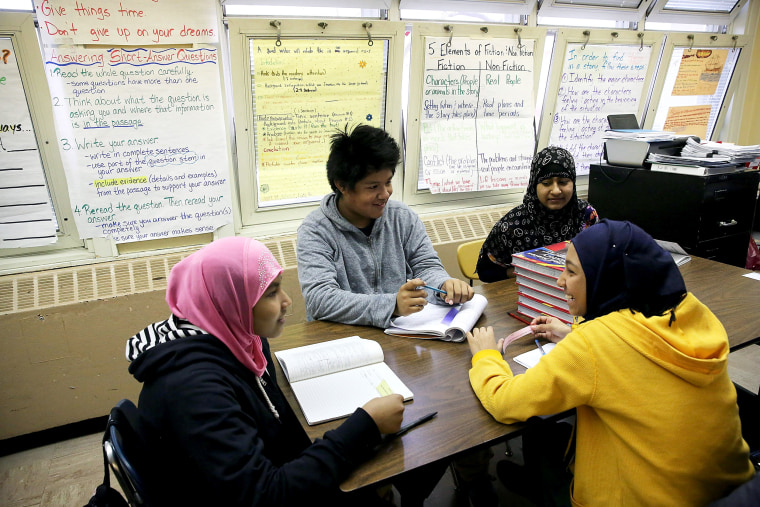 Queens, one of the most diverse counties in the country, is home to many Asians, who account for roughly 26 percent of the borough's 2.3 million residents, according to the U.S. Census. The letter pointed out that, according the U.S. Census, more than 351,000 South Asians live in New York City, with over 60 percent residing in Queens.
The South Asian community in the United States generally includes people with ancestry from Bangladesh, Bhutan, India, Nepal, Pakistan, Sri Lanka, and the Maldives, as well as Indo-Caribbean Americans.
The letter added that the most commonly spoken South Asian languages — including Bengali, Urdu, Hindi, and Punjabi — were also the ones with the greatest number of limited English proficient speakers.
RELATED: Are English Learners Neglected in Early Education?
Lakshmi Sridaran, director of national policy and advocacy for South Asian Americans Leading Together, a national civil rights organization, told NBC News that dual language programs in South Asian languages can serve not just South Asians but also others interested in studying those languages.
"It's important that there are dual language programs available in South Asian languages to of course accommodate the growth in our community and also to ensure that South Asian community members feel more connected to their community," Sridaran said.
RELATED: Asian Immersion Schools Surge in Popularity to Meet Demand
In January, the city Education Department announced it would open 40 new or expanded dual language programs for the 2015-2016 academic year in Mandarin, French, Haitian Creole, Hebrew, Japanese, and Spanish. The majority of the city's current dual language programs are in Spanish.
Half of students in dual language classes are English language learners; the other half are proficient in English, according to the city Education Department. The goal, the department has said, is to enable all students enrolled in these programs to become bilingual and bicultural.
Crowley, who also represents parts of the Bronx, told NBC News in a statement that dual language programs are a "win-win" since they help both immigrant students and those who want to learn another language.
"With over 150 languages spoken in Queens, including many South Asian languages, I've seen firsthand how language can be a gateway to cultural understanding," Crowley said. "I hope the DOE will soon include South Asian languages moving forward."