Multiple media outlets are being criticized for using images of Asians and Chinatown in articles about the coronavirus outbreak.
The New York Times, the New York Post and The Hill have all used photos of Asians wearing masks in articles about confirmed coronavirus cases in New York — even though the race of anyone who has tested positive has not been released.
Implicit bias is a potential factor, experts say. The term is used to describe unintentional reactions and thoughts that reinforce beliefs or prejudices people may not even know they have.
Full coverage of the coronavirus outbreak
The Times changed the photo on its website in an article reporting New York City's first coronavirus case, but the Facebook link to it still shows a photo of two Asian women wearing masks.
"We've published hundreds of stories on the coronavirus, and each one requires an image," the paper's vice president of communications, Danielle Rhoades Ha, said in an email. "In this case, the image selection was an oversight that was addressed quickly."
She also said that while images can be quickly updated on The Times' platforms, the original versions can remain in cached posts off-platform for much longer.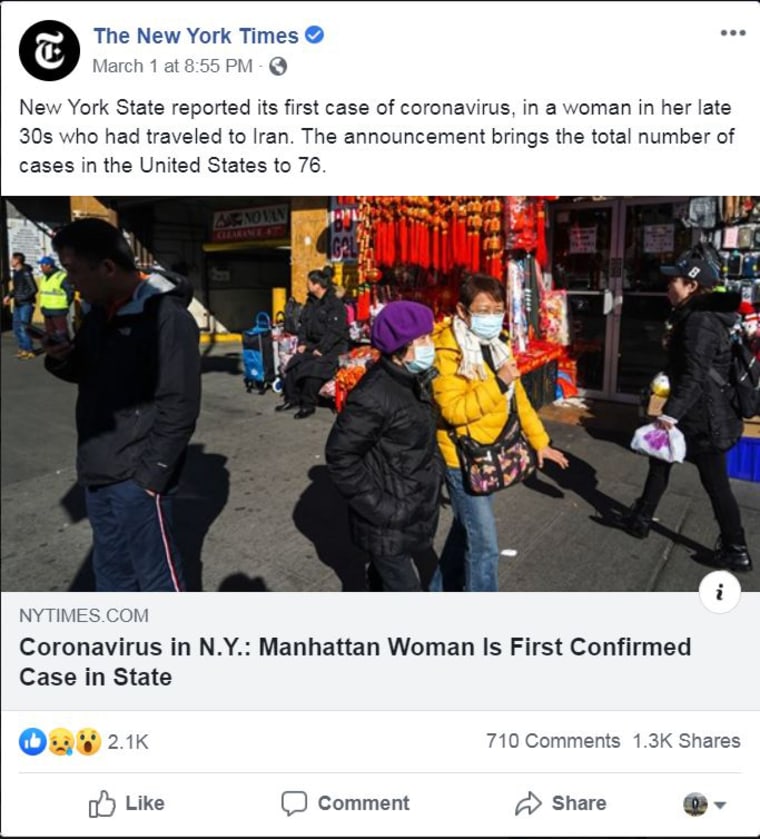 The Hill's editor-in-chief, Bob Cusack, told NBC Asian America that the outlet replaced the photo in its article and deleted an old tweet and published a new one.
"We also emailed the newsroom about photo selection on stories while adding new photos of coronavirus from multiple countries," Cusack said in an email.
The New York Post's tweet is still published to its account. The Post didn't immediately respond to a request for comment.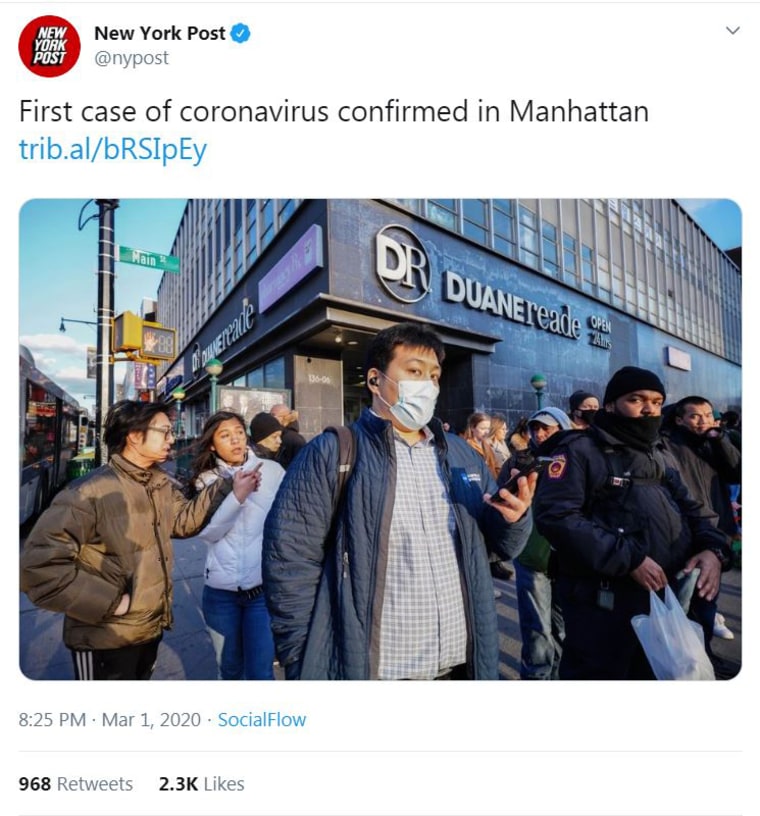 The Asian American Journalists Association, or AAJA, called on the media last month to refrain from using generic photos of Chinatown that do not relate to a story. The group also encouraged news outlets to provide adequate context when using images of people wearing masks.
"For many years prior to the coronavirus outbreak, face masks have been commonly used in East Asian countries, including for protection from pollution," AAJA said in a statement Feb. 13. "This practice has crossed over into immigrant Asian American populations in the United States, and the masks are now more prevalent as a result of the outbreak."
These newsroom editorial decisions appear to follow a pattern of implicit bias, but there's no way to know for sure, said Issac J. Bailey, a journalism professor at Davidson College in North Carolina.
"Even if it 'looks' like implicit bias, there's no absolute way of saying it is or isn't," Bailey, a Neiman journalism fellow at Harvard University, said in an email. "But from what I know about being in newsrooms over the past couple of decades is that sometimes these kinds of decisions are made for an even simpler reason: They are just the easiest, quickest thing to do."
Bailey said the photos do depict certain people in specific places where masks are being worn. Still, he pointed out that the problem lies in the decision to use the photos out of context for articles. That needs to be rethought, whether implicit bias is a factor or not, he said.
"The solution, for journalists, is better journalism, which means deeper thinking about the choices we make in every circumstance, but especially during a time like this, when fear and uncertainty combine to seed the ground for all kinds of biases and stereotypes," Bailey said. "We should be striving to give the public the most accurate, timely and in-context and useful information possible while also being careful to not further ugly stereotypes that can cause a different kind of harm."
Download the NBC News app for full coverage of the coronavirus outbreak
Naomi Tacuyan Underwood, the executive director of AAJA, said the organization was "disturbed" by the use of photos depicting Chinatowns and Asians wearing masks in inaccurate contexts.
"The usage of photos not directly related to coronavirus during coverage of the disease is not only poor reporting and decision-making in newsrooms — it also further stokes unnecessary and unfounded fears about COVID-19, and negatively affects the safety and well-being of members of the Asian American community," she said.
Underwood also said the association encourages newsrooms to be more thoughtful about their choices in coronavirus coverage and to refer to its advisory for best practices.
"Newsrooms must be careful to avoid contributing to the misguided beliefs that fuel xenophobia," she said.