Former NFL Quarterback Roman Gabriel may have been the first Filipino-American sports role model for some, but he had his own guiding light.
"My cousin 'Emo' Boado was a great athlete," the 78-year-old Gabriel told NBC News. "He was the first Filipino I knew to play college football."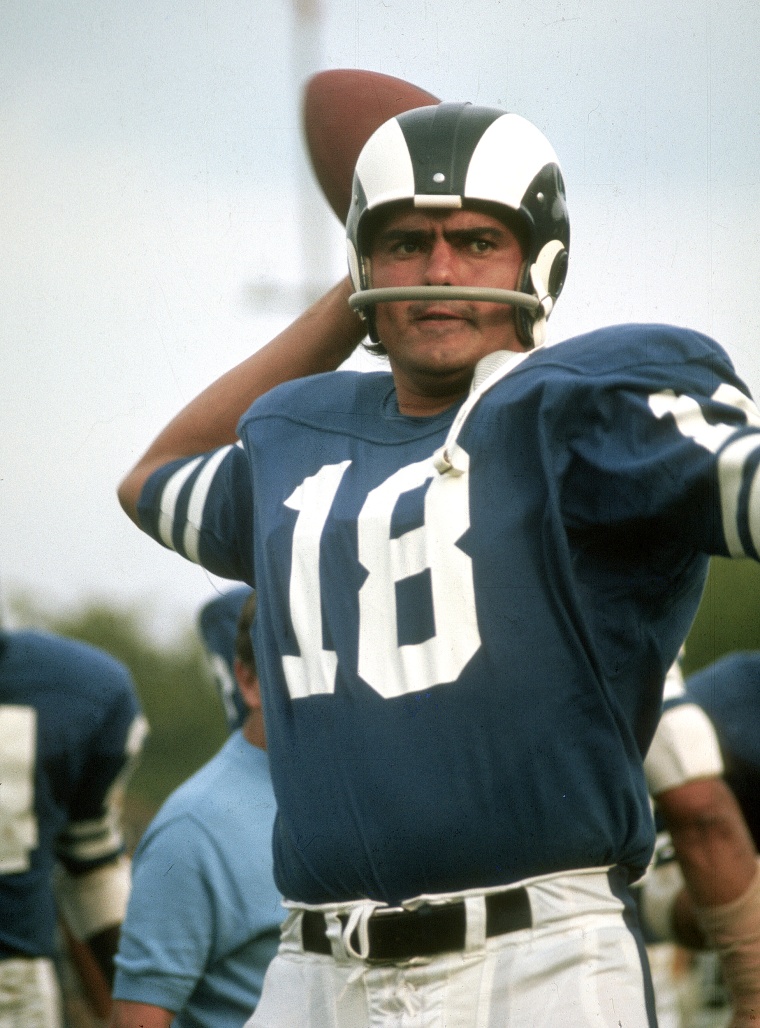 Boado played at the former East Carolina College (now East Carolina University) in the '50s. During the Vietnam War, he was killed when his jet fighter crashed in 1969, Gabriel said.
But for generations of Asian Americans, Gabriel may have been the first Filipino sports superstar.
"He was fondly called and widely known as 'The World's Biggest Filipino'," artist Eliseo Art Silva said. Silva, inspired by community consensus in Los Angeles, painted Gabriel in "Filipino Americans: A Glorious History, A Golden Legacy," a Filipino-themed mural in L.A.
"The World's Biggest Filipino" describes both Gabriel's fame and physical stature.
Born in 1940, Gabriel grew up in Wilmington, North Carolina, among a handful of Filipino families.
"They might've have been the only four Filipino families in the whole state," Gabriel said, laughing. They all worked as waiters or cooks on the Atlantic Coast Line Railroad, including Gabriel's father, Roman I. Gabriel, who immigrated from the Philippines in 1925. Gabriel's mother, Edith, was Irish American.
Gabriel headlined at North Carolina State before being drafted second-overall by the Los Angeles Rams in the 1962 NFL Draft.
"Once you become an athlete, you're a little more accepted," Gabriel said. "As I became more proficient as an athlete, I wasn't a Filipino, I was just an American."
But he was more than just any All-American athlete. At 6'5", 220 pounds, Gabriel was the tallest quarterback in the history of the NFL when he started playing in 1962, according to data from Pro Football Reference.
Gabriel's on-the-field impact loomed large. He was named 1969's NFL Most Valuable Player and 1973's NFL Comeback Player of the Year. When he retired in 1977, he was one of just six quarterbacks to toss more than 200 career touchdown passes, according to Pro Football Reference. He also owned the lowest career interception rate for the position, a testament to his ability to avoid mistakes.
Gabriel cast a long shadow off the field too. He pitched Whoppers for Burger King on national TV. He appeared on "Gilligan's Island" and starred alongside John Wayne in "The Undefeated."
Even today, more than three decades after his last throw, Gabriel is still remembered by Asian Americans.
"I still get letters from Filipino young people," said Gabriel. "A lot of youngsters — because of YouTube — say 'If you could do it, I could do it!'"
But despite Gabriel's overall impact on football and Asian-Americans, the quarterback has yet to be inducted into the Pro Football Hall of Fame.
"He's got as good a set of numbers as anyone in there," Bob Lilly, frequent Gabriel opponent and Hall of Fame defensive tackle, told the Professional Football Researchers Association in 2014.
Gabriel explained his snub, "Most people have told me it's because we never got to the Super Bowl."
From 1967-69, Gabriel led the Rams to a sparkling 32-7-3 record. But each year ended in heartbreak, in part because of the way the NFL playoffs were structured at the time. Home-field advantage then was determined by the teams' previous year's records, as opposed to same-year records used today.
For example, in 1967, the 11-1-2 Rams were forced to travel to 9-4-1 Green Bay for a playoff game. They lost 28-7.
"Today, the team that finishes with the best regular season record, the playoff game goes there. When we played, you had to go to where the team had a better record the year before," said Gabriel, before chuckling. "It's a little different coming out of 80-degree weather into 20 below zero."
"The only thing I wish in my career is that we had a shot to play a home game in Los Angeles in the playoffs," he added.
A fan campaign exists to have Gabriel inducted into the hall as a "senior," as he has been retired for more than 25 years, but only one senior player is inducted each year.
True to his word, Gabriel didn't express any other regrets about his career, least of all his exclusion from the Pro Football Hall of Fame.
"I like to think, being the first Filipino quarterback, that it impacted a lot of the young people. Much like how my cousin Emo impacted me. If he could do it, it felt like I could do it," Gabriel said.
"Going into the Hall of Fame isn't the most impressive thing. It's being who I am, who I represent. That's more important to me."
Follow NBC Asian America on Facebook, Twitter, Instagram and Tumblr.
CORRECTION (Oct. 31, 2018, 5:10 p.m. ET): An earlier version of this article misstated Roman Gabriel's legacy in the NFL in a headline. He was the league's first Filipino-American quarterback, not its first Asian-American quarterback.