LOS ANGELES — In 2008, chef Niki Nakayama was at a crossroads. She had closed her restaurant Azami Sushi Cafe after eight years, uninspired by the technique-driven nature of sushi and was unsure of what to do next.
"I had a plan of wearing a robe, staying inside my house, maybe growing a beard and ordering pizza every day," Nakayama told NBC News, laughing.
The highest compliment for us is if someone says they can still taste the Japanese heart in it.
But when she heard about L.A. chefs doing "chef's table" dinners, she decided to try the concept by opening n/naka in the spring of 2011 and doing kaiseki, a Japanese-style of multi-course meals that emphasizes local, seasonal ingredients and precise cooking techniques.
The L.A. native was already familiar with the art. Before opening her sushi restaurant, Nakayama had worked at a fine-dining Japanese restaurant in California and had moved to Niigata, Japan, for three years, where she studied kaiseki at her relatives' traditional inn.
"This is our grown-up version of the dinner party for me," Nakayama said. "It's all about enjoying each other through a long meal and kind of sit down and having a feeling of celebration for the people you are with."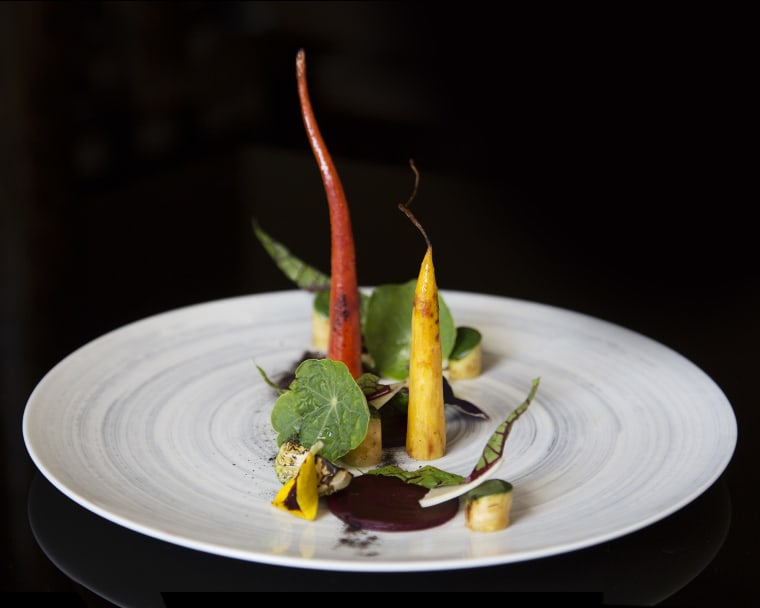 "A chef would basically come across an ingredient and then decide which technique would best bring it out so that it's the most enjoyable," Nakayama added. "So, maybe you would have a carrot that's raw one day. And another day it might be simmered, another day it might be fried. It just depends on what fits into the menu, how that ingredient is best highlighted."
Nakayama's "food-first" philosophy is echoed by the simplicity of her restaurant's décor. N/naka sits behind an unmarked door off of a residential street. The interior is minimalist: dark tables, clean lines, a sliding panel that separates the kitchen from the dining area, which seats 28.
It's in contrast to the intricacy of the 13-course dinners that has earned Nakayama numerous accolades, including being a two-time semi-finalist for the James Beard Foundation's Best Chef: West Award (2014, 2017) and a feature on Netflix's "Chef's Table."
Patrons make reservations months in advance for the "modern kaiseki" experience at n/naka, which starts at $185 per person. There are only two seatings per night, Wednesday through Saturday, and dinners can last up to three hours. Mindy Kaling has said she is a fan, and actor Sophia Bush recently wrote a lengthy post on Instagram dedicated to Nakayama.
The restaurant is currently booked for the next three months, Nakayama said, and the wait list is often hundreds of names deep.
With the help of her sous chef and wife, Carole Iida-Nakayama, Nakayama creates bespoke menus for the pair's customers, and her staff keeps notes on regulars so they do not experience the same meal twice. The two often shop for ingredients on the day they serve them, Nakayama noted, or harvest them from their home garden.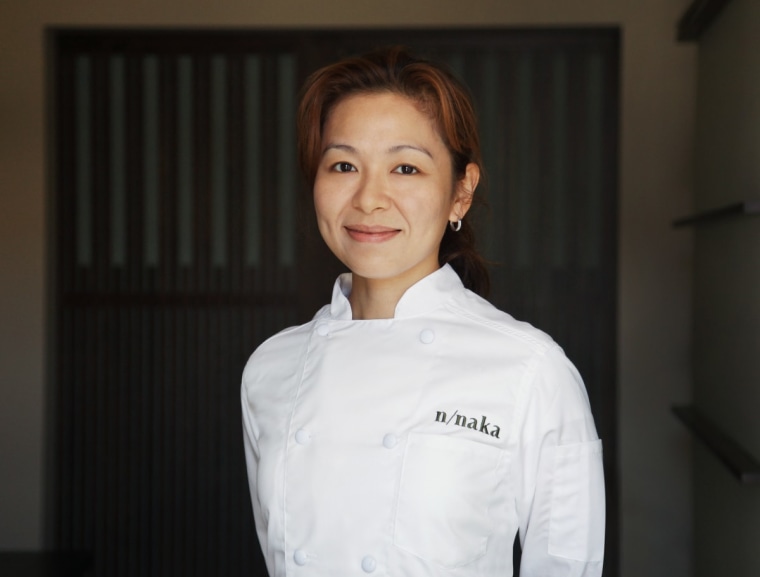 On any given night, they could be balancing three to four different menus in a single seating. And central to every kaiseki experience is the idea of "flow," how one course leads into the next, highlighting a different cooking technique. For example, a grilled dish is always served before a steamed one and a steamed dish before a fried one. Sashimi precedes all of those.
The use of seasonal ingredients is also a reminder for diners to be present as they eat.
"We're trying state that, 'Oh, this is what time feels like,' and when you consume so many different aspects of it, it's trying to remind you that you should remember to be in the now," Nakayama said.
Growing up, Nakayama always enjoyed food, but not always seafood. Her parents owned a fish distribution business (now run by her older brother), and seafood was almost daily fare during her childhood.
"So for the longest time, I did not want to eat seafood," she said.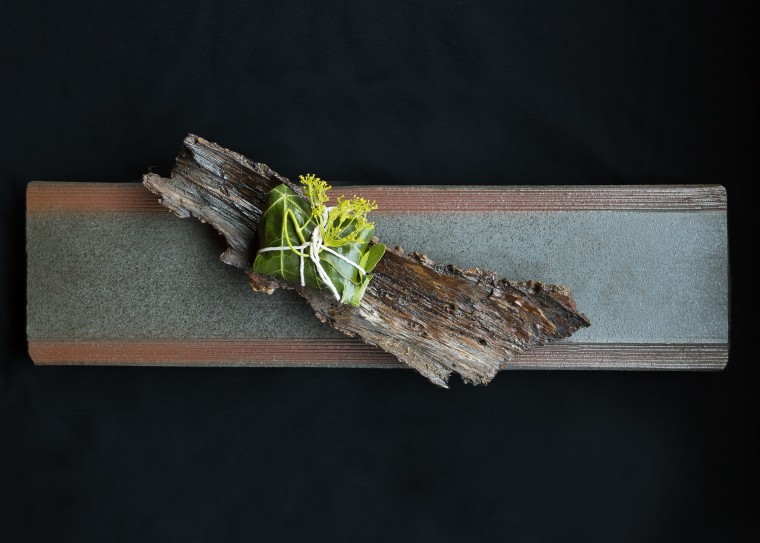 But that changed at a young age, when her father challenged her to eat all of the sushi at dinner one evening in exchange for a toy she wanted.
"I was kind of intimidated by the situation, but I was like, 'OK, I'm going to do it because this toy is really important to me,'" Nakayama said, laughing. "I started eating it and that point, I was like, 'This is really delicious, but I'm not going to be excited. I'll pretend I don't like [it] so he can continue thinking I'm doing him a favor.'"
Her persistence served her well during her training in the male-dominated kitchens in Japan, where she said her culinary ambitions were dismissed as "cute." Ultimately, it worked to her advantage.
"With Japanese-style kitchens, the chef has to learn on his own working as somebody else's underling in the sense that you watch and learn. You're not just given the recipe or you're not just given the technique," Nakayama said. "So, if they thought you were a cute little girl, it's kind of a plus. It might sound condescending but on some level, they were more willing to teach you things here and there."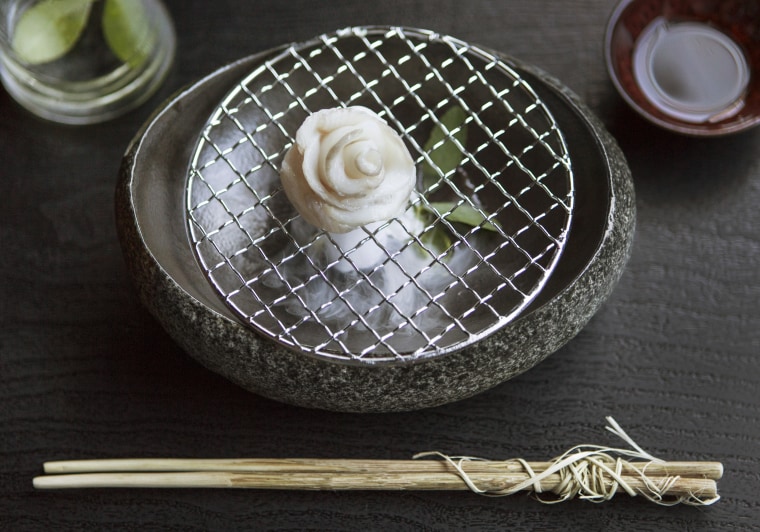 Like Nakayama, Iida-Nakayama also grew up in the food business: Her family owned a sushi restaurant. But both hesitate to call themselves "experts" of Japanese food and take issue with chefs who claim expertise in a cuisine when they have only had minimal exposure to its cultural origins.
"It's incredibly offensive," Nakayama said. "Because although we have our Japanese background, we would never come in and say we're experts on Japanese food because [as Americans], it's a very different level of understanding. We like to say that this is our interpretation of what we understand of what Japanese food is."
"[Claiming expertise] is something we can't authentically stand by," Iida-Nakayama added. "We understand there are going to be guests from Japan that come who don't think this is Japanese enough."
N/naka's chefs know that not everyone will be able to experience kaiseki. Still, they say there are ways to incorporate aspects of its philosophy into everyday eating.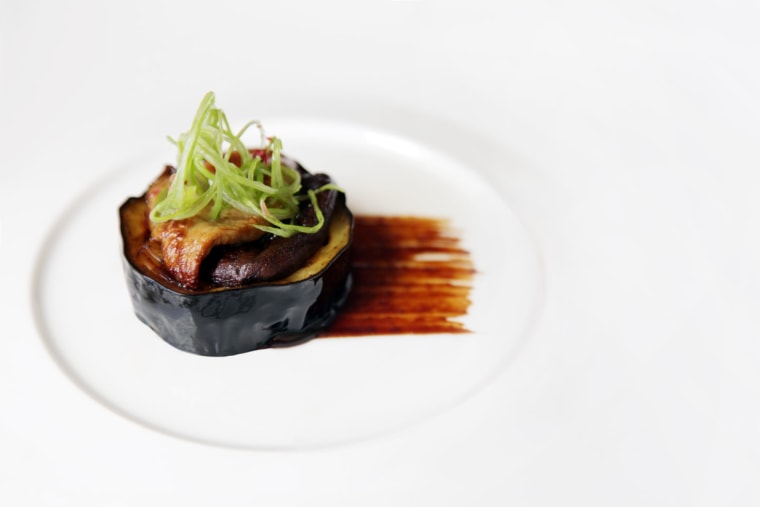 Iida-Nakayama suggested starting by growing your own produce if possible. "If you grow a tomato plant and you eat that tomato for the first time, you realize, 'Oh my gosh this is what a tomato's supposed to taste like.' It's kind of an eye-opening experience," she said.
"Don't put anything on it — no sauce, nothing to hide it, cover it, enhance it," Nakayama added. "Eat the ingredient first. Understand its true flavor before pairing it with something else."
For Nakayama, deepening that understanding means constantly facing the challenge of doing kaiseki seasonally and sustainably while still satisfying her customers' discerning palates. In 2015, n/naka partnered with Dock to Dish, a program that connects local fisheries to restaurants.
Although we have our Japanese background, we would never come in and say we're experts on Japanese food because [as Americans], it's a very different level of understanding.
It's allowed for dishes like tomatillo rockfish agedashi to be on the menu: The fish is locally caught and served agedashi-style (fried) with tomatillo from the chefs' garden. A combination of dashi broth, soy sauce, and ponzu enhance the summer dish's flavor.
"I get excited about it because it's utilizing all the ideas of Japanese cuisine, all the techniques and all the flavorings you would use, but the ingredients are totally different. To put those together, it's almost creating something that's very California," Nakayama said.
At n/naka, that's what kaiseki is about, an interpretation of a centuries-old practice that consistently references its roots.
"If a dish doesn't still feel Japanese, and it doesn't flow with the kaiseki philosophy, then it's not gonna make it on our menu," Iida-Nakayama said.
"The highest compliment for us," Nakayama added, "is if someone says they can still taste the Japanese heart in it."
Follow NBC Asian America on Facebook, Twitter, Instagram and Tumblr.