Writer Nina McConigley's collection of short stories, Cowboys and East Indians, has won a 2014 PEN Open Book Award. Two awards are given each year to authors of color to help promote racial and ethnic diversity within the literary and publishing communities. With an Irish father, an Indian mother, and a childhood spent growing up in Wyoming, McConigley is being celebrated for bringing a fresh perspective to Asian-American literature.
"Nina's short stories embody the complex, richly textured and unexpected stories of being an outsider in the wildness of the American west and her compelling collection 'Cowboys and East Indians' is impossible to put down," said Asian-American poet and editor of Drunken Boat, Ravi Shankar.
Shankar recalls first meeting McConigley at the Jackson Hole Writers Conference a few years ago, and then being invited to her mother's house "where we had a delicious South Indian meal with a group of writers. We saw some photographs of [her mother] Nirmala Swamidoss McConigley with various politicians and she told us about wearing a sari on the Wyoming State Legislature floor, a move that shocked her more conservative colleagues."
McConigley recently took some time to talk with NBC News about her family, Wyoming, and writing.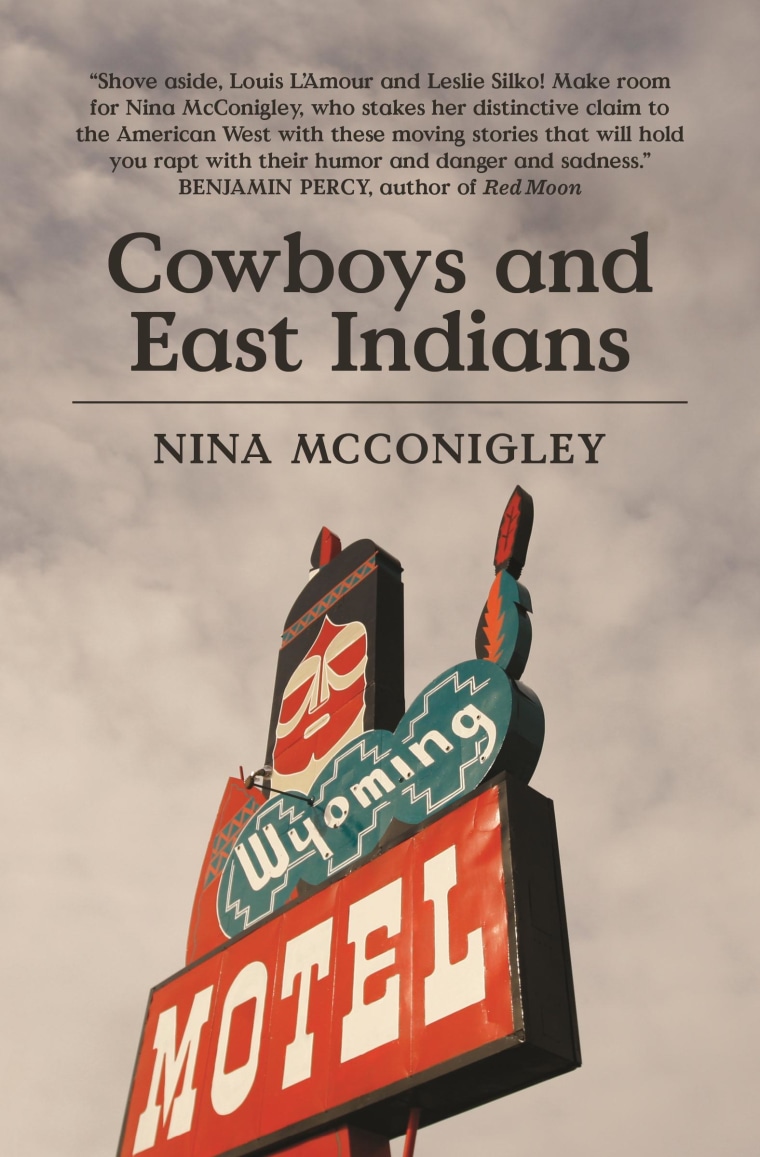 You wrote an essay about your mom, "A Prairie Home, Abandoned" for the New York Times last fall. How did your family end up in Wyoming?
My father is a petroleum geologist. I was born in Singapore, and he was working on oil rigs there. But the company he worked for transferred us from Singapore to Wyoming. We actually had a choice between Bakersfield, California, Oklahoma City, and Casper, Wyoming.
My mom looked up Wyoming in the encyclopedia, and saw pictures of Yellowstone and the Tetons. So we moved there. She didn't realize we were moving to an oil and gas town. I was 10 months old. I took my first steps in Wyoming.
Your mother, Nirmala Swamidoss McConigley, was the first Asian-American woman elected to the Wyoming state legislature, and she ran for the U.S. Senate. How did she get into politics?
My mother had been a journalist for many years. In India, she worked for All India Radio, and later was the news director of a TV station in Casper, Wyoming. So, she has always been very engaged in what is going on in the world and in our state. That prompted her to run for office. When she won her House seat, there wasn't one South Asian in her district. She was elected, as people knew she was committed to Wyoming.
I also think the rural immigrant experience is just one that is so completely different when you are in place like Wyoming.
She is a very strong personality, and in some ways, I think I am very different than her. She is sort of fearless when it comes to walking into a room, when it comes to being secure in her identity. Maybe that's because she grew up seeing a reflection of herself?
Was there much talk at home about race, identity, or art?
Although Wyoming isn't very racially diverse, we have always had a very international group of friends. Growing up, it seemed that if you were not from America, you ended up in our house. Our closest friends are Polish, Peruvian, German, French – I once remember sitting around a Thanksgiving table and realizing nobody at the table had been born in America.
And since my dad is Irish, I grew up with him reading to us at night, and listening to music. My sister is a singer (she actually was in the cast of Bombay Dreams in London), so I think we both absorbed how important art and music are to being in this world, how the arts help us make sense of life.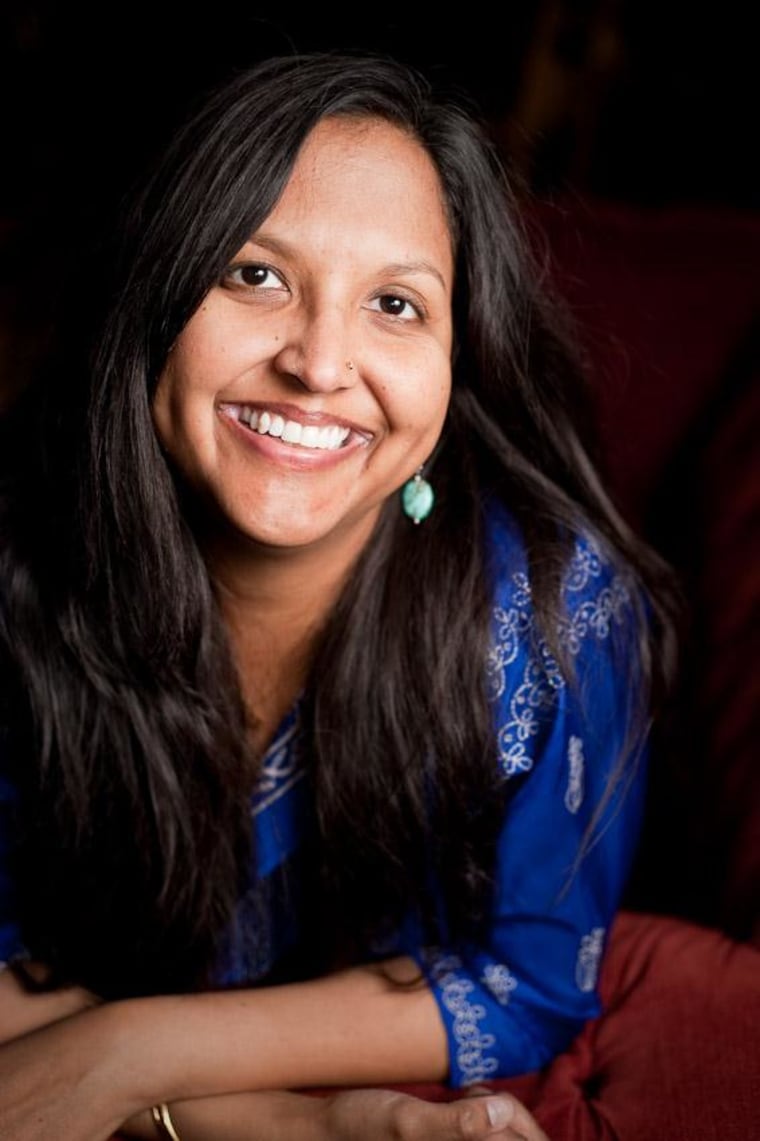 Did you encounter much resistance to writing about Wyoming? How does it feature in your work?
No, I didn't. The land is the thing I love most about Wyoming. I often fly into Denver, as it's the biggest airport near me. And I physically feel better once I cross the state line into Wyoming. I feel like I can breathe.
I am not very outdoorsy. In that I don't really rock climb or ski or backpack. But I love just being outside. Being able to look across the prairie and see mountains, the smell of sagebrush, the way the sky changes all the time – I can't imagine not living in a place that constantly keeps me in a state of wonder. And that feeds my writing. Sometimes, if I am having a bad writing day, I just drive out and sit on the prairie or watch boxcars snake across the sagebrush. And then I find I can go back to my desk. All that empty somehow make the page full.
I also think the rural immigrant experience is just one that is so completely different when you are in place like Wyoming. And I wanted that to be talked about.
"I get to not only teach books that I love, but to introduce a lot of Asian writers to my students."
With the #WeNeedDiverseBooks campaign, the discussion about diversity in literature has become more vibrant, and more aware of Asian-American authors publishing from places not many Asians live-- like May-lee Chai and Bich Minh Nguyen. Have you been influenced by writers of color?
I love Bich's new book so much. Our love of Little House on the Prairie is deep.
I have a BA and MA in English, but when I was in school, I read so few writers of color. It was kind of a revelation to read Junot Diaz or Salman Rushdie. And like many people, when I read The God of Small Things, my idea of what a book could do shifted.
I teach Indian Literature at the University of Wyoming – so I get to not only teach books that I love, but to introduce a lot of Asian writers to my students. I love Rajesh Parameswaran's book I am the Executioner, Blu's Hanging by Lois-Ann Yamanaka blew me away the first time I read it. Have you read Tarfia Faizullah's poetry? Her book Seam is a damn revelation.
And Akhil Sharma, Chitra Divakaruni, Vikram Chandra, and Jhumpa Lahiri have all been important to me.
What are you working on now?
I am working on novel. It's mostly set in Wyoming in the 1980's. The book revolves around two families that live together in an extended family situation. There is a murder and a chunk of the book takes place in India. It's not a mystery per se, but I am indulging my deep love of Agatha Christie, which makes me very happy.