As a child, illustrator Brenda Chi devoured sitcoms and '90s cartoons like "The Powerpuff Girls" and "Hey Arnold!"
But while she saw many strong female protagonists on TV, she also saw that most were predominantly white characters.
"I realized that I learned a lot of American culture through TV," Chi, now 25, said. "In my head, I wasn't expecting anyone Asian."
It wasn't until she was older that Chi came across stereotypes that Asian-American women were passive and quiet or that their "voice doesn't really matter because they're meant to be submissive." The tropes upset her and inspired her to spotlight female characters in her work, which has included observations on the phrase "tiger mom," musings on young-adult identity crises, and her take on classic Chinese stories.
Her work was recently featured in "New Frontiers: The Many Worlds of George Takei," a graphic anthology inspired by the life of Takei produced in conjunction with a museum exhibit about his life. The collection was unveiled at the Asian American ComiCon at the Japanese American National Museum in July.
Chi's contribution, "InBetween," appears in the first chapter of the collection and explores identity and exclusion during Chi's first trip to Hong Kong, where she has family.
But while there, relatives viewed her as an "American Born Chinese," she recalled. In the comic, she draws comparisons to her upbringing in Southern California's San Gabriel Valley and her encounter with a woman in Hong Kong who said, "you speak Cantonese well for someone from L.A."
The comic illustrates Chi's experiences not feeling "Chinese enough" but also not seen as "American in America," she noted.
"Being in America, you look at me, you're not going to assume I'm American," she said. "I don't know why this is what people assume."
Finding Artistic Inspiration in the San Gabriel Valley
As a teenager growing up in Alhambra, California, where 52.9 percent of residents are Asian according to the 2010 U.S. Census, Chi said she felt pressured to get good grades and be a "good daughter." She added that she also felt the need to make enough money so she could live the "American Dream" and take care of her aging parents.
"I grew up in an immigrant family," Chi said. "The Chinese culture is about preserving the culture and the family, and so I grew up in a household like that and grew up in a community that was heavily Chinese so that stuck onto me."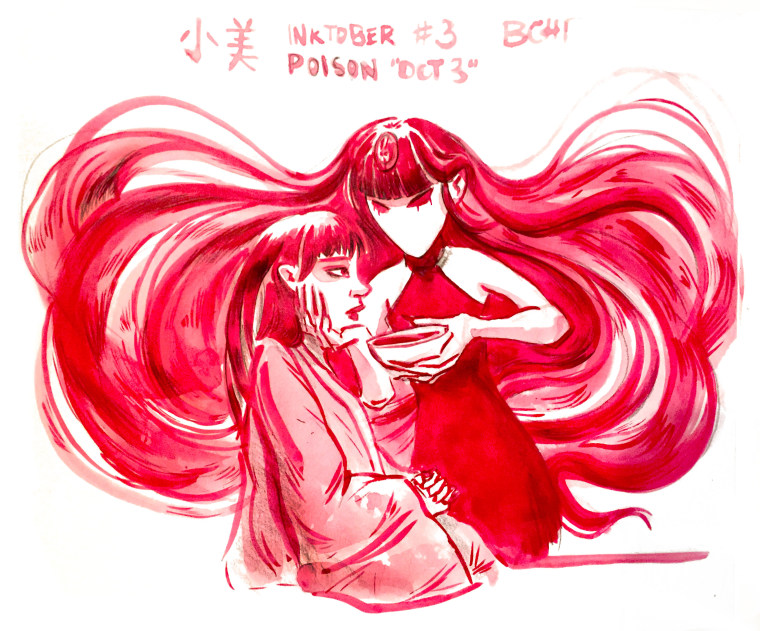 In high school, art helped Chi fuel her rebellion and explore her identity and family history, she said. The more pressure she felt, the more art she did. She went on to attend art school, where she majored in illustration.
Her parents, while supportive of her decision, encouraged her to consider having backup plans like nursing or education because they didn't see the arts as a "safe career." Chi resisted, eventually quitting her full-time job and focusing on freelancing and participating in shows at local art galleries.
In college, she saw more depictions of female subjects that convinced her about her work's importance, she noted.
"I noticed these women were often just pretty and soft. Often sexualized, but not depicted as strong. Yet, here's everyone praising the work," Chi said.
She explored breaking those stereotypes in a comic she drew of a Chinese-American woman sitting at a bar, where she looks away from a man who is enamored by her, Chi said. In the comic, the woman says, "No Ni hao, thanks."
The illustration was inspired by Chi's love for Doug Sneyd, a cartoonist for Playboy magazine as well as times where she has been hit on by men saying "Ni hao."
"I've had that happen to me, and there was nothing I was doing that said I was Chinese, nor did it look like I didn't know English," she said. "I don't understand why they think this is the way to get into the hearts of Chinese women. It baffles me, because I'm still a person, trying to say hi to me by saying 'hello' works fine."
Chi hopes to expand her work to include all Asian-American voices.
While she is happy there are more Asian-Americans on television than when she first flipped the channel as a kid, Chi said she believes there is still much work to be done, and that starts by supporting and elevating other Asian-American female creatives such as stand-up comedian Ali Wong, who she said breaks the stereotype of "submissive and quiet women."
Moving forward, Chi hopes her illustrations will work toward advancing the conversation and breaking stereotypes.
"I want our stories to be told and shared and be recognized as something more than the stereotype," Chi said. "I hope, for myself, that I can contribute to the Asian-American community in a positive way."
Follow NBC Asian America on Facebook, Twitter, Instagram and Tumblr.