New York City has asked a federal judge to dismiss a lawsuit brought by a public school teacher who alleges she was fired for teaching a unit about five men wrongly convicted in the 1989 gang rape of a Central Park jogger.
In court papers dated May 27, the city Law Department argues that to prove Jeena Lee-Walker was terminated last May because of her curriculum on the Central Park Five, she would have to show that her classroom instruction was protected speech and that she was fired in retaliation because of it.
But since Lee-Walker was carrying out her official duties as an educator, her speech was not afforded those First Amendment protections, the city argues in its motion to dismiss.

Lee-Walker, 38, said she received increasingly negative performance reviews after an administrator observed her ninth-grade English class in November 2013. He allegedly told her to be "more balanced" in her discussion of the Central Park Five case, fearing her instruction might "rile up" black students, according to Lee-Walker's lawsuit filed in U.S. District Court in Manhattan.
"I think because [the students'] instinctual reaction was, like, 'Oh my God, this is such an injustice, cops are bad' — just very emotional responses— maybe that was part of what the administrators felt fearful about or unbalanced," Lee-Walker, who taught at the High School for Arts, Imagination and Inquiry in Manhattan, told NBC News in January.
RELATED: 'Shocked': Teacher Allegedly Fired for Central Park Five Lesson Plan Recalls Dismissal
Raymond Santana, Antron McCray, Yusef Salaam, Kevin Richardson, and Korey Wise were all exonerated in 2002 after an inmate whose DNA matched that from the crime scene confessed to assaulting and raping then 28-year-old investment banker Trisha Meili in 1989.
In 2014, the city settled a federal lawsuit with the men, paying out a total of $40 million.
The topic, Lee-Walker has said, resonated with many of her former students who, like the Central Park Five, are black and Hispanic. The goal of the unit, according to Lee-Walker's lawsuit, was to get students to "re-examine old assumptions and to challenge orthodoxy" while maintaining a "balanced view of the facts."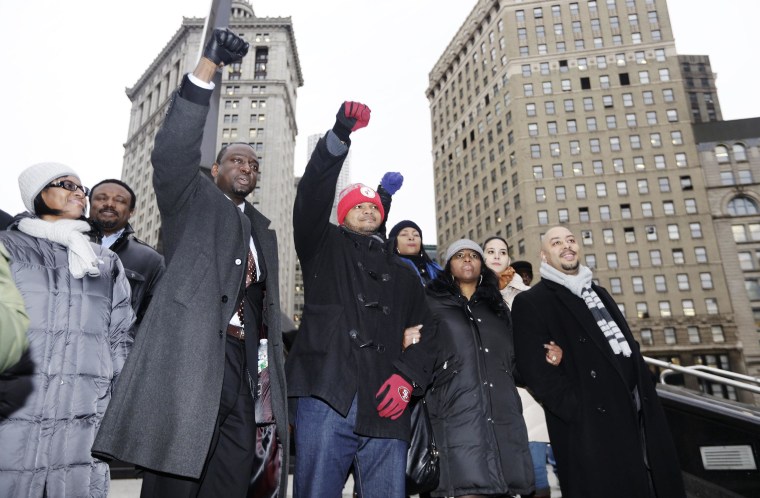 But the city Law Department said that her assistant principal had "legitimate concerns that her presentation in its current incantation could upset the students and potentially lead to physical unrest," according to court documents. School administrators, the city argues, have the right to regulate school-sponsored speech, which includes lessons governed by a school board, if there is a "legitimate pedagogical concern."
Lee-Walker was not prohibited from discussing the case, the city says, but she should "be fair and even-handed in her presentation as opposed to opinionated and polemical," according to court documents.
Lee-Walker's attorneys, however, argue in court papers last week that the city overlooked the fact that Lee-Walker enjoyed academic freedom to "impart wisdom to [her] students without unreasonable or arbitrary interference from administrators."
Her attorneys also maintain that Lee-Walker's private conversations with administrators, which they say focused on "philosophical disagreements" about public reaction to the Central Park Five case, were protected political speech under the First Amendment, court papers said.
Those discussions, her lawyers allege, ultimately led to Lee-Walker's negative evaluations and termination, according to court documents.
"So long as the teacher — consistent with the overall goals of the curriculum — instructs her students without manufacturing history or misleading them, there is no legitimate governmental interest in restraining a teacher's classroom instruction over fears that students will 'riot' or otherwise lose control while learning about an historical event," Lee-Walker's attorneys wrote.
Follow NBC Asian America on Facebook, Twitter, Instagram, and Tumblr.