A jury has found Peter Liang guilty of second-degree manslaughter and official misconduct in the shooting death of an unarmed man in a Brooklyn housing project.
The panel of seven men and five women took two days to convict the rookie New York City Police Department (NYPD) officer who fired a single shot that bounced off the wall of a dark stairwell and struck 28-year-old Akai Gurley, who had entered from the seventh floor with his friend Melissa Butler. Liang and his partner, Shaun Landau, who was given immunity, were conducting a vertical patrol of a stairwell on Nov. 20, 2014, in the Louis H. Pink Houses when Liang fired his gun.
NYPD Police Commissioner William Bratton said at the time of the shooting that the fatal shot "appears to be an accidental discharge" of Liang's gun.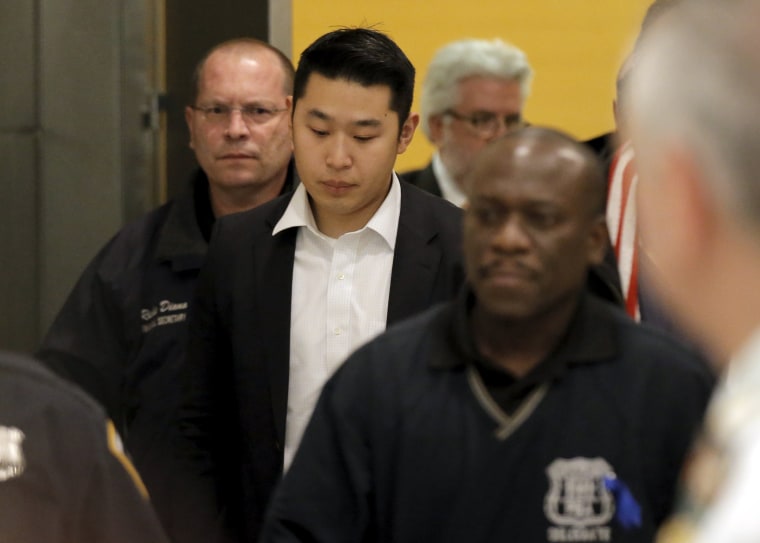 Liang, 28, was charged with second-degree manslaughter, second-degree assault, second-degree reckless endangerment, criminally negligent homicide and one count of official misconduct, stemming from not administering CPR to Gurley.
NYPD spokesman Det. Brian Sessa also confirmed to NBC News that Liang was terminated from the police department following the verdict.
Liang faces between five and 15 years in prison when sentenced on April 14. Brooklyn State Supreme Court Justice Danny Chun said he would reserve his decision on whether to set aside the verdict, a motion that defense attorneys Robert Brown and Rae Koshetz had made earlier.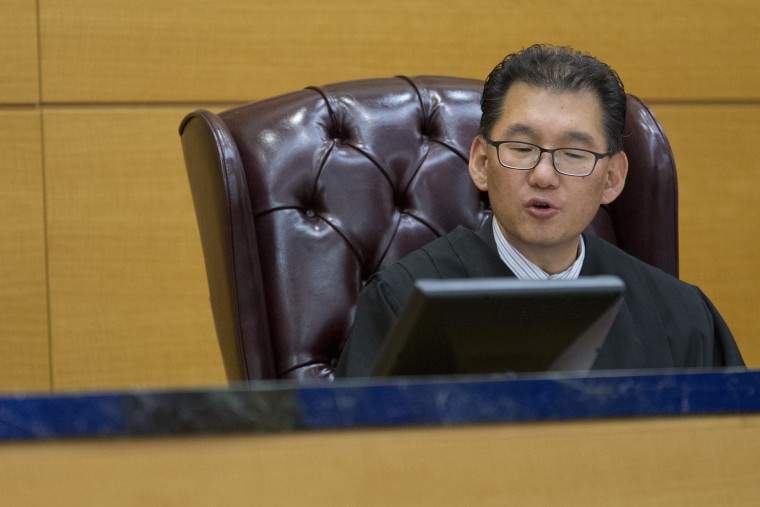 After a day of deliberations during which jurors asked to hear the charges read to them a second time, Brooklyn District Attorney Ken Thompson entered the courthouse Thursday just after 7 p.m. ET. Inside the courtroom, on the second floor of State Supreme Court in Brooklyn, a dozen court officers stood watch over the audience, which was filled with friends, family and supporters of both Gurley and Liang. Thompson took a seat in the front row next to Kimberly Ballinger, Gurley's domestic partner.
As the jury foreman stood and read the guilty verdict to the court, Liang leaned forward in his chair and, with his elbows on the table, held his head in his hands.
Liang's mother, surrounded by her supporters, exited the courtroom a little after the jury was dismissed and was led out by court officers who took her past an elevator bank and away from media.
Thompson praised the verdict at a press conference outside the courthouse in Downtown Brooklyn.
"Let me make clear that this conviction is in no way a conviction of the [NYPD], which is the finest police department in the world," he said. "But we stood together today because we had to affirm that no matter where you live in Brooklyn, your life matters."
Gurley's mother, Sylvia Palmer, told reporters that she was very happy the jury convicted Liang. "First, I want to thank God, and then I want to thank the District Attorney's Office," Palmer said. "They did an awesome job."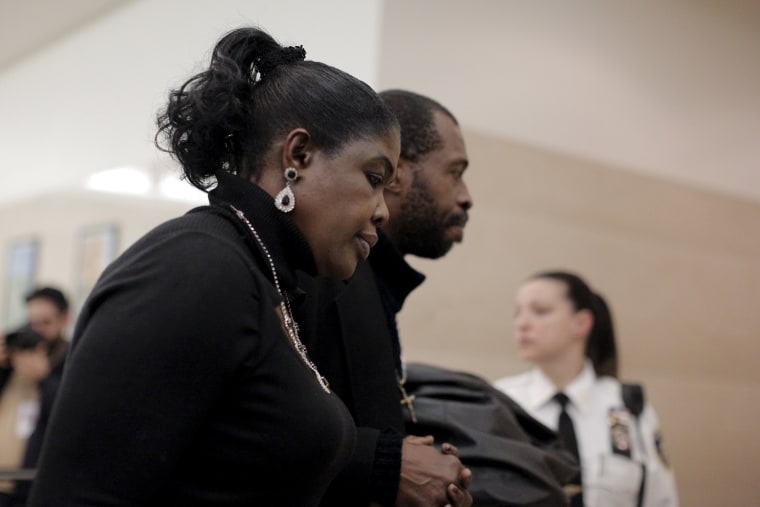 Karlin Chan, one of Liang's supporters who regularly attended court, told NBC News he was very disappointed with the verdict.
"I can't understand how they got the second-degree manslaughter in," Chan said. "I mean, reckless is when you act intentionally, recklessly, indiscriminately."
Before dismissing the jury, Chun said that those jurors who did not wish to be interviewed by media could be led out a separate exit. But one juror, a man with a long, white ducktail beard, spoke briefly with reporters who surrounded him as he walked down Jay Street, across from the courthouse.
"It was a very hard decision," the man said, declining to give his name.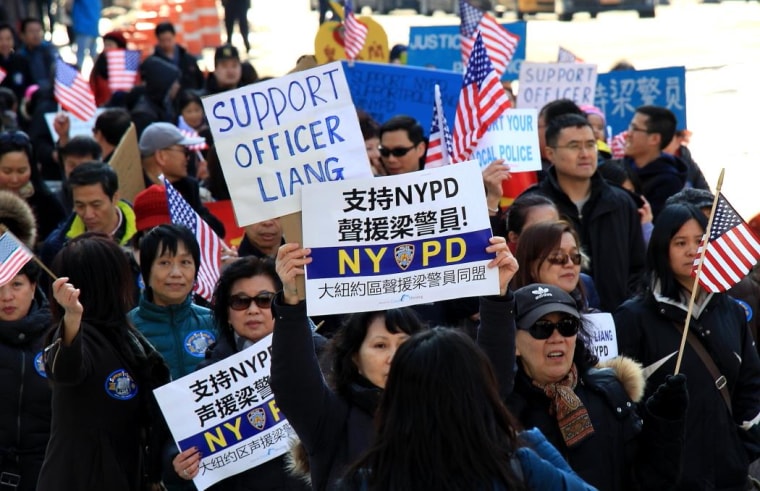 Brown — one of Liang's attorneys who replaced Stephen Worth, a lawyer for the Patrolmen's Benevolent Association, the union for NYPD officers — was not immediately available for comment Thursday night.
PBA President Patrick J. Lynch said in a statement that the jury came back with an "absolutely wrong decision."
"This was a terrible and tragic accident and not a crime," he said. "This bad verdict will have a chilling effect on police officers across the city because it criminalizes a tragic accident."
"It was a very hard decision."
In late May, Gurley's family filed a civil lawsuit on behalf of Gurley's daughter and mother, naming Liang, Landau and the New York City Housing Authority as defendants.
To be convicted of second-degree manslaughter, prosecutors had to prove that Liang recklessly caused Gurley's death.
To be convicted of official misconduct, prosecutors had proved Liang "knowingly refrained from performing a duty which was clearly inherent in the nature of his office" as a public servant.
The verdict comes after two days of deliberations at State Supreme Court in Brooklyn, where supporters of both Liang and Gurley have packed the courtroom daily.
On Wednesday, the jury requested that portions of Liang, Landau, and Butler's testimony be read back to them.
They also asked to listen to the police radio transmissions after the shooting and a 911 call made by Melissa Lopez, a fifth-floor resident. On the tape of the radio transmissions — a number of which were garbled — an officer can be heard saying the words "Pink Post One," referring to Liang's post at the Pink Houses, and "accidental discharge." According to prosecution court documents, the officers waited nearly 20 minutes before radioing in an "accidental fire."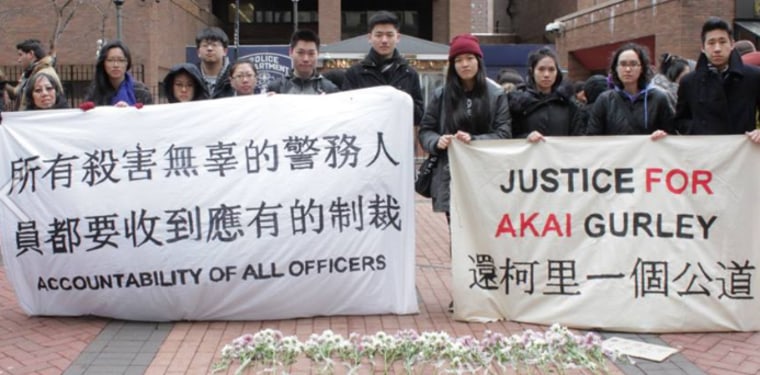 The jury also requested a second opportunity to handle Liang's gun. During the trial, prosecutors allowed jurors to pull the trigger of Liang's Glock 9mm off to the side of the jury box. Liang's attorneys have argued that the trigger spring may have been defective, requiring less pressure than what's necessary to fire an NYPD-issued Glock 9mm.
Prosecutors, however, disputed that claim, saying Liang's weapon was on the higher end for trigger-pull pressure of an NYPD Glock 9 mm, at 11.5 pounds. On Monday, Liang testified in his own defense that his finger was on the side of weapon and not on the trigger when he took it out.
RELATED: In Tears On Stand, NYPD Cop Recalls Fatal Shooting of Akai Gurley
He also said he felt unqualified to administer CPR on Gurley, adding he had never practiced on a dummy at the Police Academy and that instructors fed them the exam answers. Landau had testified similarly.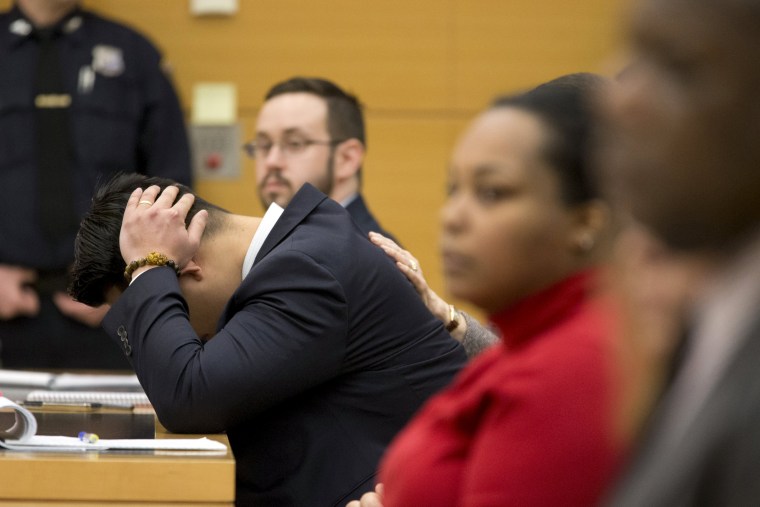 "We stood together today because we had to affirm that no matter where you live in Brooklyn, your life matters."
Brown and Koshetz have argued during the trial that Liang was in a "state of shock" after his gun accidentally went off, that he was unaware his bullet had struck anyone, and that he tried to make several radio transmissions about the shooting that were incomplete or did not go through
But prosecutors portrayed Liang's actions in a different light, telling jurors in opening arguments that Liang violated key critical life-and-death training when he recklessly pulled out his gun, fired without reason, and then argued with his partner over calling for help as Gurley lay dying. They also said that after the shot rang out, neither Liang nor Landau called it in to supervisors, even though both had working radios and cellphones.
On Wednesday, Liang's attorneys asked Chun to declare a mistrial, arguing that Brooklyn Assistant District Attorney Joseph Alexis, in his closing statements, accused Liang of committing intentional crimes for which he hadn't been charged. Chun denied the request, saying Alexis' statements did not rise to the level of prosecutorial misconduct.
RELATED: Race 'Doesn't Matter': Reactions to Officer Liang's Indictment
The question of whether Liang should have been indicted last February has brought Asian Americans into a wider national debate about the role police officers have played in incidents involving civilian deaths, many of them black men. Some, who have attended rallies in support of Liang, believe that the Chinese-American officer has been made a scapegoat to compensate for the lack of indictments in other fatal incidents involving police, including the 2014 chokehold death of Eric Garner in Staten Island. Others, including members of CAAAV Organizing Asian Communities, a group that addresses police and hate violence toward Asian immigrants, have maintained that the indictment was just and that Liang must be held accountable.
Follow NBC Asian America on Facebook, Twitter, Instagram, and Tumblr.
IN-DEPTH: