California's Oakland Unified School District (OUSD) will now require all OUSD high schools to offer ethnic studies classes within three years.
A team of teachers will develop a comprehensive framework for the ethnic studies program, and pilot classes are to begin next school year. Elementary and middle schools will be encouraged to incorporate ethnic studies curriculum.
Left undecided was whether or not ethnic studies would be a graduation requirement.
"Almost 50 years ago, a broad coalition of students from San Francisco State University walked out of classes and engaged in the longest student strike in U.S. history in order to establish the nation's first College of Ethnic Studies," OUSD Civic Engagement Coordinator Young Whan Choi told NBC News. "The passage of Oakland Unified School District's Ethnic Studies Board Policy is an important step that builds from this legacy and will ensure that all students in Oakland have access to a curriculum that speaks to their experiences, addresses the role of race, class, and other inequities, and provides students with opportunities to take thoughtful action in their world."
At an Oct. 14 Board of Education meeting, student director Darius Aiken spoke about how taking a course on diaspora at University of California Berkeley as part of the Upward Bound program transformed him and made him proud to be African American.
"I truly believe that ethnic studies is important and gives students the ability to feel powerful and feel as though they can be the new Martin Luther Kings, the new Malcom Xes, the new Rosa Parks, the new Caesar Chavezes," Aiken said.
According to the OUSD Board Policy, "There is a growing body of academic research that demonstrates the benefits of Ethnic Studies, which include: higher overall academic achievement, boosts in social emotional learning, increases in self-efficacy, higher graduation rates, and a reduction in drop-out rates."
OUSD has a history of offering Afrocentric curriculum in 1990s, multicultural curriculum 2000s, and now ethnic studies after a resurgence of student activism in the 2010s. OUSD Board Special Full Report Ethnic Studies Policy Brief noted the importance of ethnic studies for achieving equity goals, "Ethnic Studies is at the heart of an equity-based education because it has been shown to have positive social and academic impacts on all students. The research has shown that these impacts are true both in settings that target a particular constituency of students and in diverse settings that include White students."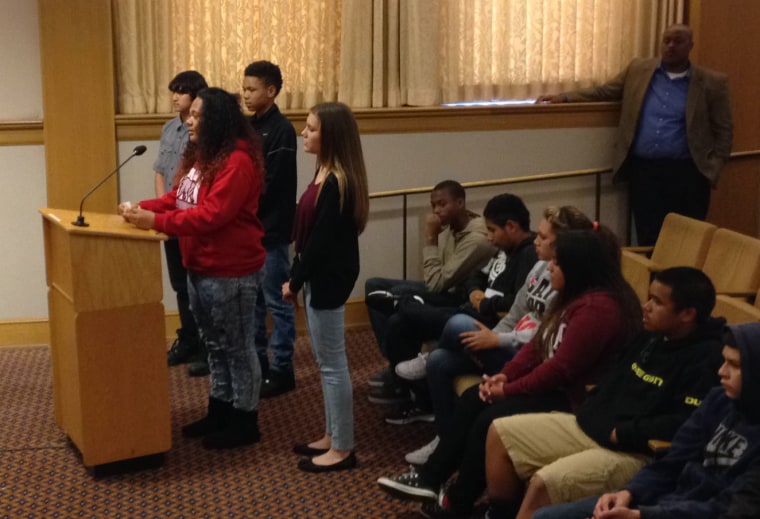 According to 2014-2015 data, OUSD's 37,147 students were 28.7 percent African American, 39.3 percent Latino, 14.9 percent Asian American, 1.2 percent Pacific Islander, 0.5 percent Native American, 11.9 percent Caucasian, and 2.4 percent not specified.
Despite California Governor Jerry Brown's recent veto of California Assembly Bill 101, which would have created a model ethnic studies curriculum that all school districts could use, OUSD joins the increasing number of California school districts that are adopting, and sometimes requiring, ethnic studies courses, including Sacramento, Los Angeles, and San Francisco Unified School Districts.
IN-DEPTH