WASHINGTON, D.C. — President Barack Obama addressed a range of topics including healthcare, education disparities, and immigration at a gala dinner Wednesday note hosted by the Asian Pacific American Institute for Congressional Studies (APAICS).
The president, who was introduced by Rep. Judy Chu (D-CA), also praised the Asian American and Pacific Islander community for speaking out against anti-Muslim rhetoric and for supporting the Sikh, Arab, and South Asian communities targeted by discrimination.
"Just as we moved beyond 'No Irish need apply' signs, just as we moved beyond questioning the loyalty of Catholics, just as we moved beyond the active persecution of Chinese immigrants, just as we learned that the stain on our history of our treatment of Japanese immigrants and even Japanese Americans in World War II, we are going to move beyond today's anti-immigrant sentiment as well," Obama said. "We will live up to our ideals. We just have to keep speaking out against hatred and bigotry in all of its forms."
Obama also touted his administration's successes in its work on behalf of the AAPI community, including expanding health care access to some of the 2 million uninsured AAPIs; creating a task force to raise awareness on bullying; supporting the need for data disaggregation in order to understand and address the needs among AAPI groups; appointing "more AAPI judicial appointments than any other president combined"; and encouraged the audience to vote — not solely during presidential years, but during midterms and in local races, including school board elections.
RELATED: 50 Asian Americans and Pacific Islanders of the Obama Administration
This is the second time in his presidency that Obama has spoken at the annual event.
"President Obama has demonstrated his commitment to the AAPI community and shares our determination in developing future opportunities for AAPI leaders," S, Floyd Mori, president and CEO of APAICS, said in a statement in April announcing the president's keynote address.
The president's speech Wednesday was well-received among attendees, including Christopher Kang, national director of the National Council of Asian Pacific Americans (NCAPA), who told NBC News, "I expected President Obama to lay out his legacy on behalf of the AAPI community — and he did that well — but I hope what will truly reverberate from his speech was his challenge that Asian Americans and Pacific Islanders realize our political power by registering to vote and voting — in every election for every position."
RELATED: White House Hosts First-Ever Summit on Asian Americans
Wednesday night's event was APAICS' 22nd annual gala dinner, and was attended by more than 1,000 attendees, including community leaders, members of Congress, White House Champions of Change honorees, and celebrities such as Aziz Ansari and Alan Yang, who were given the Vision Award at the gala for "Master of None."
"We need more minority creators," Ansari said during his acceptance speech. "Don't wait for white people to open the door for you."
APAICS also presented awards to Toyota and to Rep. Xavier Becerra (D-CA), who accepted the 2016 Lifetime Achievement Award.
"As a son of immigrants who worked hard to realize their dreams, I was humbled to accept the APAICS Lifetime Achievement Award," Becerra tweeted.
RELATED: Essay: How Social Media Helped Me Tell #MyAsianAmericanStory
At a reception before the gala, Democratic presidential hopeful Hillary Clinton and U.S. Housing and Urban Development Secretary Julián Castro also addressed attendees. APAICS leaders said last week they invited the Democratic and Republican presidential hopefuls to attend, but Clinton was the sole candidate to respond and commit to attending.
"I am looking forward to making sure [AAPIs] are well-represented in my administration," Clinton said.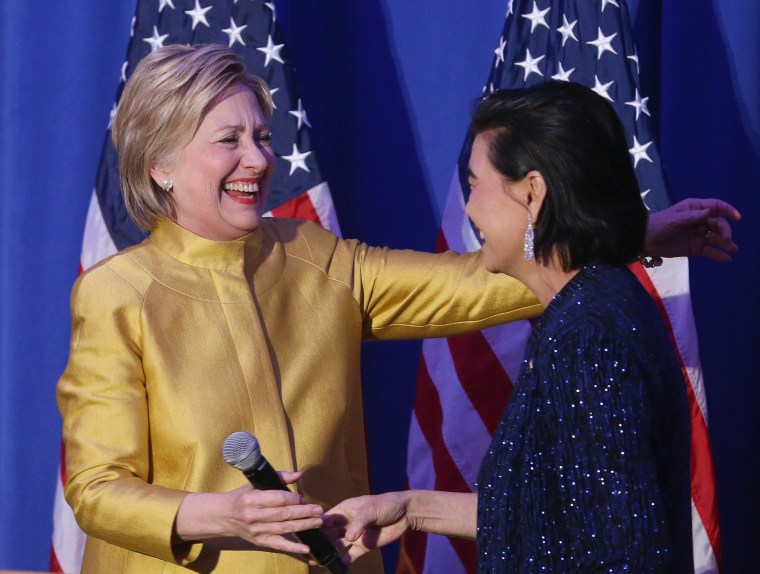 The APAICS gala dinner also recognized the start of Asian American and Pacific Islander Heritage Month. Since 1992, May has officially been designated as Heritage Month and has previously included a summit led by the White House Initiative on Asian Americans and Pacific Islanders.
Follow NBC Asian America on Facebook, Twitter, Instagram, and Tumblr.