As Republicans look to make a strong showing in local, state and federal races this year, more than 70 people met one day in February at a family-owned Chinese restaurant in Queens, New York — and not just to eat.
The participants, almost all of them Chinese American, were attending training as part of the Republican Leadership Initiative, which arms community leaders with tools to mobilize support for GOP candidates in their communities, according to Miki Carver, a press secretary with the Republican National Committee.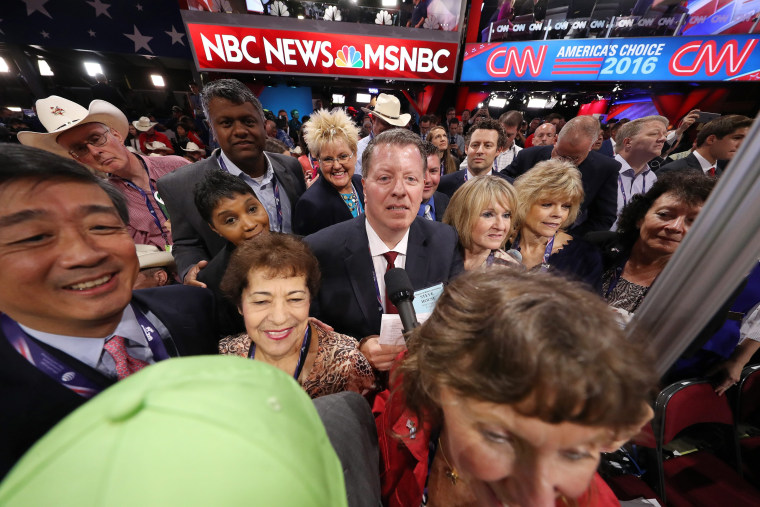 It was held in the Flushing neighborhood of Queens, New York City's largest borough, where roughly 1 in 4 residents identify as Asian.
During this cycle, the GOP has trained more than 12,000 leadership fellows, Carver said. Among them are Asian Americans and Pacific Islanders, part of an electorate that is expected to double in size by 2040.
"These fellows really grow the party's presence and just really get our message out there," Carver said.
Battleground voters
Both parties made efforts in the 2016 presidential election to pursue the Asian-American and Pacific Islander voting bloc, part of the fastest growing racial group in the country. They account for around 4 percent of all voters.
For this year's midterm elections, Nevada, Southern California, New Jersey and Virginia could be important battlegrounds in congressional races for Asian-American votes, according to Karthick Ramakrishnan, a public policy professor at the University of California, Riverside.
Texas, Florida, New Jersey and Nevada also have Senate races where Asian-American and Pacific Islander voters could affect the outcome, he said.
Democrats need to seize 24 seats from Republicans to gain control of the House and two to take the Senate.
Republicans appeared to make gains in 2014 because of more investment by the GOP and more enthusiasm among Republican voters, including Asian Americans and Pacific Islanders, according to Ramakrishnan.
In that year, 50 percent of Asian Americans and Pacific Islanders who responded to the National Election Pool exit poll voted for a Republican house candidate, compared to 49 percent who chose a Democratic one.
"Generally speaking, when you have a party out of power for a considerable period of time, like Republicans were, you'll have more enthusiasm among the base in terms of trying to regain power," Ramakrishnan said.
For Democrats, Ramakrishnan said there was disappointment because of a lack of progress on comprehensive immigration reform and other issues.
"They weren't as enthusiastic because they didn't see progress from the Obama White House," he said.
Conservative values, conservative voters
Stephen Wong, deputy political director at the Republican Party of Texas, a state with the country's third-largest Asian-American and Pacific Islander population, said they're seeing an enthusiasm within the Asian-American community riding off the 2016 election.
"So many conservative values are reflected in the conservative values of Asian and Pacific Islander voters — those values of entrepreneurship, of hard work, and some of that kind of bootstraps mentality," Wong said.
We provide this RLI training that focuses on the nitty-gritty and very basics of political organizing — this is how you hold a meeting, this is how you turn that meeting into a productive output of talking to voters
Outreach, he said, includes walking people through the process of being involved politically and civically.
The Republican Leadership Initiative, Wong added, also plays a role.
"We provide this RLI training that focuses on the nitty-gritty and very basics of political organizing — this is how you hold a meeting, this is how you turn that meeting into a productive output of talking to voters, going door-to-door," Wong said.
Carver said the RNC has a long-standing rule not to get involved in primaries. Wong noted that the bylaws of the state party also require it to remain neutral during the primary process and run-offs.
Meanwhile, some Asian-American GOP organizers who mobilized voters to help send President Donald Trump to the White House are already at work across the country, gearing up for the 2018 elections.
One of them is Zhonggang (Cliff) Li, executive director of the National Committee of Asian American Republicans, a political organization.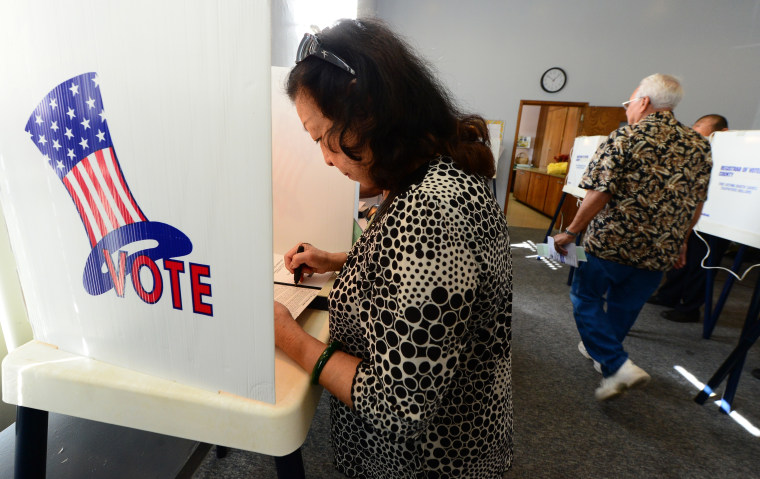 He said the committee is primarily focused on state races in Massachusetts, Rhode Island, Pennsylvania, Florida, Arizona and Nevada.
"We have some AAPI candidates running, which is helping to energize the community," Li said, when asked about the importance of the state races.
Li added that their work includes building teams around candidates they support, canvassing for votes, conducting holding phone banks and rallies.
Those candidates, Li added, are not just limited to Asian-Americans and Pacific Islanders.
"We do want to see the Asian-American candidates getting more on the conservative side," said Li, who also is a founding member of the AAPI Conservative Leadership Caucus.
"But very importantly, we also as a community want to get together supporting our conservative candidates, regardless they're Asian or not," he added.
Tian (David) Wang, founder of the Chinese-Americans for Trump movement, spoke of his group's efforts leading up to the March special election for Pennsylvania's 18th Congressional District.
Donning "Chinese Americans for Trump" T-shirts, Wang's 40-or-so volunteers fanned out across the district three days before the election, knocking on more than 7,000 doors, he said.
In the end, Democrat Conor Lamb eked out a victory over Republican Rick Saccone, in a district long held by the GOP and one that Trump — who backed Saccone — carried by 20 points in 2016.
Like Li, Wang said he doesn't support candidates just because they're Asian American or Pacific Islander.
"We'd rather support somebody who has the same platform, the same values as we do, than somebody just of the same skin color," Wang explained.
WeChat Organizing
As for outreach, Li and Wang said technology and data both play an important role.
Mobile canvassing apps are one example. These generally allow door knockers and people in the field to log visits with voters, and the data can then be shared with the party.
Li also said he designed an app called Power Voter, which, among other things, allows users to look up candidates running in a variety of races, including local, state and federal.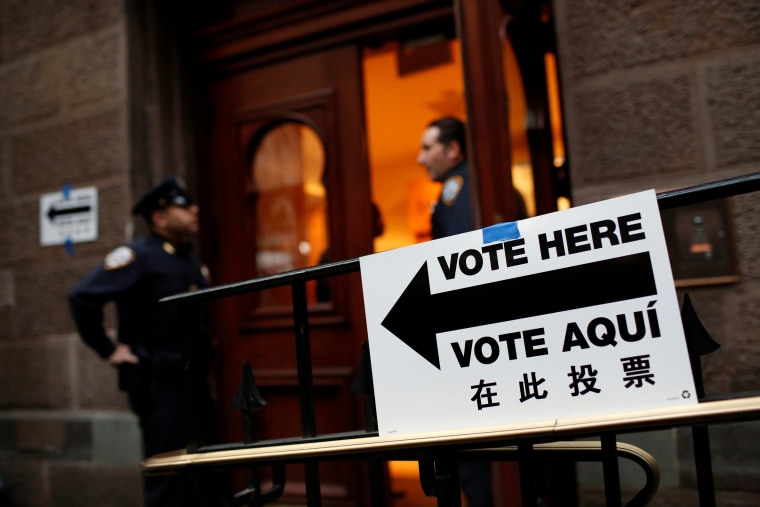 There's also WeChat, a social media app developed by Chinese internet company Tencent. Li said he had used it to rally support for former Republican presidential candidate Jeb Bush, and Wang for Trump.
Earlier, WeChat had proven effective in mobilizing Chinese-American immigrants, in particular, to protest issues or incidents that Wang said he believes are responsible for a recent trend of Chinese conservatism.
Targets included Jimmy Kimmel, who came under fire for a 2013 skit in which a child suggested "killing everyone in China" could be a solution to America's debt problem; SCA-5, an amendment in California to reinstate affirmative action in the state; and the prosecution of Peter Liang, a former New York City police officer of Chinese descent who accidentally shot and killed an unarmed black man while patrolling a housing project.
"Without these events, nothing," Wang said, adding, "Nobody would be talking about politics."
After using WeChat to fuel the Chinese-Americans for Trump movement, Wang said these days he can go on any number of his WeChat groups and quickly mobilize volunteers to help out when needed.
"For example, if we want to do an airplane banner in California, I would go to my southern California Chinese-Americans for Trump group, there's like a bunch, and I'll ask them, 'Hey, who wants to do this?'" Wang explained.
"People would write, 'me, me, me, me, me,' and then we're going to get everybody involved," he said. "We post the time and date, let's do it. Very, very simple."
Chinese Americans are indeed a voting group to watch since their support for the 2016 Democratic presidential nominee, Hillary Clinton, appeared to wane compared to President Barack Obama in 2012.
While Obama got 69 percent of their vote in 2012, Clinton took just 61 percent in 2016, according to the National Asian American Survey.
This is important, Ramakrishnan said, because Chinese Americans make up the largest segment of the Asian-American vote.
To be sure, available data show that Clinton prevailed over Trump with Asian-American and Pacific Islander voters.
Moreover, a leftward shift has also been afoot among Asian-American registered voters since 2012, according to findings from a Spring 2016 report released by nonprofits APIAVote and Asian Americans Advancing Justice | AAJC, along with AAPI Data, a program led by Ramakrishnan.
But in 1992, things were different. Nearly 3 in 5 Asian Americans that year voted for President George H.W. Bush, a Republican, according to Cornell's Roper Center.
Republicans are hoping to win back that base.
"With the president's policies and his agenda for the country," Carter said, "that is going to win over voters, as it's done since he's taken office."
Follow NBC Asian America on Facebook, Twitter, Instagram and Tumblr.