In Brunswick, a suburb of Cleveland in Medina County, Ohio, Mayor Ron Falconi has been actively trying to build up the Asian-American Republican base in the Cleveland area.
On election night, Falconi was relieved when the early projections signaled victory for Ohio's favorite son, Gov. John Kasich.
"Watching election results over the years, you tend to get nervous time to time. However, after I saw some of the polls showing the governor ahead, I felt more confident," Falconi told NBC News.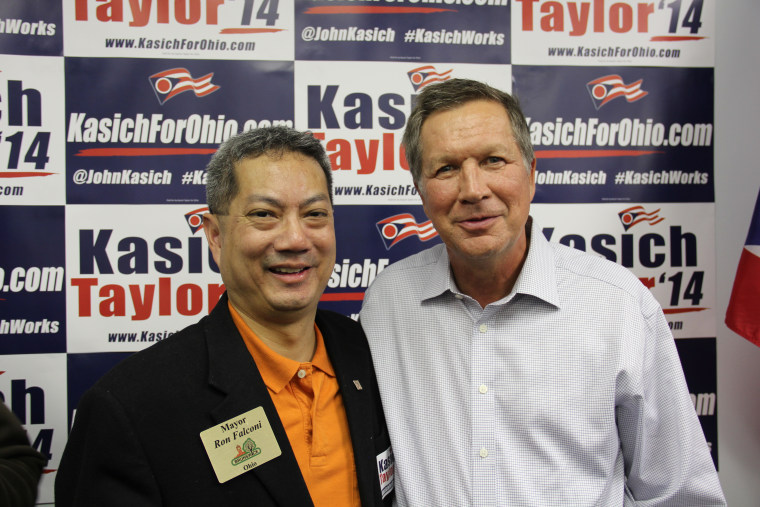 Falconi, 47, born in Ohio to Filipino immigrant parents, has always been an unabashed Kasich fan.
"It's the way he's handled the budget in Ohio," Falconi said. "We were in a deficit when he came in, now we're at a surplus. That's what I like about him. He knows how to do that, and knows how to govern. The way he handles economic issues, that's where I was impressed by him."
In his victory speech, Kasich specified his accomplishments, including 400,000 jobs, a $2 billion dollar surplus, secure state pensions, and lower taxes. And when he explained that on a human level, his supporters cheered.
"And we are leaving no one behind," Kasich said." Not the mentally ill, the drug addicted, the working poor."
RELATED: Asian-American Organizations Rally Together to Find a Role in Ohio Vote
State Rep Niraj Antani, the youngest Ohio state representative and the first Indian-American Republican elected to Ohio's legislature, said the Asian Indian community in Ohio raised tens of thousands of dollars for the governor.
"I'll continue to work to take his positive message to the Asian American community nationwide," Antani told NBC News, adding that he feels the governor will appeal to Asian Americans who don't know him as well.
"He talks about opportunity which resonates well with our community," Antani said. "Now we need to send him to the White House so he can use the same leadership to fix our nation."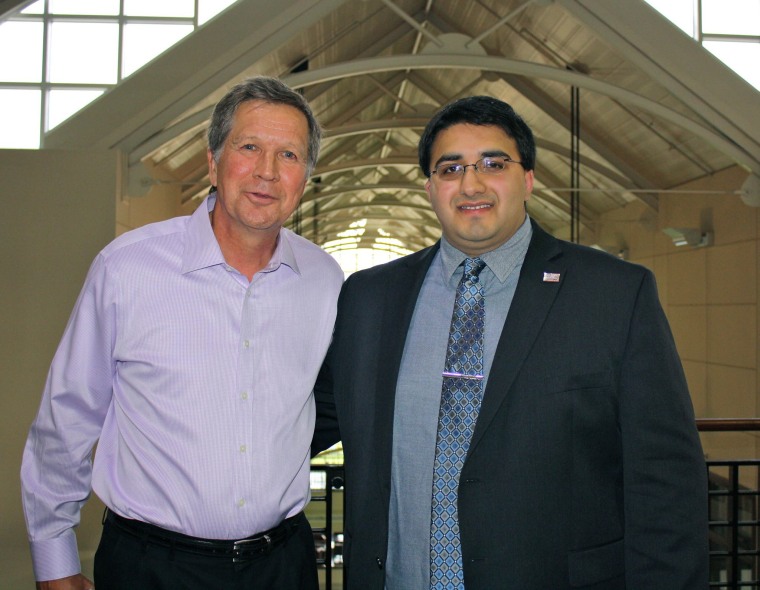 Kasich, who ended his victory speech talking about continuing the campaign from coast to coast, still has a tough road to the nomination.
Dr. Roy Flores, 65, a specialist at the Cleveland Clinic and a life-long Republican was concerned about the ultimate delegate count and the possibility of a contested convention and a third party run.
"I think all this means is that no one will get the 1,237 number prior to the convention," Flores told NBC News. "There will be crises, and I fear a third party candidate ensuring a Clinton victory in November."
The numbers scenario is more complicated, according to Samuel Wang, a professor of molecular biology at the Princeton Neuroscience Institute and a politics writer who has gone beyond simple math.
"Basically, Kasich makes an obvious short-term gain by winning Ohio's delegates," Wang told NBC News. "But Trump has always benefited from having a divided field because of Republican delegate selection rules. I wrote about thatin January. Now that the GOP is shifting to mostly winner-take-all rules, that advantage only gets bigger."
"Going forward, Trump can only lose a lot of states if he has a single major opponent." Wang continued. "For example, in head-to-head national surveys he loses to Ted Cruz by 15 points."
RELATED: Young Asian-American Republicans Troubled by What Trump Is Doing to Their Party
Wang said a Kasich win in Ohio just keeps it a three-way race that gives a slight edge to Trump.
"Because Trump leads multi-candidate matchups in state and national polls, that's a great combination for him. He could get a majority of delegates, or close," Wang said.
Wang said one creative strategy for Kasich could be to stay out of those winner-take-all states and let Trump and Cruz duke it out, with Cruz winning.
Wang's game theory analysis denies Trump a victory, and allows for an open convention that he says would give Kasich some leverage.
If that happens, Rep. Antani will be in the thick of the action, and he doesn't expect to be changing his vote.
"I am so honored to be a delegate for [Kasich]," Antani said. "And look forward to casting my vote for him in the Republican National Convention this summer in Cleveland."
Follow NBC Asian America on Facebook, Twitter, Instagram, and Tumblr.