Parents and community leaders joined forces with the adoptive parents of Asian-American students to pack a recent Fairfield Board of Education meeting in Fairfield, Ohio, to speak out against bullying.
The protest came after an Asian-American adoptee reported being bullied by a boy who she said intentionally tripped her while playing hockey during gym class, giving her a concussion. The same boy was one of several students who allegedly bullied 13-year-old Emilie Olsen, who committed suicide last December after reportedly being bullied both at school and online.
Between 150 and 200 people—including many from the Asian-American community—showed up to the Oct. 15 school board meeting, according to local media, and many talked about how their children had been bullied, how they had to move or change schools because of bullying, and how the school should take action against bullying.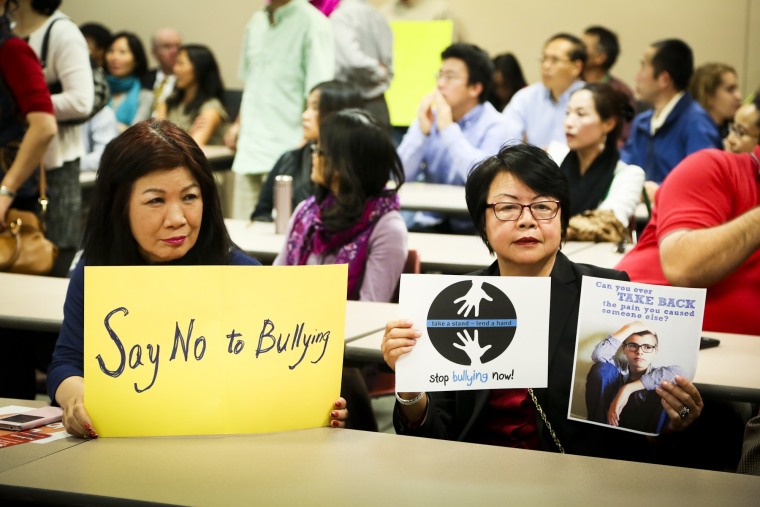 The school district had been the target of criticism since December for how it handled Olsen's suicide.
"The suicide of Emilie Olsen last December and the current case of another girl at Fairfield Middle School have been wake-up calls to the Asian-American community in Greater Cincinnati," Charleston C.K. Wang, the attorney representing the family of the girl who was recently bullied, told NBC News. "The common link is that both girls were adopted as infants from China. While bullying can happen to any student, by the reaction of the Asian-American community, people perceive a trend and pattern at this school and they feel the school has not given the problem enough attention."
In a letter to the community last December, Paul Otten, the superintendent of Fairfield City Schools, said that the Fairfield Township Police Department "did not find any credible evidence that bullying was a factor" in Olsen's suicide.
A representative of the Fairfield City School District told NBC News that the district does not believe that there are specific trends regarding race and bullying in its schools.
"We do not see any specific trend or have any data that would indicate that a specific race or gender is being targeted for bullying," Gina Gentry-Fletcher, Fairfield City School District School and Community Relations Director, told NBC News. "We take bullying very seriously in the Fairfield City School District and take immediate action when it is reported or witnessed. We have several programs in place throughout the district that encourage and promote positive behavior and other model character traits."
According to the White House Initiative on Asian Americans and Pacific Islanders #ActToChange anti-bullying campaign, 1 in 5 students report being bullied in school, but that number rises to 50 percent for Asian-American students.
Fairfield, Ohio, is a small town north of Cincinnati with a population of 42,000. According to 2013-2014 data from the Ohio Department of Education, 2.6 percent of Fairfield City School District students are Asian American or Pacific Islander, 5.5 percent are multiracial, 8.0 percent are Hispanic, 15.7 percent are black non-Hispanic, and 68.1 percent are white non-Hispanic.
IN-DEPTH