When Alex Tseng and Cleo Yang first met on OkCupid two years ago, they had no idea at the time that their own story would inspire them to design a similar type of experience — not for dating, but for apartment hunting.
Sharing a mutual interest in real estate, Tseng and Yang, along with Harlem-based web developers Uri Maxima and Julian Sharifi, co-founded REMY, which launches in beta this week in New York City and will be open to the public for testing. According to Tseng, the app will create a personalized and seamless renter experience by matching a person with a daily-curated batch of apartments tailored to them based on a series of questions.
"Think about it as if StreetEasy went on OkCupid, met Seamless, and they had a baby together," Tseng told NBC News. "REMY is that baby."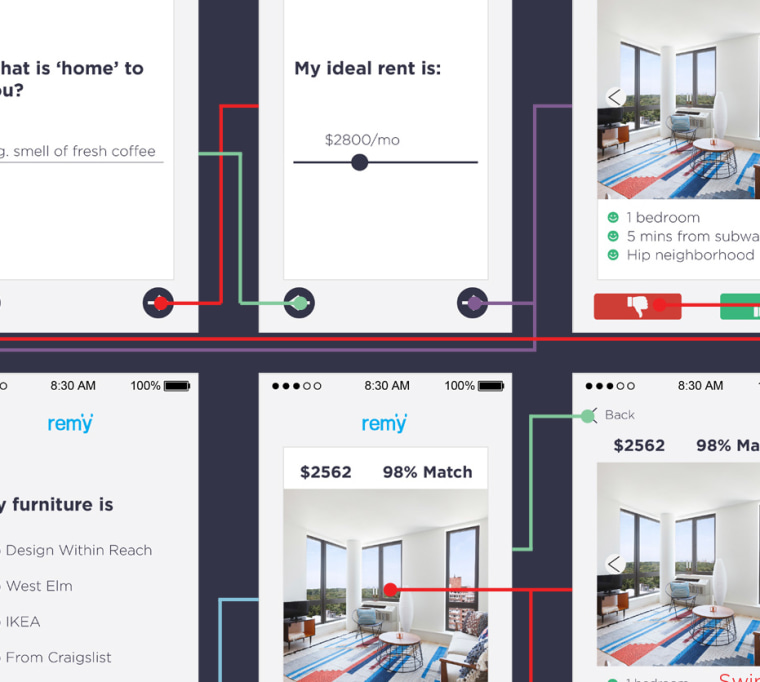 Tseng said he hopes to make manually searching for an apartment a thing of the past, like looking up a number in a phonebook. "Who wants to look through a directory when the technology exists for delivering apartments straight to your fingertips?" Tseng said. "Creating high-quality matches is the first step in our process of making the rental process more efficient, enabling a drastic reduction in broker fees."
The idea for the app came to Tseng when he had a week off between projects and thought about ways he could use his real estate experience to better serve the New York City community. "We remembered the days when we were trying to find apartments and how awful the whole process was," Tseng said. "Thinking back on our OkCupid experience, we wondered what it would be like to bring the matching idea into real estate. When we dug into it a little more, we found out that Tinder for real estate is not a new thing. HomeSwipe had been there, done that. What was missing, however, was an intelligent way to create a high-quality match."
"Think about it as if StreetEasy went on OkCupid, met Seamless, and they had a baby together. REMY is that baby."
Yang, the chief operating officer for REMY, came up with the idea for the algorithm by drawing from her experience at a marketing consulting firm, where she analyzed behavioral data to better understand the customers who would walk into the grocery store.
"In terms of analytics, we are trying to build an innovative way to match renters with the right apartments," Yang said. "It goes beyond asking the traditional set of questions about price, neighborhood, and number of bedrooms, and focuses on understanding habits and lifestyle, like almost the types of questions you'd ask on a first date. The goal is not to give them 100 listings, but only the ones unique to them."
Yang said that while the algorithm is still in the works, it is about placing priorities on certain characteristics.
"It's about figuring out the necessities versus the 'nice to haves.' For example, if you're looking for an elevator building with a doorman and laundry in your unit that's close to Fairway [Market], one of those is a necessity and something else is a 'nice to have,'" she said. "Our job is to tease out which is which, and it goes back to understanding the customer."
Yang added that over time, feedback from users will help them refine the algorithm and the app as a whole.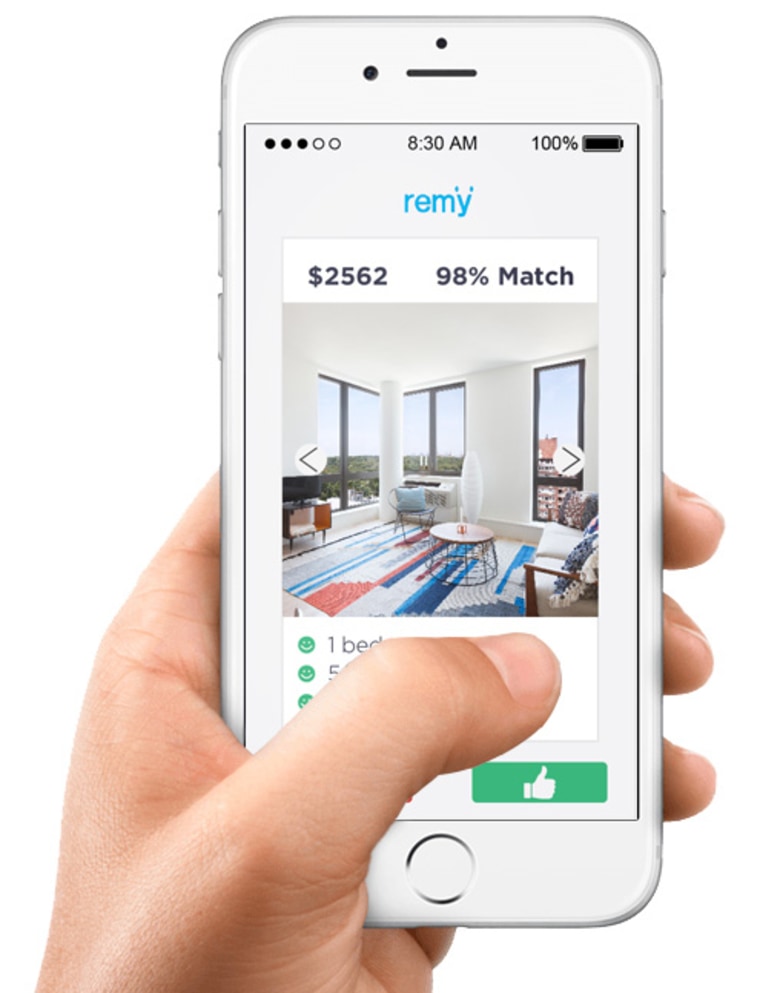 Tseng, who has a background in architecture and property management in New York City, said that working for several architecture firms in New York City has taught him the value of iterative design thinking. In architecture, he would produce 10 concept models when the client only calls for one. That process was used in developing REMY, Tseng said, noting that the team "produced many iterations on the UI design, constantly testing our ideas in the real world, and going back to the drawing board to refine and simplify."
Tseng said the team's drive to push REMY into challenging territories is rooted in support from many renters, property managers, and even real estate agents they have talked to, as well as that rewarding feeling of knowing they are able to help someone find a home.
"Real estate in New York City is an old boy's club," he said. "We're somewhat outsiders to this game, so we know that it will be an uphill battle for us, but we're keeping that in perspective."
"Growing up with immigrant parents from Taiwan and Hong Kong, respectively, Cleo and I learned early on that hard work drives success," Tseng added. "Cleo's parents started their immigrant journey at the flea market selling shoes. Inspired by how far they've come, we also strive to make the most of what we have by building only what is essential to the brand. We believe we've stumbled upon something that can transform the renter experience. Our mission is to find a home for anybody, anywhere, anytime. And we believe we're getting closer to that by the day."
Follow NBC Asian America on Facebook, Twitter, Instagram, and Tumblr.