Lee Kiefer's earliest fencing memory is, quite literally, a heavy one.
"I remember having to carry my bag, and it was so heavy. I was a seven-year-old, so I was struggling so hard," Kiefer, 22, told NBC News.
Back then, Kiefer's parents would drive her and her two siblings from their home in Lexington, Kentucky, to a fencing club in Louisville, an hour and a half away, several times a week. "I was like, "Aw, man. This sport is gonna be a challenge," she said.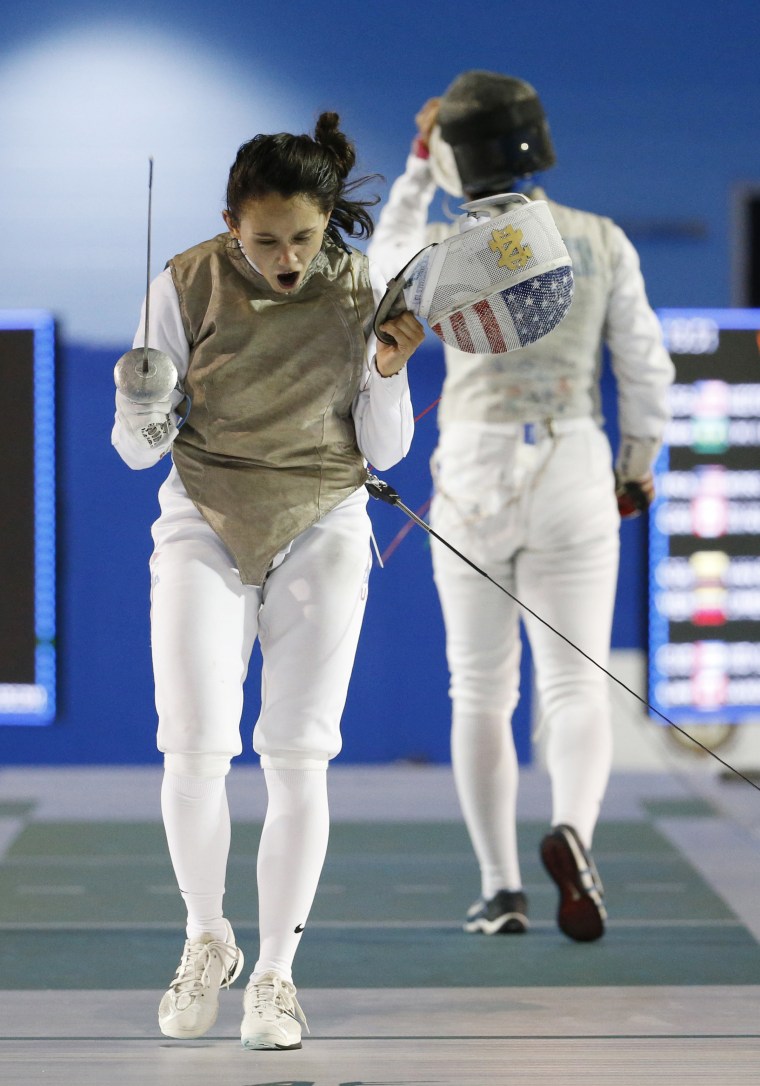 But it was a challenge that Kiefer has risen to throughout her career. She is currently ranked number one in the U.S. among women foil fencers and number three in the world, and is the first athlete to win seven individual titles at the Pan American Championships. She will compete in her second Olympics in August. In 2012, she placed fifth at her first Olympic Games in London.
To prepare for the 2016 Games in Rio de Janeiro, Kiefer took a year off of school at the University of Notre Dame — where she attends on a fencing scholarship and majors in pre-med — to focus on training. It's just one of the sacrifices she has made as an elite athlete, a journey that she said can sometimes feel lonely.
"I'm not the only person who says this, but I don't have that many friends. I'm so lucky I have the whole fencing team and people who I've built relationships with, but besides that, I don't have close friends outside of the fencing team," Kiefer said, speaking from Panama where she was competing at the 2016 Pan American Championships (she won gold in both individual and team events). "Football's really big at Notre Dame. I haven't been able to go to all the games because of tournament schedules and trying to catch up on school. I feel like a lot of people miss out on that part."
RELATED: 18-Year-Old Kanoa Igarashi is Changing the Face of Pro Surfing
For Kiefer — whose mother, Teresa (a psychiatrist), immigrated to the U.S. from the Philippines as a child — fencing is family affair: Her older sister Alexandra fenced while attending Harvard University and is a former NCAA champion, while younger brother Axel is currently on the men's foil team at Notre Dame. Kiefer's father, Steve, a neurosurgeon, once headed the fencing team at Duke University.
Kiefer's interest in the sport began when she watched her dad compete in a local tournament.
"Toward the end of the tournament, a 14-year-old girl just took me apart," Steve Kiefer told NBC News, laughing. "And I think that stood out in the minds of my daughters like, 'Hey, I'd like a piece of that action.' The kids were intrigued."
The family would turn their dining room into a makeshift fencing club, with Steve Kiefer teaching his three children fundamental moves. He noticed Lee's competitive fierceness from an early age.
"She's a real competitor. She's always been like that. She's more so perhaps than anyone in the family," he said.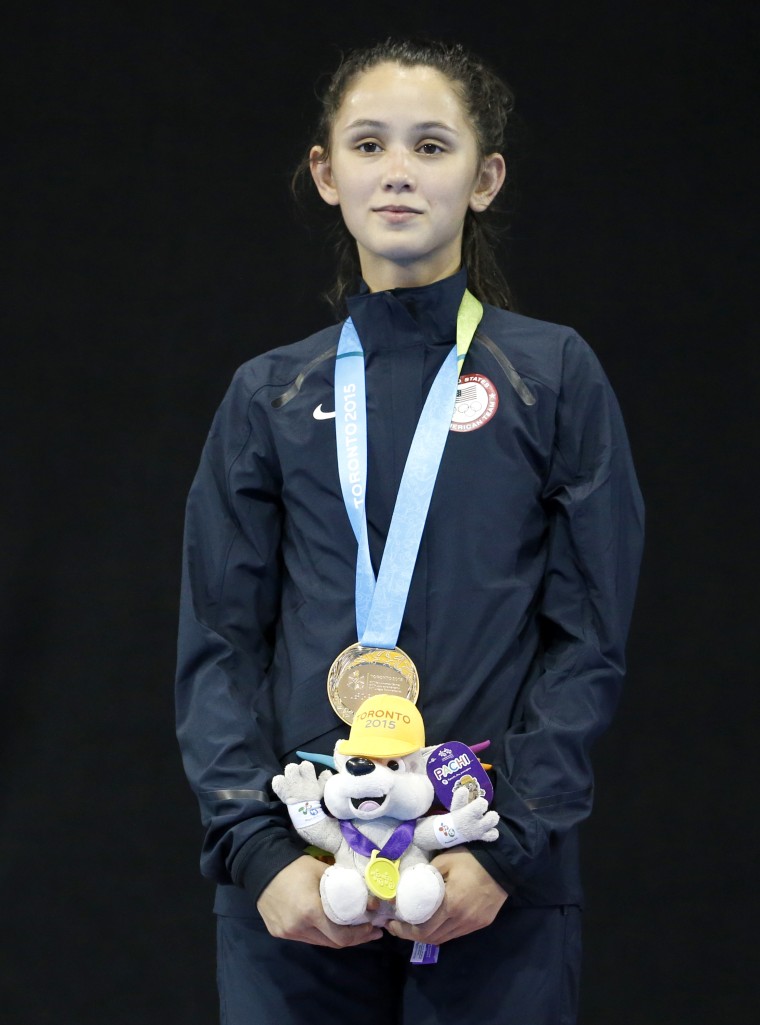 It's a quality that has served Kiefer well on the strip — or playing area — during fencing bouts.
"It's always nice in fencing if you're tall and left-handed. I'm neither. I'm a short, right handed-fencer," Kiefer, who, according to her Team USA profile, is 5-foot-4 and 107 pounds, said.
But her nimble, small-but-scrappy style, has allowed her to best opponents who are more physically dominant, like Italy's Arianna Errigo. Kiefer beat Errigo — who is left-handed, 5-foot-11 and 141 pounds — in 2015 to win the Algiers Foil World Cup, her first world cup title.
She trains up to 3 hours a day, 5 days a week with her team and coach. Kiefer also enjoys practicing against her boyfriend, Gerek Meinhardt, at his home club in San Francisco, where she gets to indulge in the city's diverse cuisine, including Filipino food, her favorite dish being lumpia. Meinhardt, whose mother is Chinese, is a member of Team USA Men's Foil Fencing Team and is headed to his third Olympic Games in Rio.
During her year away from school, Kiefer also took her MCATs and completed her medical school applications. She says that there is a slim chance that she will pursue a third Olympics in 2020 and would like to focus on a career in medicine instead.
She lightheartedly refers to fencers as underdogs among Olympic athletes, in both visibility and reputation.
"Everyone thinks we're nerds, and a lot of [fencers] are nerds," she said, laughing. "That is so true. But if it means that we're smart, then that's fine."
Follow NBC Asian America on Facebook, Twitter, Instagram, and Tumblr.