When Paola Mardo developed her podcast "Long Distance" in 2018, she wanted to embody the experience of both Filipinos in the United States and abroad.
Born in Los Angeles, Mardo grew up in Manila and Kuala Lumpur and moved back to the United States as a teenager. She related to Filipino Americans who grew up in the United States but also wanted to know more about their roots.
So, episodes of "Long Distance" have included the telling of a love story of two high school sweethearts who were separated overseas and reconnected 40 years later, as well as an exploration of Little Manila in California and a closer look at the vandalism at a Filipino community center in Stockton, California.
Mardo said it was important for her to create something for an audience like her. She noted — like most other forms of media like film or television — podcasts have been predominantly white.
"I think that's a typical podcast — white men talking about stuff with each other," Mardo said. "That's it. To me, I think there's room for more"
Mardo isn't alone. In a 2017 article, the Columbia Journalism Review found that the iTunes Top 100 podcast chart was dominated by white hosts though research had showed that nonwhite podcast audiences were growing. In spring of that year, only five shows featured any African American hosts, with the highest-ranked at number 45. The only other ranked show with a nonwhite host was "Hidden Brain," an NPR program hosted by Shankar Vedantam, who is Indian American.
According to a 2018 analysis by Edison Research, 58 percent of podcast listeners were white while 4 percent were of Asian descent. Ten years before, 73 percent were white while 2 percent were Asian.
This January, "Long Distance" was selected as one of six shows to be a part of the inaugural Google Podcasts creator program with PRX. More than 6,000 teams submitted applications to the program, which aims to remove barriers to podcasting by putting podcast teams through a bootcamp that includes technical and business training and editorial input, among other elements.
Mardo said that while she's grateful for the opportunity, managing an independent podcast has obstacles tied to not being a part of a radio station or media company.
"It is an exciting time, but it's a challenge," Mardo said. "Now, more than ever, it's so important for independent podcasts to continue."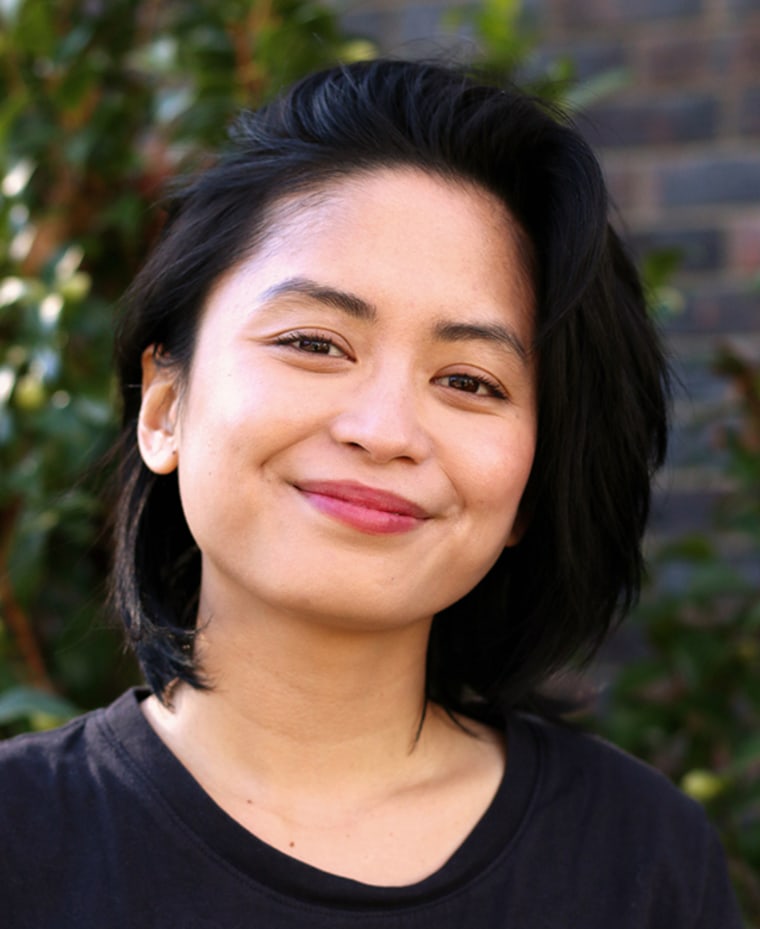 Quincy Surasmith, producer for the podcast "#GoodMuslimBadMuslim" and host of "Asian Americana," said he has always loved public radio and long-form podcasts such as "This American Life" and "RadioLab," but he wanted to do a similar program that focused primarily on Asian American culture and history.
He said he noticed an uptick in independent podcasts in 2015 , following the success and popularity of the crime podcast "Serial." That was when Surasmith became more serious about brainstorming ideas for his own narrative podcast, which ultimately became "Asian Americana" and featured episodes about the character of Claudia Kishi from "The Baby-Sitters Club" and the Asian American magazine Giant Robot.
"I think a lot of my shows focus and are founded in this philosophy that Asian American-ness isn't something that needs to be proved nor is it something that is defined by monolithic culture or prescriptive identity," Surasmith said. "It's not defined by liking boba or being interested in specific YouTube artists, and I wanted to focus it on this idea that Asian American identity is descriptive."
While he hopes his podcast continues to pave the way for these type of discussions, Surasmith doesn't want to take credit for being the "first" of his kind nor does he want his program to take the place of an Asian American studies degree.
"I value — as part of my show's identity and the work I'm doing — that I'm part of a long tapestry of work of Asian American thinking and media," he said.
Surasmith added that the reason he's so drawn to audio is because there's something intimate about the relationship between the broadcaster and the listener.
"It forces you to listen and to engage the depth I'm trying to convey in these stories that I wouldn't be able to tell in image, text or video," Surasmith said.
Similar to Mardo, Surasmith said one of the challenges of running independent podcasts is that he doesn't have access to a big staff.
But groups such as Potluck: An Asian American Podcast Collective are working to create visibility for some of the existing Asian American podcasts. That group's founding members include Surasmith and Marvin Yueh.
Yueh said while he had been an active listener of podcasts for five to six years, his involvement began when he started "KollabCast," a pop culture podcast about Asian American arts and media affiliated with the nonprofit arts groups Kollaboration, in 2015. He was also part of "Books and Boba," which he created with journalist Reera Yoo after she told Yueh about a discussion she had with a stranger who told her that there weren't any Asian American authors.
While Yueh said the podcast industry isn't as diverse as it could be, he does feel like it's getting better.
Earlier this year, the Center for Asian American Media announced that it would help launch "Self Evident," a podcast about Asian American stories hosted by writer Cathy Erway. The project raised more than $40,000 in a crowdfunding campaign and has also received foundation funding.
"In the last two years, representation has become a thing, and I think the effect is that there are more people looking to tell their stories," Yueh said.
"I want to see more creators take chances on finding and highlighting these stories," Yueh added. "I want to see more Asian Americans, more people of color, more queer and more marginalized voices continue to get their use of this medium to amplify their voices."
Follow NBC Asian America on Facebook, Twitter, Instagram and Tumblr.
CORRECTION (May 26, 2019, 1:04 P.M. ET): An earlier version of this article misstated the last name of a podcast producer in one instance. It is Surasmith, not Smith.