TULSA, Okla. — When designer Andre Soriano debuted his "Make America Great Again" gown at last year's Grammy Awards, he was hoping it would help draw the country together.
"It's promoting peace, love and unity in our country," the 47-year-old designer, who immigrated to the U.S. as a teenager, said of the blue gown featuring President Donald Trump's campaign slogan.
Heading into Trump's second year in office, Soriano has a new "spokesmodel" for his dress and is planning to debut a second design.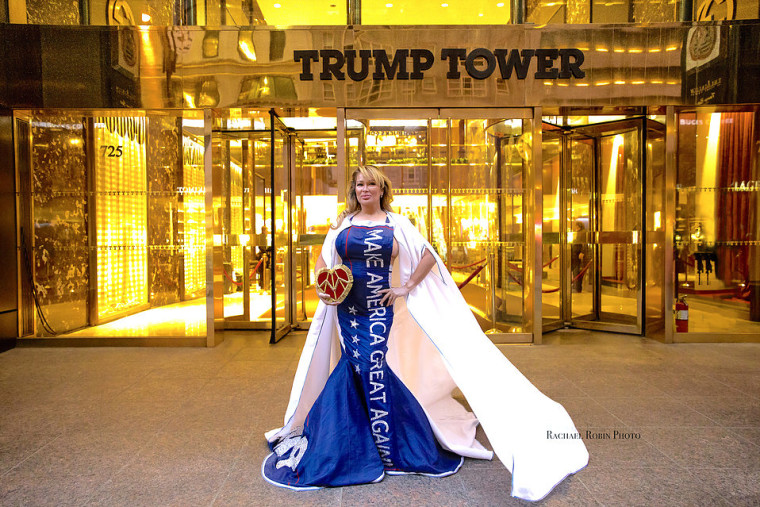 While Soriano had unveiled the first gown on singer Joy Villa, the two had a falling out after she appeared in a Church of Scientology information packet wearing the dress without Soriano's approval, he said.
"For them using the image without my knowledge, it's kind of against the rules," said Soriano, who said he is a staunch Christian.
In an email, Joy Villa said Soriano is "preying on others' bias and bigotry" and noted that the First Amendment is freedom of religion as well as speech.
"Religion has nothing to do with clothes," she said.
Because of the falling out, Soriano has turned to Lisa Christiansen, who hails from small-town Oklahoma, to show off his work.
Soriano called Christiansen a "kind Christian woman" who he hit it off with when they met during Trump's inauguration. "I didn't really realize that she's an American Indian. Before there was America, this is their territory," he said. "That's why I was like, "Oh, my gosh. It's kind of like me being an immigrant. She's going to be a good spokesperson for this gown.'"
The two traveled to New York — an iconic location, Soriano said — in January to take photos of Christiansen in the gown.
Soriano said he made the gown in response to the 2017 Women's March, which he believes divided the country.
"After President Trump won the election and there was a Women's March, and a lot of newsmakers and celebrities are dividing our country instead of having and promoting peace and love," he said. "They're trying to promote hatred and anger and violence," he added.
As a spokesmodel, Christiansen, a 51-year-old public speaker, said she plans to head to Washington in June to attend Trump's birthday celebration and give public speeches. She and Soriano also plan to retire the current gown and unveil a new one at a birthday event.
"It's going to be really more about any time he has an event where he has the gown on showcase, I'll be there modeling it and speaking on behalf of America and Trump and Andre and so forth," Christiansen said, referring to Soriano.
Christiansen, who lives in Lawton, Oklahoma, said her dad is her biggest inspiration. The 86-year-old Mack Vann speaks only Cherokee, Christiansen said. He received criticism once it became known Christiansen was going to vote for Trump, she added.
Trump has had repeated clashes with Native American tribes dating back decades. In 1993, while speaking at a House subcommittee, he said Native Americans who were rivals in the casino business "didn't look Indian" to him.
Most recently, at an event honoring Navajo Code Talkers at the White House, Trump took a jab at Democrat Sen. Elizabeth Warren, calling her Pocahontas, which some saw as culturally insensitive.
But Christiansen said she and her dad fully support Trump and believe he is doing a good job.
"We do think that, obviously, there are things that could be better. But that's with anything," she said, adding that she and her father believe the administration should have an elder Native American act as a sort of consultant on tribal affairs.
"Communication is the key, and I think right now there is a slight lack of communication," Christiansen said. "I think that that's where a lot of the tribes have issues, because they're only seeing the negative."
Soriano, for his part, supports Trump's stance on immigration. He emigrated to the U.S. from the Philippines with his family when he was 15, and questions why others don't take the same path he and his family took.
"It's not fair because we came to this country legally and that's what President Trump is bringing to our country," he said. "Would you rather help an illegal alien and then not really the veterans who killed for this country?"
Soriano is already looking forward to 2020, confident that Trump will win re-election.
"We're almost certain president Trump has seven more years," he said.
Follow NBC Asian America on Facebook, Twitter, Instagram and Tumblr.