The recent earthquake in Nepal reminded me of lessons from past failures, and that strategy building is important. Many of my family, community members and I grew up as "stateless refugees" in Nepal. That country is the only home we, second-generation refugees, have ever known. In the last two decades, we watched Nepal change from an authoritarian monarchy to a nation ravaged by civil war to a country of fragile peace and now political instability. We have seen Nepal disappear repeatedly from world attention after its infrequent 15 minutes of international fame has come and gone.
Giving money right after a crisis is the easy part, but reaching the needy and building a strategy for the future is difficult.
I propose a three-phase plan.
Phase 1 (inside first month):
Supporting direct relief efforts in rural hill and mountain communities. Channel your funds to trusted local organizations directly supporting rural families who need immediate support. There are a number of credible, local organizations with longstanding relationships with their communities. You can find a list of some of them here, or donate funds directly to a group I'm organizing with other Himalayan, young women.
Phase 2 (next few weeks and months):
Inclusive rebuilding in rural hill and mountain communities. We need to support reconstruction of local schools and community based organizations. In the past, many post-disaster societies end up with widened development disparities like access to education, health care and gender inequality. Commit to mitigating these disparities.
Phase 3 (later in the year):
Fortify Nepal - build grassroots community resilience and enhance adaptive capacity. Continue supporting the grassroots groups.
Since the Nepal earthquake on April 25th, the enormous outpouring for international support has been deeply moving. Initially the news was focused on Kathmandu, but now it has moved on to the hardest-hit places with widespread devastation, Nepal's rural hill and mountain communities. Even before the earthquake, the harsh landscape made it difficult to promote economic activity and deliver services - leaving this region physically isolated, with poor infrastructure and lack of state presence. Currently, buried under piles of rubbles and mud from landslide, these communities need immediate and long-term support, now more than ever before. My friends from Kathmandu have made it to out to the rural areas to help. However, direct international aid has not.
Aiding Nepal's rural poor must be top priority, because of the great vulnerability of all residents - especially of women and girls - in these rural areas. Women are disproportionately affected by disasters, as cases of gender-based violence and inequality exacerbate their hardship.
For international aid to reach these rural areas, international organizations must leverage the knowledge and creativity of grassroots communities in its rebuilding efforts. In hardest hit areas like Gorkha and Sindhupalchowk districts, the most successful relief efforts so far have been from Nepali individuals and community-based groups who raise funds and goods, and send them directly through trusted community networks. I visited Sindhupalchowk last month; the community there was barely trying to put itself together after a landslide last year claimed 156 lives. And now threats of more landslides loom in the area, and already the death toll there has climbed and is expected to climb higher.
The summer monsoon is coming, threatening the rural mountain communities with more landslides. While sending aid to remedy the immediate wounds, we also need to see the larger picture of how people rebuild and how to prioritize rebuilding. We need inclusive rebuilding. This is our time to collectively develop a model for relief and development in Nepal. Rebuilding will be complex and challenging as almost 3 million of Nepal's able-bodied men and women are working abroad as wage laborers.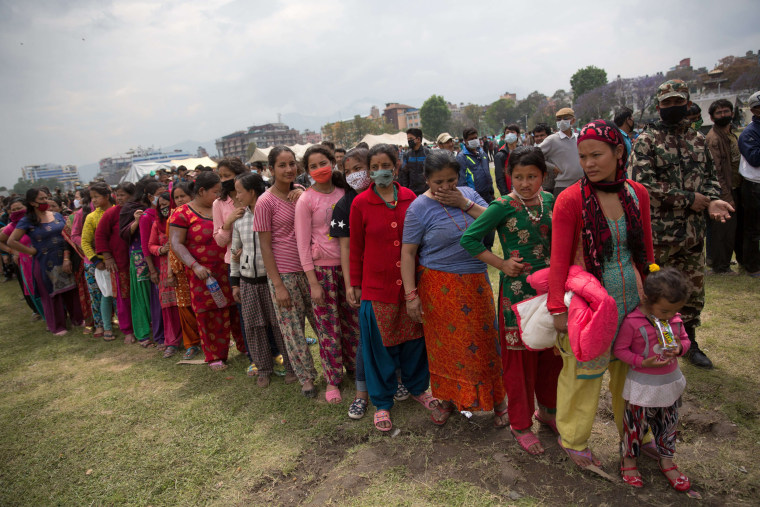 Though Nepal faces unique challenges with its rugged topography, political instability, and poverty, it is drawing on unique resources as well: the resilience of the mountain people, the networks of Nepalese living overseas, the decades-long engagement of international researchers, the presence of strong grassroots organizations. I find it heartening to see these different elements join together. Together we can build stronger coalition.
The funds reaching Nepal needs to be carefully planned for the long-term. While the immediate goal is to provide direct relief efforts in rural hill and mountain communities, the end goal must be building grassroots climate resilience.
The Nepali community's earthquake relief mobilization is unprecedented. I genuinely believe the earthquake relief mobilization for Nepal can become a model for international relief and development.