In a watershed decision last month, the U.S. Supreme Court upheld the University of Texas at Austin's race-conscious admissions program. The Court's decision is profoundly important for at least two reasons. First, as our nation grapples with significant racial disparities and tensions, the Court's decision acknowledges the significant role race plays in our society and allows universities to foster racially diverse, complex learning environments. Second, the Court's opinion squarely addresses — for the first time — the impact of race-conscious admissions programs on Asian Americans and flatly rejects the notion that Asian Americans do not benefit from them.
Much has been written on the first point, but the second point merits equal analysis. The Court did not merely conclude that UT Austin's race-conscious admissions policy did not discriminate against Asian Americans. Instead, the Court recognized that it "may be beneficial to any UT Austin applicant — including whites and Asian Americans," debunking the myth that Asian Americans necessarily lose out under affirmative action.
RELATED: Supreme Court Upholds Affirmative Action in College Admissions
In numerous surveys, large majorities of Asian Americans have supported race-conscious college admissions and rejected efforts to use Asian Americans as a wedge group against other communities of color who support affirmative action.
Most recently, a 2016 national poll conducted by Advancing Justice, APIAVote and AAPIData.com found 64 percent of Asian-American voters favoring programs designed to help blacks, women and other minorities access higher education. These results should not surprise, as many Asian American groups, second perhaps only to white women, have been among the greatest direct beneficiaries of a variety of affirmative action programs. Indeed, over the past 50 years, the dramatic increase in Asian American representation at elite schools such as Yale was made possible because such schools included Asian Americans in their race-conscious admissions.

However, in recent years, the anti-affirmative action movement has attempted to co-opt Asian Americans, ignoring the historical gains our community has made as a result of affirmative action. Anti-civil rights activists like Edward Blum, the lawyer behind the Fisher litigation and several lawsuits seeking to dismantle voting rights for people of color, have openly fished for Asian-American clients to further their attacks against holistic, race-conscious admissions programs at prominent universities.
RELATED: Asian-American Advocates Celebrate, Bemoan Affirmative Action Decision
Despite having suffered a history of de jure discrimination, including the banning of Chinese immigration and the mass incarceration of Japanese Americans, some Asian Americans are now being exploited by primarily white players who stand to benefit from current inequities in higher education. They stoke the insecurities of newer Asian immigrants, provoking them to lash out at the very programs that have helped communities of color, including Asian Americans, gain access to higher education.
RELATED: More Than 150 Organizations Sign Letter for Affirmative Action Following Ivy League Complaint
Fortunately, the Court in Fisher II got it right in holding that a carefully-studied and narrowly-designed affirmative action program like the one at UT Austin does not discriminate against Asian Americans.
"With the Court's historic decision ... we hope affirmative action opponents will stop pitting Asian Americans against other communities of color and focus instead on the real prize of increasing admissions opportunities overall for all students."
A close review of the data bears out the Court's conclusion and refutes the misconception that college admissions is a zero-sum game in which African American or Latino students "take" the place of an Asian-American student with higher test scores. The evidence shows that after UT Austin started considering race as one of several factors in its holistic admissions program, there was no drop in Asian-American admissions (indicating they were not being "replaced" by African Americans or Latinos) and the difference in mean test scores between Asian Americans and other groups remained the same, indicating that any "test score gap" could not be attributed to any consideration of race.
Justice Alito's dissent in Fisher II repeats racially-charged, inflammatory claims that the consideration of race at UT Austin harms Asian Americans, and whites as well. Yet it selectively ignores evidence in the record, which was cited by the majority and highlighted in amicus briefs filed by groups like ours and the Asian American Legal Defense and Education Fund, showing that such claims are "entirely unsupported by evidence in the record or empirical data."
Instead Justice Alito takes pains, during a period of significant racial conflict in our society, to look outside the record to irresponsibly pit Asian Americans against other communities of color. Even then, he also inadvertently undermines one of the main arguments used to bolster claims of discrimination against Asian American applicants — that SAT scores are the best measure of merit — by acknowledging that SAT scores reflect racial, cultural, and socioeconomic biases.
Also, while Justice Alito rightly recognizes the tremendous diversity among ethnic groups that fall within the "Asian American" label, he fails to acknowledge that holistic admissions programs have benefited and can continue to benefit more disadvantaged, underrepresented Asian Americans and Pacific Islanders (e.g., Cambodian, Hmong, Samoan). The value of considering race and ethnicity as part of a holistic admissions policy is precisely to obtain the rich diversity of perspectives brought by students of varied backgrounds, including varied Asian and Pacific Islander ethnic groups.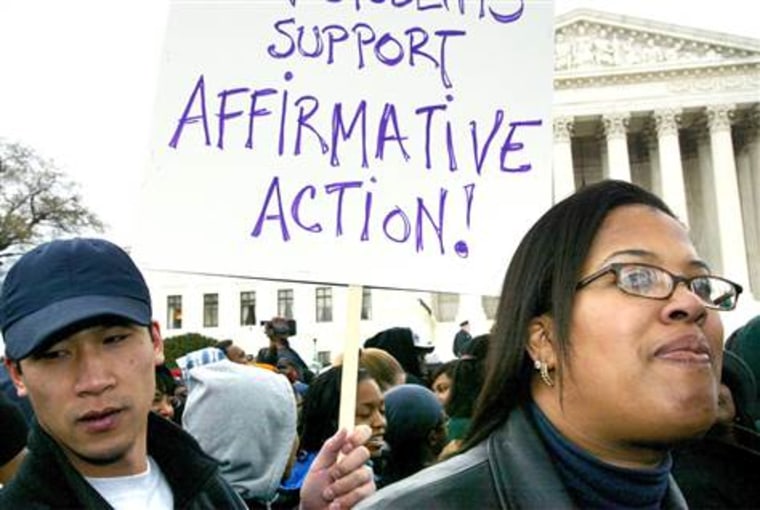 The Fisher II decision offers a promising path forward. In today's turbulent racial climate, the Court did the right thing in continuing to allow the consideration of race in college admissions. As Asian-American civil rights leaders, we believe the decision both protects the broader interests of our ethnically diverse community and creates the right environment for students to develop into future leaders of a racially complex and diverse society.
With the Court's historic decision siding with race-conscious admissions programs, we hope affirmative action opponents will stop pitting Asian Americans against other communities of color and focus instead on the real prize of increasing admissions opportunities overall for all students.
Stewart Kwoh is the president and executive director of Asian Americans Advancing Justice-Los Angeles, and Mee Moua is president and executive director of Asian Americans Advancing Justice-AAJC.
Follow NBC Asian America on Facebook, Twitter, Instagram, and Tumblr.