When I was growing up, my immigrant parents worked in a Chinese take-out restaurant. After working 12-hour physically demanding shifts, they would return home at 2 o'clock in the morning. When we got sick, my sister and I would have to wake up our sleep-deprived mother to drive us the 15 miles to the Chinese community health center, where we would sit for hours until someone was available to see us. My parents' limited income, nonexistent employer sponsored health insurance, and their poor English skills made going to a "normal" doctor's office impossible.
My experience is not unique among the millions of Americans who struggle to cover their basic health needs. However, while the working poor — and particularly immigrant populations — still face significant barriers to accessing adequate healthcare, the reforms provided by the Affordable Care Act (ACA) have greatly increased the number of people who are insured.
The ACA includes a number of highly regarded provisions that have helped to expand coverage: eliminating the bar on coverage due to preexisting conditions, expanding Medicaid eligibility to low-income adults, establishing new insurance Marketplace exchanges, and providing coverage for adult children up to age 26.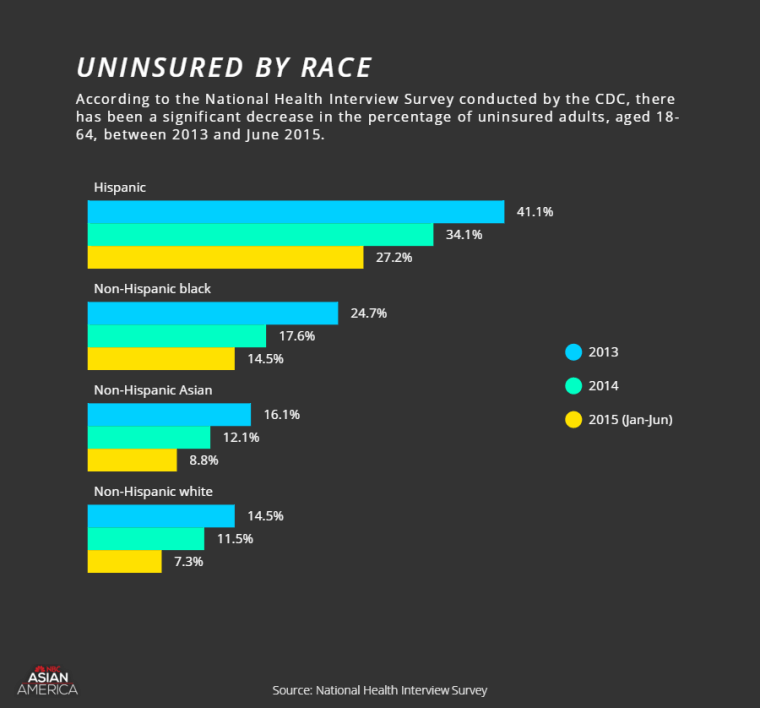 But healthcare advocates fear that President-elect Trump and the Republican Congress will repeal the ACA and dismantle a system currently providing millions of people with affordable healthcare coverage. The nominations of Seema Verma as Administrator of the Centers for Medicare and Medicaid Services and Tom Price — author of the GOP's proposed replacement for Obamacare— as Health and Human Services Secretary seem to confirm those fears.
RELATED: How Trump's First 100 Days in the White House Could Affect Asian Americans
An estimated 20 million people have gained health insurance coverage since the passage of the ACA in 2010. This statistic is particularly significant because large gains were within communities of color, with the uninsured dropping from 22.4 percent to 10.6 percent among Black non-Hispanics, 41.8 percent to 30.5 percent among Hispanics, and 14.3 percent to 7 percent among White non-Hispanics. However, with the imminent change in the healthcare system, millions of individuals will lose their health coverage, and the neediest populations — minority and limited English proficient (LEP) communities — will once again be left behind.
The "model minority myth" often makes invisible the Asian-American community's need for social services, public benefits, and health coverage. Asian Americans are one of the fastest-growing populations in poverty since the Great Recession. For example, in New York City, Asian Americans had the highest poverty rate, 26.4 percent, of all racial groups between 2009-2014. In 2000 and 2006, Asian Americans in New York City also had the highest percentage, 21.3 percent and 22 percent respectively, of "near poor" people (those who are above 100 percent federal poverty rate (FPL) but below 200 percent FPL).
These "near poor" individuals earn too much money to receive traditional Medicaid, but could be covered by the Medicaid expansion or purchase affordable healthcare coverage in the marketplace under the ACA. The ACA has served as the safety net coverage for the tens of thousands of Asian Americans who work in small businesses, are self-employed, or are elderly and cannot afford to pay for their own health costs. Some of the ACA's key provisions that provide coverage for preventative care, reproductive health, and Medicaid expansion, have the biggest impact on the low-income people and the historically underrepresented groups, like Asian Americans.
RELATED: Opinion: Asian American, Native Hawaiians, and Pacific Islanders Need to Mobilize for Disaggregated Data
Many families, much like mine when I was growing up, do not have access to employer health insurance and are unable to get Medicaid coverage. Even after my parents bought their own restaurant, they were still unable to afford insurance for themselves and their employees. For families who work in or own small businesses, the ACA is the only means by which they can purchase medical insurance coverage.
Until the new administration can design a program that can ensure comprehensive quality coverage for all who need it, the burden is on individuals, community groups, and leaders to come together and advocate for protecting the Affordable Care Act. An ACA repeal and weakening of entitlement programs like Medicaid would have catastrophic outcomes for those who desperately need healthcare coverage.
Theresa Lau is a staff attorney at the National Center for Law and Economic Justice in New York City, and is currently working on an Access to Healthcare project sponsored by the National Asian Pacific American Bar Association Law Foundation Partners and In-House Counsel Community Law Fellowship.
Follow NBC Asian America on Facebook, Twitter, Instagram, and Tumblr.