According to the Pew Research Center, a leading organization that conducts public opinion polling and demographic research, Asian Americans and Pacific Islanders (AAPIs) do not have an opinion about the Affordable Care Act or what should happen to undocumented immigrants.
Last summer, former Florida Governor Jeb Bush insulted Asian Americans with his comments on "anchor babies" and birthright citizenship. And yet, according to the Pew poll, Asian Americans don't have views on birthright citizenship.
Of course, that's not what these polls actually say.
Of course AAPIs have views on these issues — but there's no way of knowing what those views are.
We are invisible.
The absence of AAPIs is so pervasive in Pew reports that it issued an analysis earlier this month entitled "The challenges of polling Asian Americans," which acknowledged that: "One question we're often asked is, Why aren't Asian Americans shown as a separate group when differences among whites, blacks and Hispanics are discussed?"
This analysis then outlines the challenges in polling AAPIs, including the "relatively small number" of AAPIs; the difficulty in asking questions in multiple languages in a culturally competent manner; and the diversity of the AAPI community, which represents dozens of ethnicities.
These are legitimate challenges, and it is imperative that we meet them. AAPIs are the fastest growing racial group in the nation and a rising political force. Understanding their needs and concerns — and addressing them — is vital not only for the AAPI community, but indeed for the strength and future of our nation.
This is why Pew's response to the difficulties at hand was so disheartening.
Although Pew noted that it successfully designed a study in which only Asian Americans were interviewed, that was four years ago. Looking ahead, Pew simply states, "The challenges of polling Asian Americans are likely to persist in the foreseeable future." In fact, according to Pew, polling will only become easier in 2030, when Asian Americans will make up 6.9 percent of U.S. adults, or by 2060, when they will make up 9.4 percent of the U.S. adult population.
Telling AAPIs to wait 14 to 44 years until our views can be accurately measured is unacceptable.
And Pew is not the only one to disregard AAPI views.
Last fall, CNN released a CNN/Kaiser Family Foundation poll asking "How big of a problem is racism in our society today?" But it didn't include AAPIs in the breakdown of results.
"So the true challenge is not one of data, language, or statistics. The true challenge is convincing polling organizations that AAPI voices and views matter. That they are worth the investment."
In January, NBC News/Survey Monkey/Esquire reported its online poll about outrage. It reported that 54 percent of whites have grown more outraged over the past year, compared to 43 percent of Latinos and 33 percent of African Americans. AAPIs were not mentioned at all, which, ironically, is cause for outrage.
In February, CNN conducted an entrance poll at the Nevada Democratic Presidential Caucus and reported that 4 percent of caucus participants were AAPI — but then did not have sufficient data to tell whom those AAPIs voted for.
Time and time again, AAPI voices and opinions are erased — dumped into the category "Other" and ignored.
Rather than accept this fate and wait a decade or four to be counted, AAPIs are taking matters into their own hands. Just this week, APIA Vote, Asian Americans Advancing Justice | AAJC, and AAPI Data issued a report on its Spring 2016 Asian American Voter Survey.
Its findings show that Asian Americans support the Affordable Care Act by a margin of 57 percent-29 percent — a fact that Pew was unable to discern. They also demonstrate that 38 percent of AAPIs in Nevada support Secretary Clinton for president, while 24 percent support Senator Sanders. And there's much, much more.
Given the challenges outlined by Pew, how was this possible and what are the lessons that polling organizations should learn?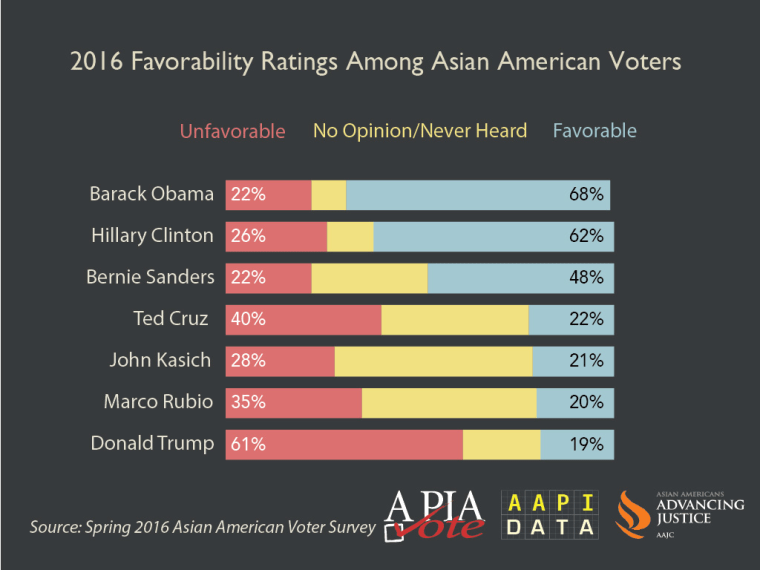 First, the sample size was large enough and oversampled in two states, where necessary. Although Pew is correct that the population of AAPI adults is "relatively small," according to the Census Bureau, there are 21.8 million AAPIs in the U.S. — surely enough for a robust sample size with sufficient effort.
Second, interviews were conducted in English, Cantonese, Mandarin, Korean, and Vietnamese. A full 45 percent of interviews were conducted in an Asian language, thus demonstrating that limited English proficiency can be overcome — again, with sufficient effort.
And that's really what it comes down to: sufficient effort.
RELATED: Asian-American Voters Tip Toward Dems Headed into 2016 Election: Study
What is left unsaid in the Pew analysis is that these challenges can be overcome if polling organizations are willing to put in the time — and, yes, money — to do so. And what's implied is that Pew is not. (Although credit to Pew for at least acknowledging the issue. Even if it's not satisfying, it's a step in the right direction.)
So the true challenge is not one of data, language, or statistics. The true challenge is convincing polling organizations that AAPI voices and views matter. That they are worth the investment.
The responsibility for meeting this challenge is not only on AAPIs. I challenge the Pew Research Center to live up to its noble mission — to use innovation to increase its accuracy and rigor with respect to AAPIs and thereby generate a more solid and inclusive foundation to enrich the public dialogue and support sound decision-making.
Pew already has taken the lead by outlining the problems in polling AAPIs. Now it's time to solve them.
Christopher Kang is the National Director of the National Council of Asian Pacific Americans (NCAPA) and former Deputy Assistant and Deputy Counsel to President Barack Obama in the Office of the White House Counsel.
EDITOR'S NOTE: Courtney Kennedy, director of survey research at Pew Research Center, told NBC Asian America in response to this op-ed:
"Pew Research Center values the opinions of Asian Americans, one of the fastest growing and most complex communities in the country. Our 2012 study of Asian Americans remains the most rigorous telephone survey of this population. In addition to our survey work, we have also released multiple demographic analyses that have examined Asian Americans' experiences.It is out of respect for the diversity of this group that we report estimates for U.S. Asians only when we feel confident that our data are representative and reliable. We will continue to conduct responsible, in-depth research on this important community."
Requests to CNN for a response were not returned.
Follow NBC Asian America on Facebook, Twitter, Instagram, and Tumblr.