Civil rights groups, activists, and political and religious leaders are showing their support on Twitter for Palestinian-American activist Linda Sarsour after some conservative sites accused her of being allied with ISIS following Sarsour's speech at Saturday's Women's March in D.C.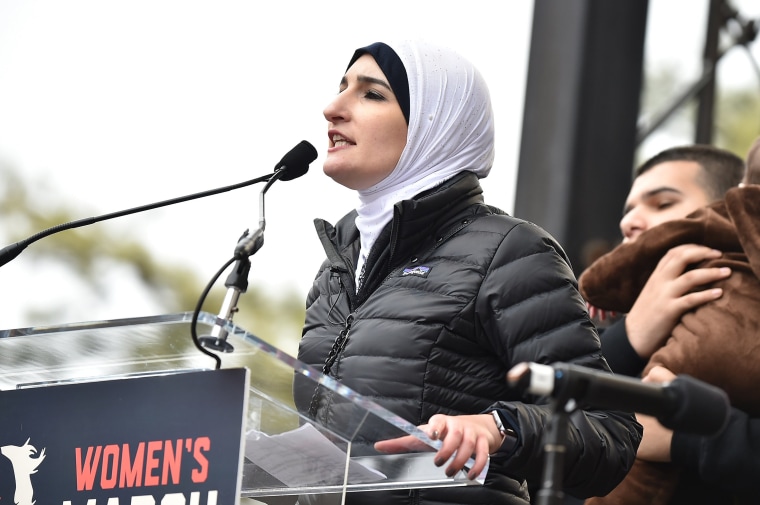 The hashtag #IMarchWithLinda began trending nationally on Twitter Monday to show support for Sarsour, executive director of Arab American Association of New York and one of the national co-chairs of the Women's March, who conservative sites say has ties to Hamas and is pro-Sharia law.
At the Women's March, Sarsour described herself as "unapologetically Muslim American, unapologetically Palestinian American, unapologetically from Brooklyn, New York," and spoke about the need to include communities of color in conversations about justice and change.
"If you have come here today as your first time at a march, I welcome you," Sarsour said in her speech. "I ask you to stand and continue to keep your voices loud for black women, for Native women, for undocumented women, for our LGBTQIA communities, for people with disabilities. You can count on me, your Palestinian Muslim sister, to keep her voice loud, keep her feet on the streets, keep my head held high, because I am not afraid."
On Monday, Sarsour posted on Facebook that she was being targeted by "a coordinated attack campaign."
"It's not the first time, but it's definitely more intense - the fact that my children see it is what is bothering me the most," she wrote. "They will not succeed. I have helped build a movement, I am ready for what's to come so they can spew alternative facts and piece a twisted narrative together if they want - I and we will still rise."
Sarsour did not immediately respond to requests for comment.
Following Sarsour's post, people began sharing their support for her online, tweeting their thanks for Sarsour's leadership, recalling her activism and words, and noting that Sarsour's involvement in the Women's March helped them feel like they could be a part of it:
Sarsour also shared her thanks on Facebook and Twitter Tuesday night:
Follow NBC Asian America on Facebook, Twitter, Instagram and Tumblr.