At Sunday's Academy Awards show, many South Asian viewers will be anxiously awaiting "Naatu Naatu," the musical sequence from that blockbuster movie "RRR" that is both being performed at the ceremony and is a favorite to win best original song. 
Coming off a Golden Globes win, "Naatu Naatu's" acknowledgment this weekend would be one of the first times a film from the subcontinent has been recognized on the Oscars stage, experts said. It would be a significant moment for Indians all over the world, representing a changing tide in how the West views their cinema. 
For decades, Western film enthusiasts have regarded Indian movies as not much more than song, dance and melodrama, said Sangita Gopal, an associate professor of English at the University of Oregon who studies Indian cinema.
"That one factor that made Indian cinema exotically bad before is exotically good now," she said. 
On top of that, Indian film industries haven't necessarily cared to cater their craft to the Western eye, anyway. 
"Indian cinema is made for Indian audiences," she said. "This is true of [director S.S. Rajamouli], too. I don't think he was thinking, 'I'm going to make a crossover film.' He was like, 'I'll just keep doing what I did so successfully.'"  
But the overwhelming love for "Naatu Naatu" and "RRR" might mean American tastes are changing, she said. Unlike the song-and-dance numbers of its predecessors, "Naatu Naatu" seemed to strike a chord. Besides being an earworm, it doesn't interrupt the movie's storyline but rather drives the story forward, Gopal said. 
"Even within Indian cinema, song-and-dance sequences are basically disappearing," she said. "'RRR' has a traditional song-and-dance sequence but used less traditionally. This is very much an integrated song within the story. And that helps create the acceptance." 
The global excitement over Indian films isn't confined to the diaspora anymore, she said, and, in a way, "RRR" was perfectly poised to be the one to break out. "RRR" came at the right time for audiences, Gopal said, and it entered the American zeitgeist at a very specific cultural moment. 
The anti-colonialist tale of two freedom fighters railing against the British Raj perfectly lined up with conversations about racism, imperialism and the establishment that have burgeoned in the Western world over the last few years.
"There's an anti-establishment mood that the film was able to tap into," she said. "Even though Indian critics, myself included, have rightly seen the film's potential to be problematic, from the perspective of an audience member that is not really aware of the caste politics or Hindu nationalist ideology, this is a film about fighting colonialism."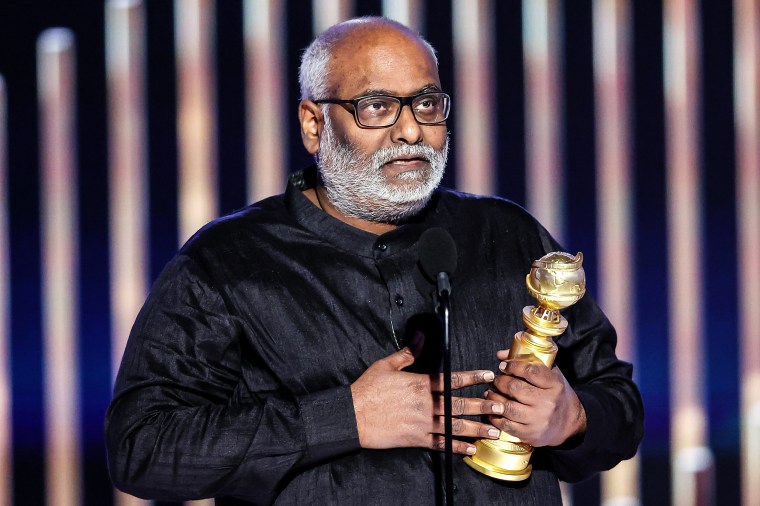 Unlike the villains in films that come out of the Marvel Cinematic Universe, which feature similar fantastical fight sequences and good-vs.-evil struggles, "RRR's" villains and heroes are real and concrete.
"Even though it's very ahistorical and fantastical and mythical, these two people were real, and the British did colonize India," she said. "It has that kind of historical realism." 
When it was originally released early last year, American audiences had already developed a taste for international productions on a large scale, with hit shows like "Squid Game" priming them for things like reading subtitles, Gopal said. 
But some Indian viewers say they can recognize casteism and Hindu nationalism playing out beneath the spectacle of the film's surface. To Gopal, the story portrays its caste-oppressed characters as weak and in need of a dominant caste hero to save them. In addition, Muslim characters are all but absent, even though they were heavily involved in India's fight for freedom. 
"It's very clear that there is a hierarchy at work," Gopal said.
Rajamouli, the writer and director, didn't respond to a request for comment. He has previously said there isn't any ideological bent to "RRR." In a Q&A session at a Los Angeles screening of the film, he spoke about the representation of Hinduism in the story. 
"In the film, what I'm portraying is actually a way of life that existed for many, many centuries or eons," he said.
"RRR" feels to many like the solidification of Tollywood — the South Indian Telugu-language film industry — as a global force. Rini Bhattacharya Mehta, an associate professor at the University of Illinois Urbana-Champaign, said Telugu cinema specifically has exploded in popularity over the last decade. 
"RRR" largely came on the tails of 2015's "Bahubali," another Telugu epic directed by Rajamouli. Now with "RRR," experts see a change on the subcontinent, where South Indian films are rising to meet what many feel is lacking in Bollywood, which refers to the Mumbai-based Hindi-language film industry.
"Bollywood has melodrama, and then Telugu cinema just took it to a whole other level," Bhattacharya Mehta said. 
For a South Indian audience who rarely sees itself represented in the films coming out of Mumbai, such movies can scratch the itch for representation, she said — they present "a uniquely South Indian aesthetic."
Gopal said "Naatu Naatu's" nomination represents the next step in Indian cinema's international presence, but when it comes to foreign blockbusters' being recognized by the academy or nominated as films themselves, she feels it's a long way away. 
"'RRR' brings together so many currents of global cinema," she said, "from Hollywood to Hong Kong action, even to an earlier Bollywood style of the populist hero. In some ways, it represents a compilation of both national film history and global trends."