Tom Cross, the editor of "Whiplash" made it a twofer, following up his BAFTA win for best editing with an Academy Award win in the same category at last night's Oscars.
Cross stood before the worldwide audience and thanked his mother, Lah from Vietnam, and his father Jim. He also thanked his wife, Holly Ramos, and their two kids. Ramos had already taken to her blog to celebrate her husband and share her pride.
"This is being called the whitest Oscars ever. Tom Cross is half Asian," she wrote. "Represent, Tom Cross, represent!!"
She also called her husband, "genuinely humble, gracious, kind and savvy."
"Tom is so hard working and focused," Ramos wrote. "He worked in a video store in High School and knew he wanted to work in film his whole life. He has never done anything else."
Cross grew up on Long Island and attended SUNY-Purchase. He worked editing commercials in New York before re-locating to Los Angeles.
"Whiplash" is Cross' third feature project. Shot in just 19 days on an independent budget of just over $3 million, the picture depended heavily on editing and post-production. Cross recently spoke to the Hollywood Reporter about the challenge of editing this film.
"The sync [to the music] was close but not perfect," Cross said. "We couldn't alter the soundtrack and couldn't slow or speed up the music; that would have been immediately obvious. I needed to line the pictures up, manually, for every drum hit. The most precise way was with jump cuts and to take out frames. And this had to be imperceptible."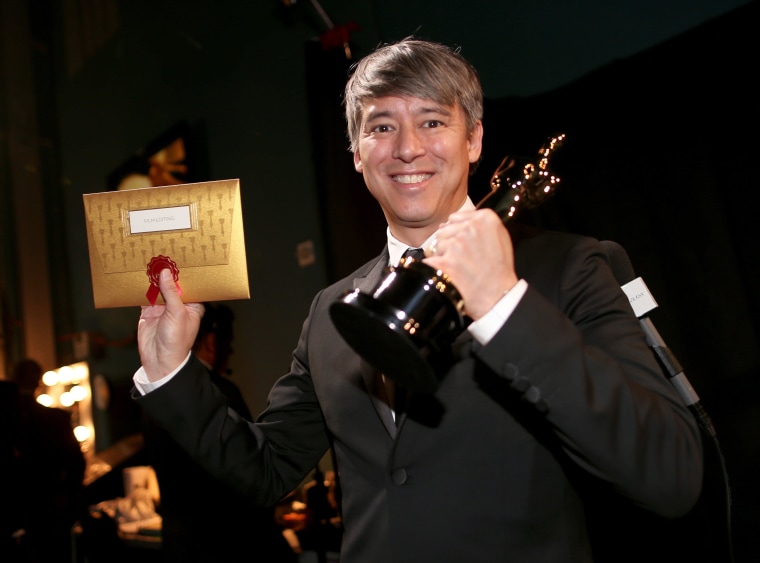 IN-DEPTH