When Jose Corcoles saw how coronavirus fears were taking a toll on Chicago's Chinatown, emptying out streets typically humming with residents and tourists, the last thought on his mind was staying away.
He turned to social media and with his friend Carlos Matias organized a restaurant crawl for the end of February. He said he expected five, maybe 10 people to show up, but when the day came, despite frigid temperatures, the turnout was closer to 100. And that is representative of groups nationwide doing the same.
Foot traffic in Chinatowns across the country has plummeted, with some restaurants reporting losing as much as 80 percent of their business. In some cases, restaurants have had to close — including four dim sum parlors this week in Sunset Park, home to Brooklyn's sprawling Chinatown.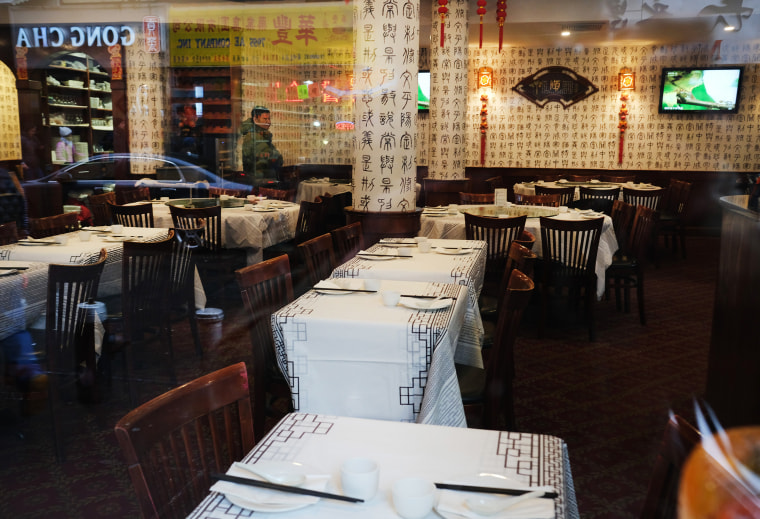 Corcoles, 29, an artist and educator, told NBC Asian America that his effort was rooted in a sense of solidarity. "It's the love that Chicagoans, and specifically people of color, have for Chinatown," he said.
As a child of Mexican and Guatemalan immigrants, Corcoles said he felt sympathetic to Asian Americans who have faced xenophobia as a result of the virus, and emphasized the importance of building "some solidarity across racial divisions."
Across the country, politicians, organizers and nonprofits have begun efforts to support Chinatown communities. In many cities, city officials and council members have made public shows of support, sitting down for lunches at Chinatown restaurants and inviting others to do the same.
Karen Chen, the executive director of the Chinese Progressive Association in Boston, said that while the city's Chinatown isn't quite deserted, "you do see a decline in business." She has been pleased to see local government officials combating misinformation and supporting the Chinese American community — just last month, two city councilors brought in hundreds of customers for a dim sum brunch to dispel fears about the local Chinatown. But she said she would like to see more from state and federal governments.
Chen believes that the avoidance of Chinatown stems from "prejudice and racism."
"Some people are using it as a chance to attack China," she said of the virus. "To me, as a Chinese American living in the U.S., this tension between the U.S. and China will hurt Chinese Americans here in our community."
In San Francisco, Facebook announced last month that it would donate $20,000 to the Chinese Newcomers Service Center, a nonprofit, to fund a "shop local" advertising campaign for Chinatown businesses. A spokeswoman for the company added that an additional $5,000 was provided in Facebook ad credit.
In New York, the nonprofit crime prevention group Guardian Angels has sent volunteer safety patrols to provide Asian Americans with informal protection against hate crimes. Just last week, a video surfaced online appearing to show someone on the New York subway yelling at an Asian American man before spraying him with air freshener, prompting the NYPD Hate Crime Task Force to investigate. And globally, reports of hostility and xenophobia are on the rise.
"If anybody's harassing you, if anybody's targeting you, anyone's thinking that you're a carrier because you're carrying a mask, they'll have to deal with us," Curtis Sliwa, founder of the Guardian Angels, told Discovering Eyes, a channel supported by the China Global Television Network. "We'll physically intervene. We'll break up fights and disputes. We'll make citizen's arrests."
The group's members now patrol the streets of Chinatown every day, and some have made a point of eating at its restaurants in hopes that others will follow.
To Corcoles, who said he may plan another restaurant crawl in the coming weeks, the goal right now is to rekindle a sense of community.
"We are living in a super political moment that sees us creating a lot of borders and a lot of divisions, between people and between races and nations," he said. "I was really just hoping to create community."
He said that, to him, this means getting out of the house and into the city to support those who need it. For now, Corcoles plans to do just that, and hopes others will follow.