If Pixar animator Ronnie del Carmen wins an Oscar for best original screenplay for "Inside Out" Sunday, it will be a first for Asian and Filipino Americans.
But even if the 56 year old wins, it won't be the most memorable thing in his life, because del Carmen has already witnessed history.
In February of 1986, when millions of Filipinos congregated in the streets and dramatically ended the dictatorship of President of the Philippines Ferdinand Marcos, del Carmen stood as part of the People Power Revolution, a movement that changed his ancestral home.
"Mind boggling, I was there. No one was home, everyone was out on the street on EDSA," del Carmen told NBC News.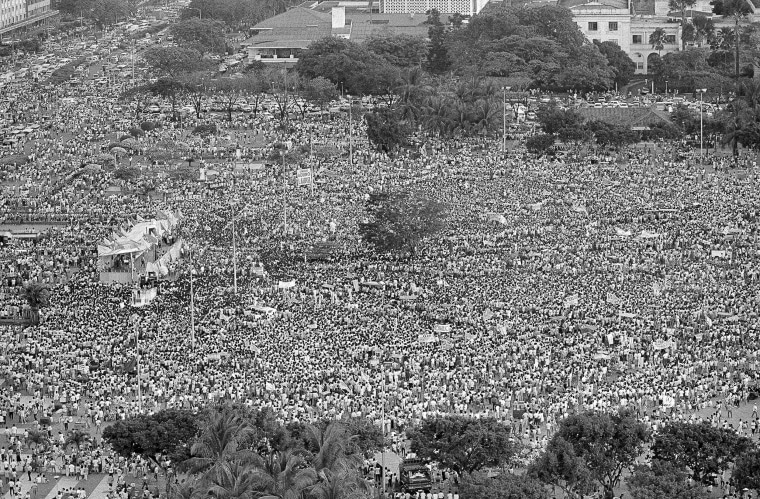 EDSA is the acronym for Epifanio delos Santos Avenue, where Filipinos gathered one by one over three days 30 years ago this week to change their country. They formed the massive crowd that ushered the end of the regime of Ferdinand Marcos and made Corazon "Cory" Aquino a household name. Known as the EDSA Revolution in the Philippines, to the world it was known simply as People Power.
Del Carmen, then 26 and working in advertising in Manila, went with his two brothers to join the crowd.
"It felt like something new, that finally we were expressing something in a big way," del Carmen said. "Even if you were one person, you were part of a very big statement."
Del Carmen said he watched the crowd and tension grow, feeling the emergence of People Power himself.
"That's what that was," he said. "That feeling of exuberance that all of us were voting to say 'no' [to the Marcos Regime]. That felt euphoric. It was family. It was standing for justice and fairness, finally."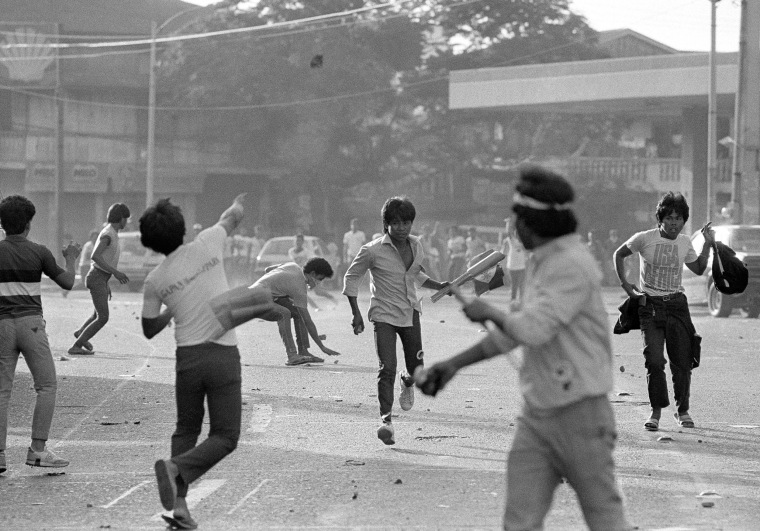 But the people were vulnerable, and del Carmen remembers that when helicopters flew overhead one early morning at dawn during the protests, the crowd feared being gassed or killed.
"I'm thinking if we ever survive this, and my mom finds out, she's going to kill us," del Carmen said. "When the helicopters landed in the camp, there was screaming. All we could think of is people were being killed. And then we heard on the radio, they're not. The army switched sides. They defected. I'm getting goosebumps just thinking about it."
Del Carmen was in the midst of a coup taking place, ending the two-decade rule of Marcos, and it left an impression on him.
"When you're living in the moment you can't believe this heroic gesture is going to be done," del Carmen said. "It was like we could be dead or be imprisoned, and it turned around like a fairy tale. It was like a movie."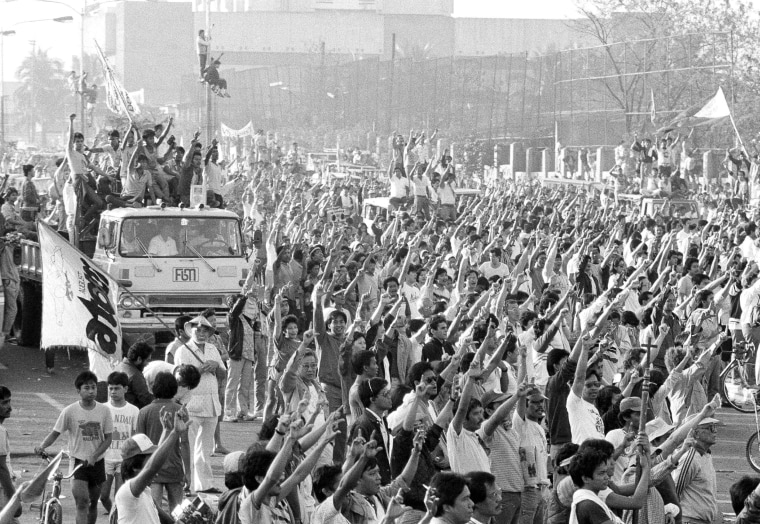 Afterward, when Aquino became president, people just wanted to bask in the glory. Marcos had ruled for two decades, including eight years under martial law.
"What a relief," del Carmen said. "It seems like the nightmare has ended and you want to be out in the sun with everyone.
"It was the most magical experience I ever had in my life," he continued. "I don't think I will ever experience that ever again."
RELATED: "Sanjay's Super Team" Brings an Indian-American Story to Big Screen
Not even winning an Oscar in front of millions would compare, del Carmen said.
"I don't think anything will compare to that kind of connection to people, and history, and this nightmare that feels like it would never end, actually lifted," del Carmen said. "It's like a gift from some story telling god that just wanted you to have this moment to make you understand that things like this actually happen. Not just all the bad things."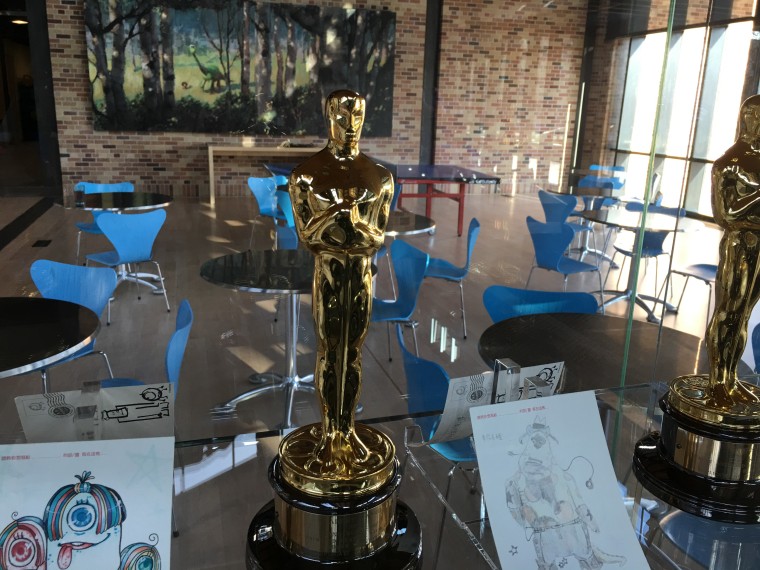 But del Carmen's fairy tale wasn't quite complete after the revolution. People Power changed the Philippine government, but many people's lives did not immediately improve.
Del Carmen said the economy under Marcos forced his father to go to the United States on a business visa for work even before the revolution. Del Carmen didn't see his father for 11 years, he said, and his family was in a bad way. "The word I use is destitute," he said. "We were penniless."
"I'm thinking if we ever survive this, and my mom finds out, she's going to kill us."
When Ronnie del Carmen's now-deceased father, Rogelio del Carmen, became eligible to become a U.S. citizen, he petitioned for Ronnie del Carmen and the rest of the family to join him, but the immigration process was slow.
Ronnie del Carmen had, in the meantime, built a career in advertising with a multi-national ad agency. "I wasn't making much, but it felt like I was," he said. "I had a wife and a daughter. I was making sense of my life here in the Philippines."
RELATED: A Lava Story: Pixar Short Features Hawaiian Volcanoes in Love
When the immigration petition was approved, del Carmen was conflicted.
"I owed my father the trip to come to the U.S.," he said. "He not only worked so hard for this, it's one of those dreams I had as kid to come to the U.S. And what was I going to encounter? Might as well be a fantasy world."
He eventually decided to come to the United States, effectively starting his life over in Southern California.
"I had five-dollars in my pocket walking around Burbank," del Carmen said.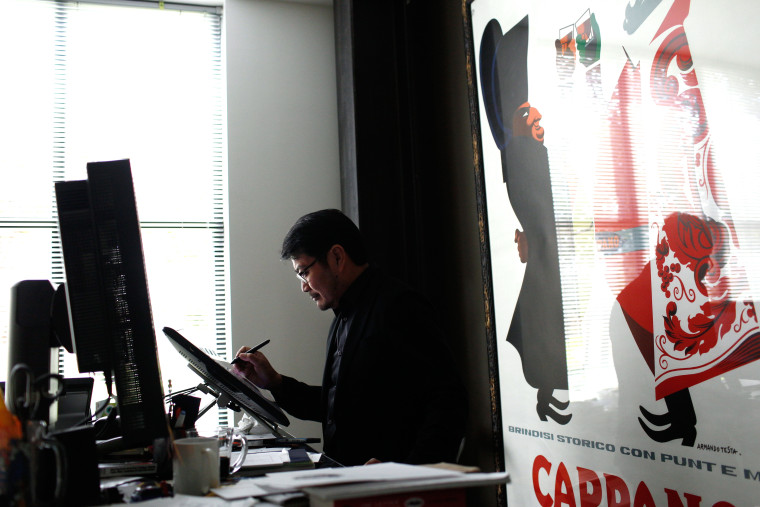 Once in the United States, he answered a newspaper ad looking for an artist to draw storyboards. He got that job, which led to an opportunity to be a storyboard artist for the 1993 animated "Batman: Mask of the Phantasm." He found his way to Dreamworks, where he worked on "The Prince of Egypt." At Pixar, his first project was as story supervisor for "Finding Nemo," followed by involvement with the studio's major projects that continues to this day. He was a story supervisor for "Up" and co-director of "Inside Out," which is up for two Oscar awards this Sunday.
"[Pete Docter] asked me to be his co-director and with that I joined in with my stories of being a parent, my own childhood and stories of loss and epiphanies of growing up. It's quite an honor to have served with Pete on two of Pixar's most loved movies, 'Up' and 'Inside Out,'" del Carmen said.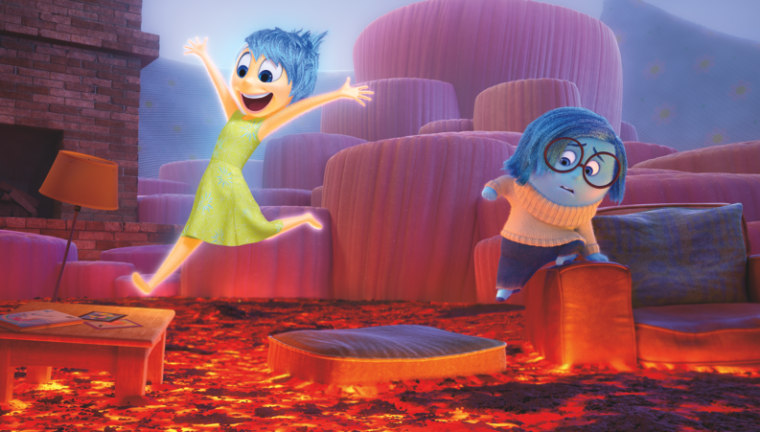 There are parallels between the story of Riley moving from the Midwest to San Francisco in "Inside Out," and del Carmen's emotional experiences as a youth in the Philippines from People Power to his coming to a strange and new America.
Del Carmen said in every movie project he hopes to learn a lesson, and the one from "Inside Out" was special.
"To me it's about that heartbreak and loss is something that threatens to drive people apart, but if you have a longer view, those kind of emotional challenges will actually bind you much better than just happy things that happen," he said. "But if you've been through a lot of hardship and in the battle trenches with people, they tend to be the people who mean a lot to you in terms of your growth...You are fused to each other in terms of dedication. These are your parents. These are your buddies. And if they ask for your help you show up. And you'll know what the dance moves are. And it's going to be messy but let's do it anyway. Because we're human, were fallible. We know each others' limitations. But we support each other."
RELATED: 'Sanjay's Super Team' Features Pixar's First Human Protagonist of Color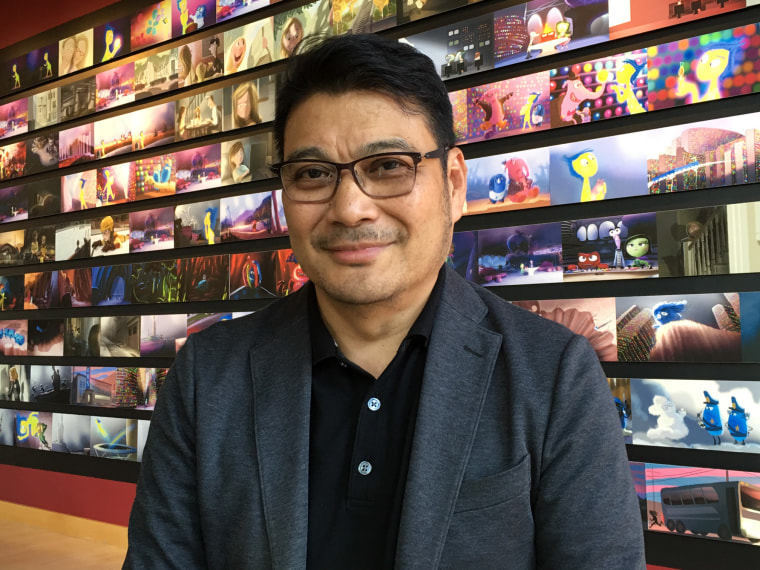 Del Carmen said he's happy the original screenplay was nominated for an Oscar, and would be happy to be the category's first Asian-American winner. But he doesn't think diversity is necessarily cause for a revolution.
"Diversity awareness is something the industry is going through right now," del Carmen said. "It gives more attention to a concern that's been around for a long time and we hope it becomes part of the norm rather than a cause to champion. Animation has ample stories that are diverse and wildly so, though not current or at the forefront right now. We've featured people, animals, toys, cars, and even fantastical entities. Diverse? Come on! Where's the lobby for more stories about garments who talk?"
Del Carmen realizes he's fortunate to be an animator at Pixar. "This is a village, where all of us are helping each other," he said. "I've been lucky to be picked, to be chosen and for the things I do, not for what I look like. It's not because they needed diversity ... Whether I get chosen for certain things or not chosen, was never about my ethnicity."
Follow NBC Asian America on Facebook, Twitter, Instagram, and Tumblr.