Pixar Animation Studios has announced a new short film, "Sanjay's Super Team" directed by Indian American Sanjay Patel that will premiere at June's Annecy International Animation Film Festival in France, and then be released November 25 in conjunction with the release of "The Good Dinosaur," directed by Korean American Pete Sohn.
Set in a modest motel along Route 66—inspired by the motel Patel's parents own and in which he grew up—the seven-minute film tells the story of young Sanjay, engrossed in his early morning cartoons, reluctantly pulled away by the ringing of his father's bell calling him to prayer and puja. As Sanjay grows bored of the ritual and begins to daydream, the pantheon of Hindu deities suddenly become a team of superheroes—bright, dazzling, cosmic, and heroic—bringing young Sanjay closer to understanding his religious immigrant parents, while also trying to make sense of his place in America.
"If I could, I would go back to the 1980s and give my younger self this short," Patel told Los Angeles Times. "I want to normalize and bring a young brown boy's story to the pop culture zeitgeist. To have a broad audience like Pixar's see this ... it is a big deal. I'm so excited about that."
Patel worked as an animator on Pixar films, "A Bug's Life," "Toy Story 3," "Monsters, Inc.," and "The Incredibles." He has published four lavish Pop Art-style graphic children's picture books, Ganesha's Sweet Tooth, The Big Poster Book of Hindu Deities, Ramayana – Divine loophole, and The Little Book of Hindu Deities. He has also had two exhibits at the Asian Art Museum in San Francisco, including "Deities, Demons, and Dudes with 'Staches."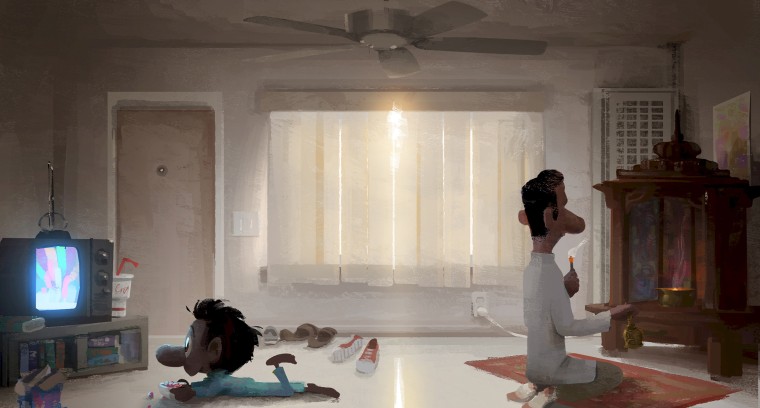 IN-DEPTH
SOCIAL