For Karlin Chan, a Chinatown activist in New York, eliminating a test that decides admissions to eight of the city's specialized public high schools is an affront to what he called "Confucian family core values."
"It attacks the immigrants' dream of bettering their children," he said.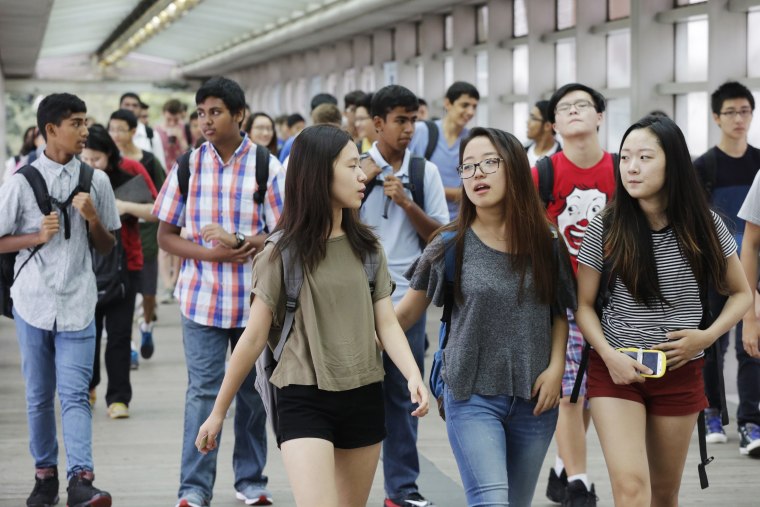 But as Roksana Mun sees it, using a single test to decide who's admitted to these elite schools precludes them from recruiting "multiple levels of talent" among people of color, particularly blacks and Latinos.
"A lot of students are excellent students academically, but then they don't make it in because of one exam," said Mun, director of strategy and training at DRUM — Desis Rising Up and Moving, a New York City-based nonprofit advocating for South Asians.
Debate over the decades-old Specialized High School Admissions Test has once again heated up in New York City's Asian-American community. It comes after Mayor Bill de Blasio and Schools Chancellor Richard A. Carranza announced a plan in early June to eliminate the exam, in an effort to improve diversity at specialized high schools.
Only 10 percent of specialized high school students are black or Latino, even though those groups make up 70 percent of the city's overall student population, according to the mayor's office.
The proposal, in part, calls for phasing out the test over a three-year period and replacing it with something called a "top performers" admissions model.
Top performers would be determined using a score based on course grades in certain seventh-grade subjects, along with scores on seventh grade state math and English language arts exams.
These changes require state legislative approval; a bill to write de Blasio's plan into law was introduced in April. But an Assembly vote on the bill might not come up during this legislative session, which ends in late June.
"Over the next few months and into next session, we will have discussions with all stakeholders and communities, including the Asian American communities, to come up with something that is good for all students in the city of New York," Assembly Speaker Carl E. Heastie said in a statement.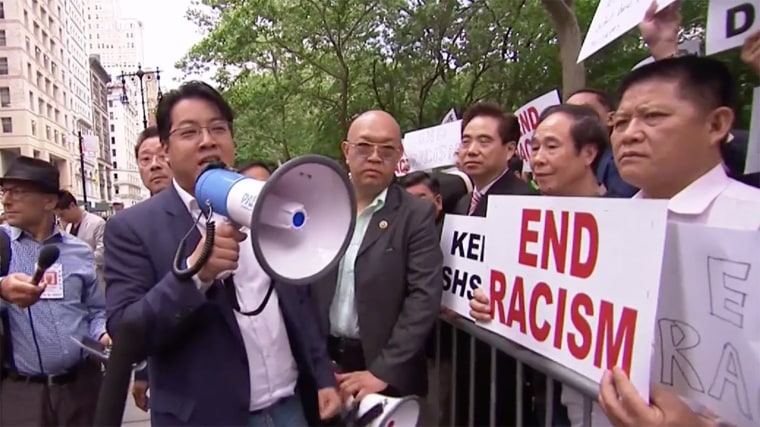 A City Hall spokesperson said that while they look forward to continuing these conversations, "we remain confident that getting rid of this arbitrary test in the years to come will strengthen our schools."
State Assemblyman Ron Kim, a Democrat and one of only two Asian-American state legislators, said he hopes a more collaborative approach can be taken to discuss the mayor's specialized high school plan.
Kim was one of a dozen state lawmakers on the Assembly's education committee who voted against the bill. It just made it out of committee by a vote of 16-to-12.
"Diversity and segregation, those are serious topics at all levels," Kim said.
But, he added, to think that "changing a test overnight will achieve and improve the situation is ridiculous."
THE TEST
At the center of the controversy is a three-hour exam broken into two sections, one on English language arts, the other on math. The test, open to current eighth graders and first-time ninth graders in public, private, and parochial schools, determines who is admitted to eight specialized public high schools.
Around 28,000 students sat for the test for September 2017 admission, according to an exam handbook with practice tests that is available online.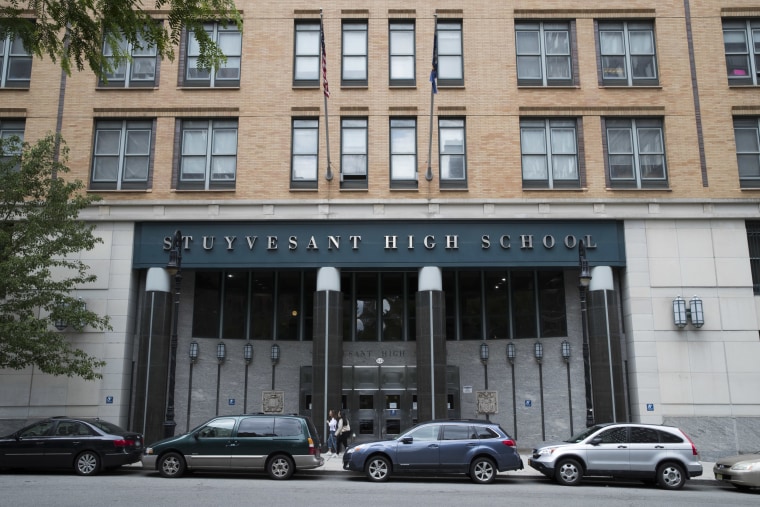 The Calandra-Hecht Act of 1971, a New York state law, made what it called a "competitive, objective and scholastic achievement examination" the sole method by which students were admitted to what were then only three specialized schools: Brooklyn Technical High School, Bronx High School of Science, and Stuyvesant High School.
A fourth, Fiorello H. LaGuardia High School of Music & Art and Performing Arts, does not use the exam, instead basing admissions decisions on a competitive audition and review of academic records.
The city Department of Education has since added five more schools to the list requiring the test.
Also written into the Calandra-Hecht Act is something called the Discovery Program, which offers seats at specialized high schools to kids who miss the exam cut-off score, in an effort to increase enrollment of low-income students.
The mayor's office, as part of its plan to overhaul specialized high school admissions, said it will immediately expand the Discovery Program to 20 percent of seats at each specialized high school while the exam is still in place. It also said it will adjust program eligibility to target students in high-poverty schools, which could boost admissions offers to black and Latino students.
De Blasio said these measures, including eliminating the test, will result in a fairer way of admitting applicants. Forty-five percent of offers would go to black and Latino students, compared to 9 percent currently, according to the mayor's office.
"We will actually get a student body that not only looks like New York City, but brings a much richer talent base that actually has proven their talent, not just in one room, in one test, in one day, but over years and years," de Blasio said, according to a transcript of remarks he made on June 4.
THE BACKLASH
But de Blasio's plan, like similar calls in the past to scrap the exam, has drawn anger and fear in many corners of the city's Asian-American community, which today accounts for roughly 14 percent of the Big Apple's population.
Many Asian-American parents in New York are eager to have their kids earn a spot at a specialized high school, which parents view as a key component to their children's academic success and future.
That such a first-class education is available for free is an even bigger draw for many Asian Americans, who, according to an annual report from the mayor's office, had the highest poverty rate in New York City in 2016.
Schools like Brooklyn Tech, Bronx Science and Stuyvesant have seen their Asian-American enrollment numbers soar over the last few decades, as more and more people of Asian descent, among them first-generation immigrants, move to the city.
Asians accounted for 73 percent of students at Stuyvesant, 64 percent at Bronx Science and 61 percent at Brooklyn Tech, according to school data.
By contrast, blacks and Hispanics combined made up just 3.5 percent of students at Stuyvesant, 8 percent at Bronx Science and 14 percent at Brooklyn Tech.
The percentage of white students ranged from 19 percent at Stuyvesant to 25 percent at Bronx Science, figures showed.
The testing culture embodied by New York City's specialized high school exam is one that's familiar to South Asians from countries like Bangladesh, India, Pakistan and Nepal since it's what they have back home, according to Mun.
The same can be said of East Asians who hail from places like China, Taiwan, Hong Kong, South Korea and Japan.
"You're always taking exams," Mun said. "And these are like one big national exam, or district exams, and then they publicly rank you nationally on every single one of these exams, from who makes it to the top to all the way on the bottom."
Asian Americans opposed to eliminating the test see de Blasio's proposal as an attack on fairness and merit-based admissions.
Some, including first-generation Chinese-American immigrants, recently rallied at City Hall Park to denounce the mayor's plan, holding up signs that read "Support diversity, fairness and merit" and "Keep SHSAT," the acronym for the exam.
Chan was among the protesters.
"For him to arbitrarily say the SHSAT is causing diversity problems in New York City elite high schools, that in itself is a false statement," Chan said, referring to de Blasio. "He failed to address why the students are not passing this specialized high school test."
Chan attributed that to what he called "a failure of the New York City public education system," even as numbers released last summer from the state Department of Education showed an uptick in the percentage of New York City school children proficient in English language arts and mathematics across all grades 3-8 from 2016 to 2017.
Chan said he believes that if schools were truly doing their job, parents would not need to spend money to enroll their children in test prep courses to get a leg up on the exam.
"We should address the diversity problem, but we should address it by bringing these kids up to par where they can pass this test, without test prep," he said.
Private centers that prepare kids to tackle the specialized high school test, along with other standardized exams like the SAT and ACT for college admissions, are staples of the city's Asian-American communities — but not necessarily in others.
That could put test-takers on an unequal playing field, critics of the exam argue.
"It's like saying two different sets of people are being asked to run a marathon: one was able to eat on a full stomach and the other one showed up with half a meal in their belly, and you call that fair," Mun said.
The city Department of Education does have two programs that offer some public and charter school kids preparation for the specialized high school test.
Among other criteria, DREAM – The Specialized High Schools Institute requires that students be eligible for free lunch based on state and federal guidelines, a city Department of Education spokesperson said. The other program, the DREAM SUMMER/FALL INTENSIVE, is open to candidates only in certain school districts, including all of the Bronx and parts of Brooklyn and Manhattan.
Those 15 districts send the smallest percentage of students to specialized high schools, the spokesperson wrote in an email.
For Fall 2018 admissions, 30 percent of the 1,100 participants in the 22-month DREAM – The Specialized High Schools Institute received offers, according to the city Department of Education. Twenty-eight percent of 671 participants in the intensive program were also offered spots.
While Chan said he believes the test should be kept, Mun disagreed and wondered why resources invested into such elite schools aren't the norm for all New York public schools.
"We need the school system to actually start investing more on desegregation, and we see this as one of the steps that really needs to be taken," Mun said of de Blasio's plan.
Kim, the assemblyman, said he supports opening up more specialized schools, one in every city school district that would be accessible to all students.
He also disagreed with the "flat-out elimination" of the test at this point, despite being against high-stakes testing. He added that an approach is necessary that achieves diversity without punishing the Asian-American community.
"The narratives that they're putting out that Asian-American kids aren't even considered as immigrants, that somehow we own this test, those are very hurtful," Kim said.
He continued, "These are low income immigrant families and these are also minorities. And often times when people talk about people of color, they don't even consider Asian Americans as people of color."
Asked by a reporter on June 4 about comments from people who say the mayor's proposal seemed to be anti-Asian, de Blasio responded, "Nothing could be further from the truth."
"If people want to argue on the merits, argue it on the merits," the mayor added. "But don't try and divide us because this is not anti-anyone. This is pro-opportunity."
Follow NBC Asian America on Facebook, Twitter, Instagram and Tumblr.