San Francisco police are investigating an attack on an elderly Asian man that was captured on video and posted to Instagram on Sunday. The video has since gone viral on social media and garnered more than 3 million views.
The incident, which occurred over the weekend, shows a man wearing a dark jacket, black pants and black sneakers, threatening and brandishing an object at an Asian man. Bystanders are seen in the video watching the attack and hurling racially-charged taunts at the man as well.
"I hate Asians, n—," one person can be heard yelling in the video.
The victim can be seen crying as onlookers imitate and laugh at him, holding phones up to his visibly distressed face.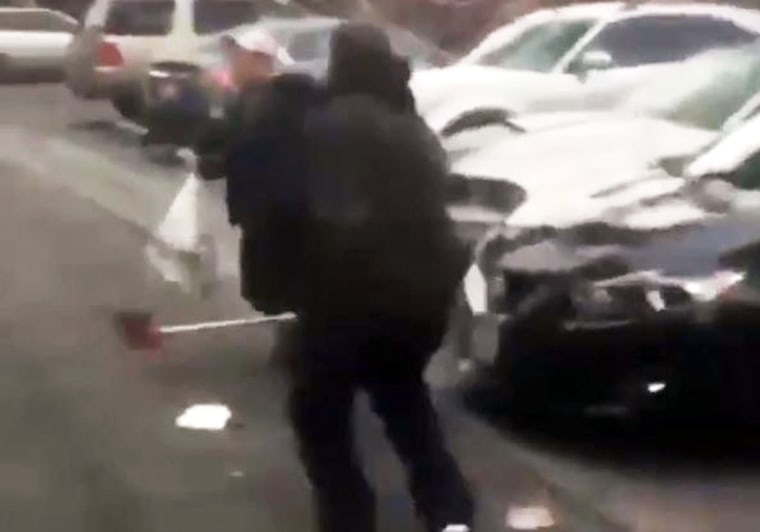 Police said the Asian man was collecting recyclables in the city's Bayview district when the robbery and attack occurred.
"San Francisco Police officers are actively investigating this incident and are attempting to locate and identify the victim, witnesses and suspect," public information officer Adam Lobsinger told NBC News.
In a statement to NBC News, San Francisco District 10 Supervisor Shamann Walton denounced the attack, calling it "heartbreaking."
"We absolutely do not tolerate any type of senseless violence and racism towards any of our community members especially towards our most vulnerable," the statement read.
San Francisco District Attorney Chesa Boudin was "very disturbed" by the incident captured on video, a spokesperson said.
Hip Hop for Change, which uses hip hop culture as a form of activism, is hosting an event Sunday in the Bayview neighborhood to rally support for the victim.
Members of the Bayview community expressed their concern and anger over the incident.
"The community is outraged," Bayview community activist Gloria Berry told NBC News affiliate KNTV. "Everyone I've talked to, very upset, very bothered, disgusted that this happened. This is not a reflection of what the black community feels about Asian people."