A Sikh man who was putting up campaign re-election signs for a California GOP congressman was reportedly attacked last week and told to "go back to your country" in a case that police are investigating as a hate crime.
Surjit Singh Malhi said he was assaulted last Tuesday in the early morning just outside a town in Stanislaus County, in California's Central Valley, while placing a campaign sign for incumbent Rep. Jeff Denham, according to NBC affiliate KCRA.
Malhi told KCRA that the two assailants allegedly told him to "go back to your country."
Malhi, who has lived in Stanislaus County for the past 25 years, said he believes he may have been targeted because of his turban, which he added may have protected him, the station reported.
"My turban saved me," Malhi told KCRA. "The way they were hitting me, (I thought) maybe I would die."
The Stanislaus County Sheriff's Department did not immediately respond to requests for comment on the case.
KCRA reported that the sheriff's department said the incident quickly turned into a hate crime investigation, even though the 911 call came over as an assault.
"The only reason, as far as we can tell, is because he was wearing a turban and he was Middle Eastern," Deputy Royjindar Singh said, according to KCRA. "That was the only reason they attacked him."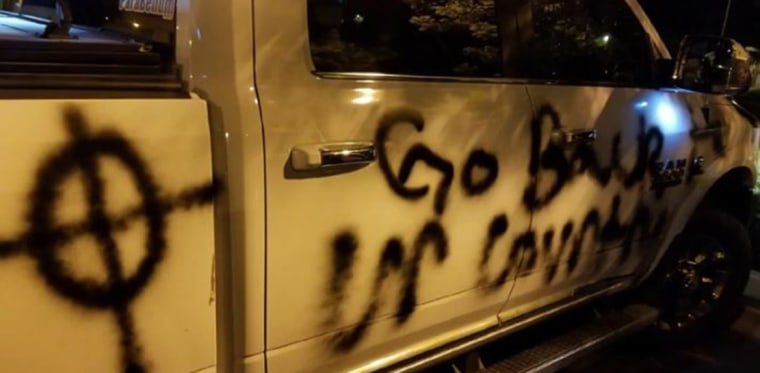 Malhi also told KCRA that the assailants allegedly spray painted the side of his truck with a white nationalist symbol and scrawled the message, "Go back to your country."
On Monday, the department said on Twitter that detectives were still investigating and that no new suspect information was available.
Sikhs have found themselves the target of bias incidents and attacks, as religious articles they wear like the turban have wrongly been linked with media images of terrorists following the Sept. 11, 2001, attacks.
To show their commitment to their faith, Sikhs keep unshorn hair, which men are required to cover with a turban. Some women also wear turbans, while young Sikh boys wear a smaller turban.
FBI data showed there were seven hate crime offenses in 2016 motivated by religious bias against Sikhs, but community advocates believe that figure is undercounted.
The Sikh Coalition, a nonprofit advocacy group, said in a statement in March that, by their estimate, Sikhs in the U.S. had experienced an average of one hate crime per week since the start of this year.
Amrith Kaur, the coalition's legal director, said through a spokesperson by email that they were "deeply concerned by the violent and brazen hate crime" that allegedly occurred in California last week.
"We remain in direct contact with the impacted community member to guarantee that his legal rights are protected and that all appropriate steps are taken to investigate this hate crime," she said. "The attackers must be apprehended and a hate crime must be charged."
Follow NBC Asian America on Facebook, Twitter, Instagram and Tumblr.