Cathy Erway's new book, "The Food of Taiwan—Recipes from the Beautiful Island" (Houghton Mifflin Harcourt), is a tantalizing and mouth-watering exploration of Taiwan's cuisine and country—ranging from the excitement of night market street food to the familiarity of home-cooked comfort dishes. Punctuated by photographs of people cooking and eating across the island's varied landscape, the writing is warm and personal, and captures the essence of Taiwan's obsession with food.
Recipes include classic Taiwanese favorites like pork belly buns (gua bao, made famous in the states by Eddie Huang's Bao Haus), pan-fried leek buns, three cup chicken, beef noodle soup, meat sauce over rice (lu rou fan), oyster omelet, pineapple cake, bubble tea, and, of course, the infamous stinky tofu. It also unwinds the mysteries of the beloved "Q texture."
Cathy Erway is also the author of "The Art of Eating In: How I Learned to Stop Spending and Love the Stove" and the blog "Not Eating Out in New York," as well as co-founder of the Hapa Kitchen supper club.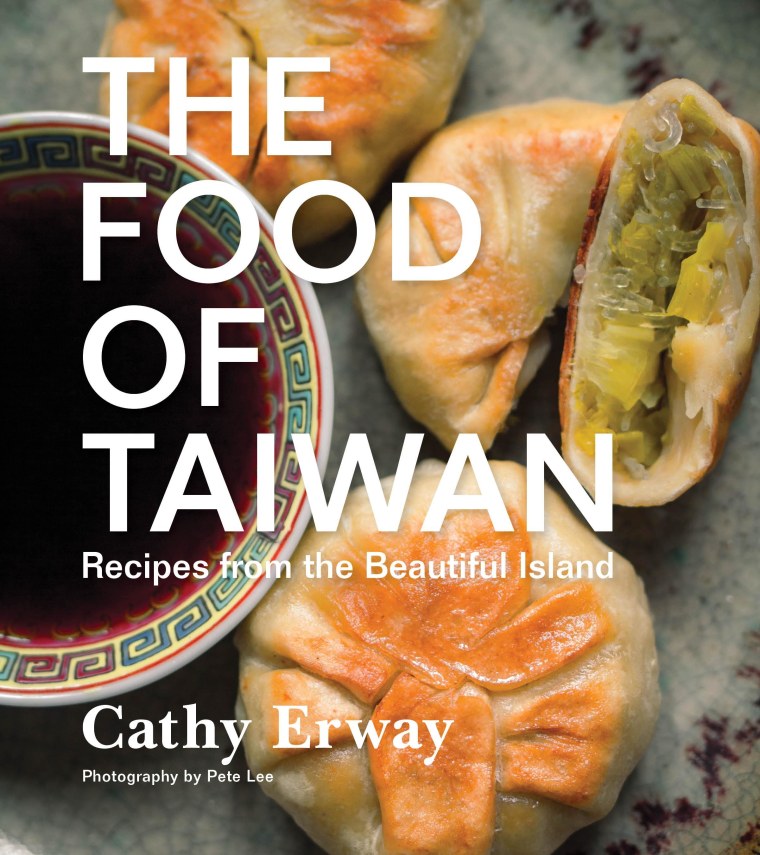 What does the food of Taiwan mean to you?
A lot of the food that my mom made growing up was influenced from her homeland, Taiwan. But it wasn't until I went to Taipei for a semester abroad in Taiwan that I really understood just how unique and fascinating the food of Taiwan was, and I have wanted to explore it more ever since. So it was a combination of wanting to expand my food knowledge and wanting to make those connections between some of my favorite comfort foods.
How do you explain the differences between Taiwanese and Chinese food?
Fortunately, today we are exploring many more regional Chinese cuisines, like Sichuan for example, and understanding how diverse the food of China is. Taiwan's unique history and climate make its cuisine distinct from other regions, too. There's a great story behind every dish, and it stems from the many groups who have made Taiwan what it is today.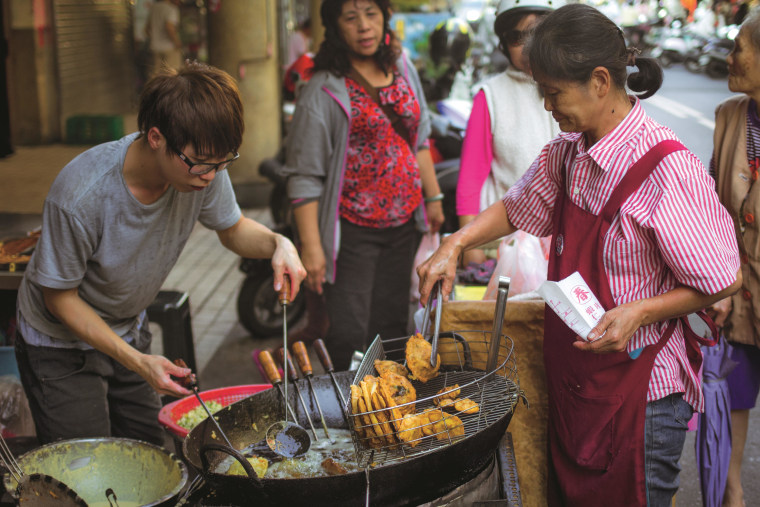 Your book features a great combination of street food, restaurant food, and home cooking. How much fun did you have hanging out at Taiwan's famed night markets?
Night markets are really popular in Taiwan, and it's an everyday social activity, especially for college kids. It's so much fun to check out the best or latest food craze at them, and I really love that night markets are totally not for tourists—this is just what people do in Taiwan - eat!
How did you get folks to give up their secrets?
People in Taiwan were really excited to talk about their food, and you can tell how much pride they took in sharing their stories. I got a lot of advice on homestyle dishes from a range of folks, like grandmas and average people, who were all too willing to divulge their particular tastes and preferences.
What is one surprising food story you learned while writing this book?
I think a great example of how Taiwanese food is so unique - and uniquely delicious - is how its famous Beef Noodle Soup came to be. It's believed that it was first created in military villages set up to house ROC families who emigrated from mainland China between 1948-1949 (retreating from the Communists during Civil War), and it has a spicy, Sichuan peppercorn-accented broth. However, the dish is not found in Sichuan province or elsewhere in China, but rather, has been forged in its new environment, of people from many different culinary backgrounds. Today it's a favorite throughout the island.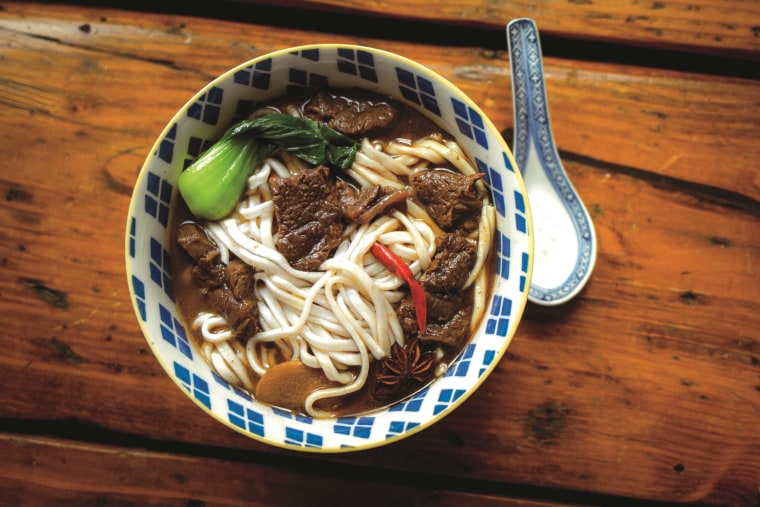 Taiwanese Beef Noodle Soup (Niu Rou Mian) 牛肉麵
Makes 6 to 8 servings
Some call it Taiwan's "national dish," while others argue that Danzai Noodle Soup is more representative of older, more traditional Taiwanese cuisine. Regardless, its deeply savory, delicious broth has made it a popular favorite on the island, and amongst visitors, too.
Ingredients:
2 to 3 tablespoons vegetable or peanut oil
2 pounds beef stew meat, preferably boneless shank, cut into 2-inch cubes
6 thick slices peeled fresh ginger
6 garlic cloves, smashed
2 whole scallions, trimmed and coarsely chopped
2 to 3 small fresh red chilies
1 large plum tomato, coarsely chopped
2 tablespoons sugar
1 tablespoon chili bean sauce
1 cup rice wine
1/2 cup light soy sauce
1/4 cup dark soy sauce
2 1/2 quarts water
1 tablespoon Sichuan peppercorns
1/2 teaspoon five-spice powder
2 star anise
2 pounds Asian wheat noodles (any width)
1 whole scallion, trimmed and thinly sliced
8 small heads gently blanched baby bok choy, or substitute with spinach, sweet potato leaves, or other leafy green vegetable (optional)
Instructions:
Heat 1 tablespoon of the oil in a large soup pot or Dutch oven over medium-high heat. Once hot, add as much of the beef as will fit on the bottom of the pan without too much overlap (you will need to work in batches). Cook, flipping with tongs, until both sides are gently browned, 5 to 6 minutes total. Repeat with the remaining beef, adding more oil as needed. Transfer the meat to a dish and set aside.
Heat another tablespoon of the oil in the same pot until just hot. Add the ginger, garlic, scallions, chilies, and tomato. Cook, stirring occasionally, until very fragrant and the vegetables are softened, 3 to 4 minutes. Stir in the sugar and cook until dissolved and the mixture is bubbling. Return the beef to the pan and stir in the chili bean sauce.
Stir in the rice wine and bring to a boil, scraping the bottom of the pot to release any browned bits. Let boil for a minute, then add the light and dark soy sauces, the water, peppercorns, five-spice powder, and star anise. Bring just to a boil and then reduce to a low simmer. Skim the scum that rises to the top of the pot with a slotted spoon. Cover and cook at a low simmer for at least 2 hours, preferably 3 hours.
Cook the noodles according to the package instructions. Divide among individual serving bowls. Ladle the soup into each bowl with chunks of the beef, top with scallions and the blanched green vegetables, if using, and serve.
Interview was edited for clarity and length.