Brooklyn Nets point guard Jeremy Lin stood alongside teammates for the national anthem at their preseason opener Thursday night, their arms locked around one another's shoulders, in a show of solidarity against violence in minority communities.
Speculation swirled in late September about what 28-year-old Lin and his fellow Nets might do as the Star-Spangled Banner was played before their matchup with the Detroit Pistons at Barclays Center in downtown Brooklyn.
NBA players have been mulling over how and whether to follow the lead of San Francisco 49ers quarterback Colin Kaepernick, who has taken a knee during the national anthem to protest police brutality. For the NBA preseason, many have locked or linked arms while the song is played. The Pistons did the same at Thursday night's game.
Lin, who has tweeted his concerns over fatal police shootings of black men, has said that whatever he and his teammates ultimately decide, they all need to be united, according to NetsDaily.
"If I do anything, I would want to be behind a stand of unity, because I think that's what we need," Lin said on Sept. 26 at Nets Media Day, according to to NetsDaily. "That's what I think our nation needs right now."
Asian-American fans who attended Thursday's game and spoke to NBC News outside the arena before tipoff offered up their views on what Lin and other players should do during the Star-Spangled Banner — as well as what the Taiwanese-American basketball star means to them.
Yoshikazu Tanamachi, in from Japan for a photo shoot for his basketball clothing line "Ballaholic," said through an interpreter that in Japan they are taught to respect everyone, as well as the national anthem.
Sitting or taking a knee while the song is played wouldn't be appropriate, he said.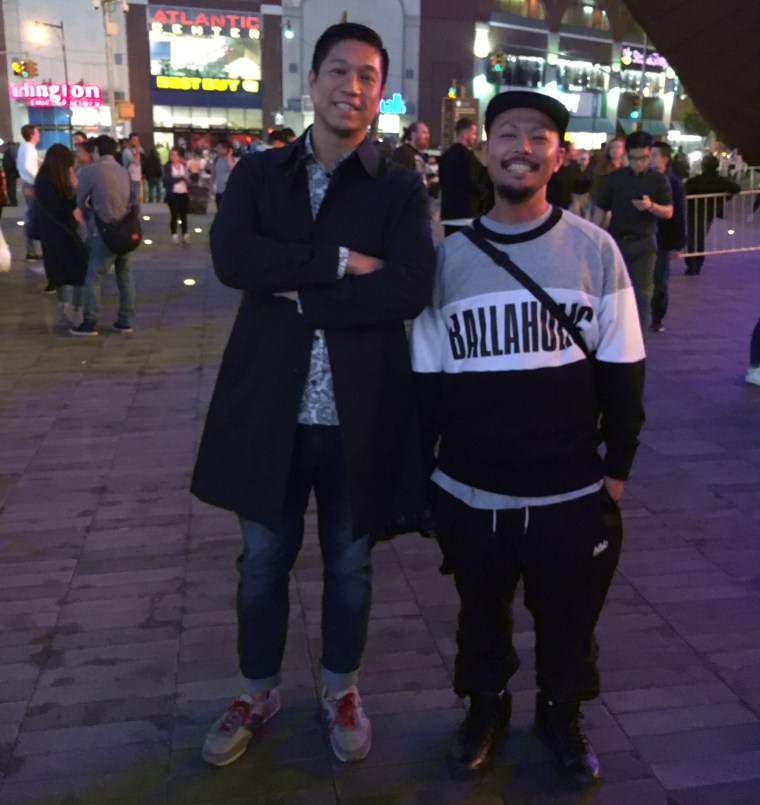 "He wishes Jeremy Lin, if he does protest, he should take another route in protesting, something with more respect to the national anthem," said Mark Kaijima, a Brooklyn resident who translated for Tanamachi.
Jeff Chan, a Taiwanese-American banker from Manhattan, said he's happy Lin has been vocal about social issues like building better relations between community and police and ending violence in minority communities.
"I think it's a tricky subject," he said. "But certainly his stance is that basketball might be a good platform to speak out, and certainly as a celebrity or someone who has a more notable presence, it's a good platform to show what you want to say."
Chan added, "Also on the professional side, you want people to stay professional...But you're a professional athlete, so maybe that's not the right platform either."
Lin's move to the Nets, which signed him in July, comes a little more than four years after a stint with the New York Knicks. Lin's on-court performance in February 2012 — including a three-point buzzer finisher against the Toronto Raptors — and his underdog story inspired not just Asian-American sports fans, but people around the world, who found themselves in the grip of Linsanity.
"He's like our hope for Asians, because we've been told for such a long time that Asian players, especially who play in the perimeter, can't make it to the league," Kaijima said. "Him being full-blooded Asian kind of gives us inspiration."
Lin's journey from undrafted Harvard graduate, who received not a single Division 1 scholarship offer after leaving high school, to being signed by the Brooklyn Nets for $36 million over three years also resonates with Chan.
Chan said he got to meet Lin last March in Charlotte, North Carolina, when Lin was playing for the Charlotte Hornets. A mutual family friend helped arrange the meeting, also attended by Lin's father, Chan said. They spent around 20 minutes talking, he said.
"I remember thinking, I'm a grown adult, and I'm a huge fan, and what do you say to your idol, as a grown 30-year-old man," Chan recalled. "But yeah, he's a nice guy, and just like a normal dude."
Hoping to cash in on Lin's popularity, the Nets have been pushing to get Asian Americans in New York to buy tickets. In late July, team representatives traveled to Flushing, Queens, to meet with community leaders and promote Lin's arrival. The neighborhood is 69.2 percent Asian, according to the Census, and is home to many Chinese, Taiwanese, and Korean Americans.
One organization, the Flushing Development Center, has been selling preseason and season tickets, as well as organizing events around Lin, including a screening of the 2013 documentary "Linsanity," according to the World Journal, a Chinese-language newspaper.
Some tour groups in Taiwan have even put together packages for Lin fans this season to fly to New York, tour sights like the Empire State Building and Statue of Liberty, and catch a Nets game. Seven-day packages from Cola Tour range from $1,359 to $1,486, depending on the time of year.
For Memory Yue and her three friends on vacation from Beijing, ending up at Lin's first preseason game in Brooklyn was a pleasant surprise, she said. They've all heard of Lin, calling him by his Chinese name, Lin Shuhao (林書豪), but said they had no idea he was playing Thursday at Barclays Center.
It was their first time to watch a basketball game in America, Yue said, and for them it didn't matter who won. (The Nets beat the Pistons 101 to 94.) That Lin was making his debut with the Brooklyn Nets was symbolic enough, they said.
"We also feel very proud of him as a Chinese basketball player," Yue said.
Follow NBC Asian America on Facebook, Twitter, Instagram, and Tumblr.