On one section of New York City's Park Avenue, across the street from the Waldorf Astoria, stood a crowd of supporters of Chinese President Xi Jinping, who had arrived early Saturday morning for the final leg of his weeklong visit to the United States.
Those in attendance waved American and Chinese flags and held large red banners filled with Chinese characters in gold, including one that read, "Big Daddy Xi, Overseas Chinese Welcome You."
A few blocks down, the scene was atmosphere was different as members of Falun Gong, a controversial Chinese new religious movement banned by China's government in 1999, stood in silence. They, too, had banners, but theirs called for former Chinese President Jiang Zemin to be brought to justice for his treatment of the group.
So it went this past weekend outside the famed art deco hotel, sold last year for $1.95 billion to a China-based insurance group, as Xi co-chaired parts of a United Nations meeting Sunday on gender equality and women's empowerment. Xi's role in that meeting drew sharp criticism from Democratic presidential candidate Hillary Clinton, who in a tweet called it "shameless" because of China's jailing of five women's activists earlier this year.
Xi's packed itinerary included meetings with business leaders and elected officials, talks with President Barack Obama, and a White House state dinner held in his honor. Xi also addressed the 70th United Nations General Assembly Monday afternoon.
RELATED: Obama Hosts China's President Xi Amid Simmering Tensions
RELATED: Video Highlighting U.S.-China Friendship Displayed in Times Square
Xi's welcome to New York began in the early morning hours Saturday, when hundreds of overseas Chinese assembled in front of metal police barricades on the sidewalk across from the Waldorf Astoria, according to the World Journal, a Chinese-language newspaper. The excitement from that gathering spilled over into the afternoon, when attendees continued to rally and occasionally stopped Chinese passers-by to pose for photos with the Waldorf as a backdrop.
Jianqiang Lu, chairman of the Tsung Tsin Association of New York, told the World Journal that overseas Chinese have benefited from Xi's mandate to root out corruption in China. "Before, when we went back home, we could not avoid having to give gifts to take care of [our] affairs," Lu said, according to the newspaper. "Now if you give gifts, no one dares to accept them."
Falun Gong supporters down the block, however, did not share a similar enthusiasm for Xi. Speaking in Mandarin, Falun Gong member Lucy Zhou, who attended a demonstration Sunday near the hotel, told NBC News that while the Falun Gong doesn't have a particular opinion of Xi, it hopes he could end the Chinese government's persecution of the group.
She added, "We hope Xi Jinping can bring [former President] Jiang to justice."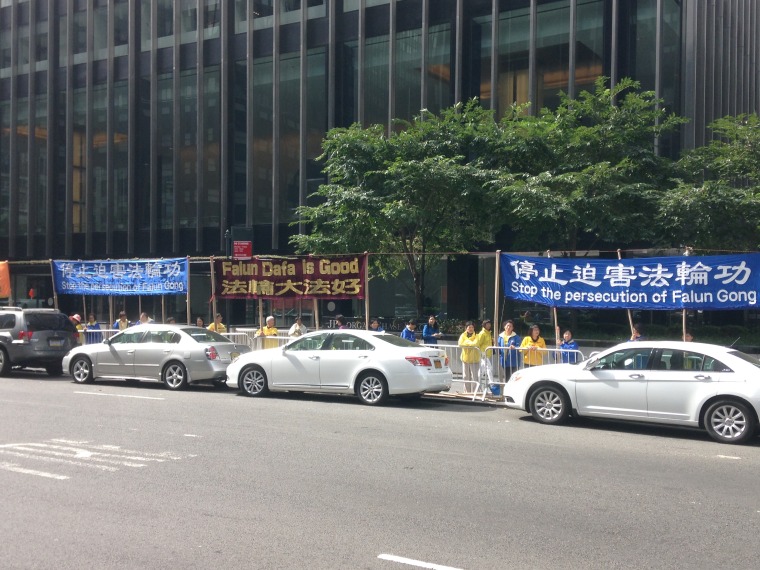 Jiang began a crackdown of the Falun Gong in China in 1999, calling it a cult and saying it had "ruined" families and caused others to go "insane." Members of Falun Gong, founded in 1992, have accused Jiang and the Chinese government of persecuting its adherents.
RELATED: Newseum Translates Freedom Slogans for Chinese President's Visit
By early Sunday afternoon, the number of Falun Gong protesters on Park Avenue had thinned out, with some standing on nearby street corners to hand out literature; no longer present were the overseas Chinese who had welcomed Xi and his wife, Peng Liyuan, to New York. It was unclear if they returned later in the day.
The demonstrations in New York mirrored others held in the District of Columbia and in Seattle, where Xi also visited. In D.C., tensions mounted when Xi supporters positioned their banners in front of Falun Gong protesters, according to the Washington Post. Protests in Seattle, according to Reuters, were mostly peaceful.